Woman Makes Little Coats For Homeless Dogs So They'll Never Feel Alone
<p> Jan Brown </p>
<p> Jan Brown </p>
As a shelter dog just waiting to become part of a family, it's probably hard to stay hopeful - and one woman is giving dogs something to make it just a little easier.
Jan Brown from Sunderland, England, has always been a dog lover, and knits doggie sweaters and hats for a living. "At the moment I have four greyhounds and a German shepherd," Brown told The Dodo. "I recently lost my little collie cross who was paralyzed and used a cart bought by Facebook friends. At one point I had nine dogs."
Jan Brown
Brown was inspired to start knitting winter clothes for dogs by one of her close friends and, of course, by her own loving pack of greyhounds. From there she started her business Knitted With Love, but that was only the beginning.
Brown eventually decided to take her business one step further - by donating blanket coats to shelters, helping dogs in need stay warm and feel loved.
Jan Brown
"On each blanket coat I sew a heart on in memory of the hounds not fortunate enough to make it to rescue. The number is heartbreaking," Brown said. Racing greyhounds across the world are routinely killed when they aren't winning, with some reports putting the number of dogs killed in the tens of thousands each year.
Jan Brown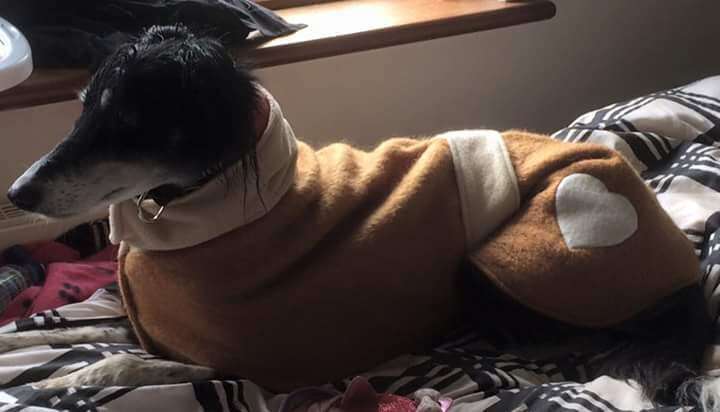 Brown uses the money she makes from her business to buy the materials to make the rescue blanket coats, and also gets materials donated by people who love animals as much as she does.
Brown provides blanket coats for Birmingham Greyhound Protection and Sighthound Stopgap primarily, both greyhound rescues, and has also knit for Fall In Love With A Rescue and other rescue organizations.
Jan Brown
"My favorite part is doing my bit for the rescues and making some of the most amazing friends doing it," Brown said.
Jan Brown