Harrowing Photos Of Bobcat's Brush With Death Reveal Dangers Of Snare Traps
<p> <a href="https://www.facebook.com/wildwoodsrehab/photos/a.415377301955178.1073742009.158948757598035/415383321954576/?type=3&theater">Facebook/Wildwoods</a><a href="https://www.facebook.com/wildwoodsrehab/photos/a.415377301955178.1073742009.158948757598035/415383321954576/?type=3&theater"></a> </p>
After being seriously injured by a controversial snare trap, a rescued bobcat recently enjoyed a very enthusiastic release back into the wild.
WARNING: Graphic images below
A Minnesota landowner and wildlife fan spotted the bobcat on his trail camera in February. He contacted wildlife rescue group Wildwoods after noticing that the large cat, whom rescuers named Clyde, had a snare trap cinched tightly around his waist.
Volunteers from the Duluth, Minnesota, rehab group were able to capture the big cat in a live trap and brought him to a vet, where the extent of his injuries became apparent.
The snare had been continually tightening around Clyde's flanks, wearing through his fur and skin, and leaving large open wounds circling his waist. He had lost weight because it was difficult for him to eat, and had broken his canines trying to chew it off, exposing his dental nerves.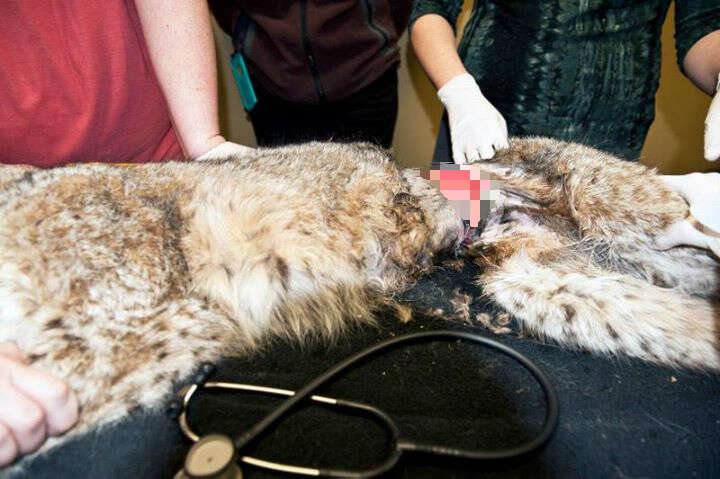 "He was in extreme pain," Sarah Glesner, an animal care supervisor with Wildwoods, told The Dodo.
The team worked quickly to remove the snare from around his waist; a picture of the trap taken after it was removed shows that it was barely the width of a human hand.

Fortunately, the snare hadn't caused any muscle damage, and rescuers were reassured when Clyde's appetite bounced back as soon as the snare was removed.

"He started eating like crazy," Glesner said. "Just wolfing down food as fast as he could."
If the animals don't suffocate - or if they're caught in a foot snare or steel-jaw traps - they're in for a worse fate, held in place by the noose's leash-like anchor lede. "The animal will just struggle and struggle and struggle until the trapper arrives to dispatch that animal," Glesner said.

Animals can spend days, or even weeks, trapped in mortal fear while they wait for the trapper to return. Devoid of food and water, they'll spend their time feverishly trying to free themselves, suffering horrifying injuries in the process and sometimes even chewing their legs off to escape.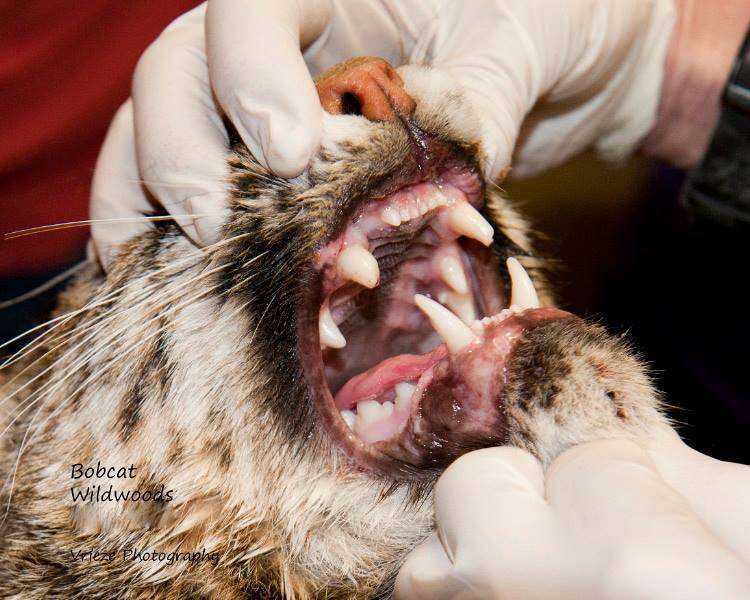 If they're still alive when the trapper returns, they're often painfully clubbed or strangled to death so their pelts aren't damaged.
Not only is the controversial method extremely cruel to wildlife, but it's also a serious threat to household pets. One Wyoming family lost its three dogs to snare traps in just one week late last year.
Of all the animals that get caught in these traps, Clyde was one of the lucky few to escape. He somehow got the snare around his waist, instead of neck, which prevented him from being suffocated. It appears the trap wasn't set well, so he was able to pull out the lead and escape; it was still hanging from him when he was rescued.

During Clyde's weeks-long recovery, Wildwoods partnered with another rescue group, Wild and Free, to keep the restless cat in captivity while his wounds healed and his fur - necessary to protect him from frostbite - grew back.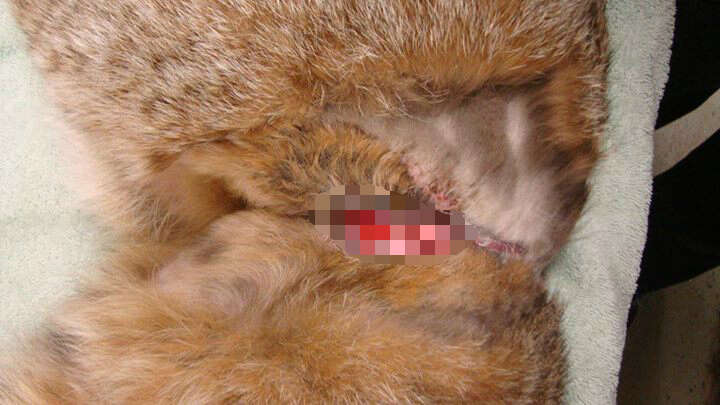 Glasner said he was a very reluctant captive. "He maintained that high energy: very wild, just wanted to be free, just waiting for the day when he was cleared for release," Glasner said. When he was finally released in late March, "he pushed so hard the kennel flew backwards."

While Clyde's story might have a happy ending, the group is hoping to raise awareness about the danger of snare traps, and garner support for a recent Minnesota bill that would limit trapping in the state.
"We strongly feel that people need to be aware of what snares to do animals," Glesner said. "It's a really terrible way for an animal to die."
If you'd like to support Wildwoods and help animals like Clyde, you can donate to the group online.