It's the beginning of the end of a brutal festival that claims the lives of thousands of dogs and cats each summer.
A new ban on selling dog meat at restaurants, street vendors and markets at China's Yulin dog meat festival will go into effect on June 15, just one week before the festival is set to start, according to Humane Society International (HSI) and Duo Duo Animal Welfare Project (DDAWP). Anyone caught selling dog meat would risk a 100,000 yuan fine (nearly $15,000) and arrest.
The ban was initiated shortly after a new party secretary took office, and is likely an effort to fix the public image of Yulin, which is known around the world for its endorsement of animal cruelty. While the ban is believed to be temporary, people who have been campaigning against the festival for years are calling the move "a milestone victory" in fighting the gruesome event.
Many of the festival's victims are stolen pets and strays taken off the streets. Some arrive at the slaughter sites still wearing collars.
"We have had confirmation from Yulin on the ground from several different sources who tell us that the traders have been made aware of the order, and that it follows the new party boss's desire to convert the city into a 'city of culture and civilization,'" Wendy Higgins, director of international media for HSI, told The Dodo.
In previous years, activists have set up roadblocks to deter trucks full of dogs from entering the festival. They have saved sick and starving dogs and cats at the last second before slaughter.
"Millions of dogs and cats are stolen each year, including pets, and driven thousands of miles across China to be bludgeoned to death in front of each other," Peter Li, China policy specialist at HSI, said in release provided to The Dodo. "As opposition to this trade has grown within China and across the world, much focus has been placed on the Yulin festival and so it is significant politically that the authorities are taking the outrage to curb this cruelty seriously."
Most people in China don't eat dogs, but the Yulin festival started about 7 years ago by dog meat traders to boost sales.
"Even if this is a temporary ban, we hope this will have a domino effect, leading to the collapse of the dog meat trade," Andrea Gung, executive director of DDAWP, said in the release. "I have visited Yulin many times in the last two years. This ban is consistent with my experience that Yulin and the rest of the country are changing for the better."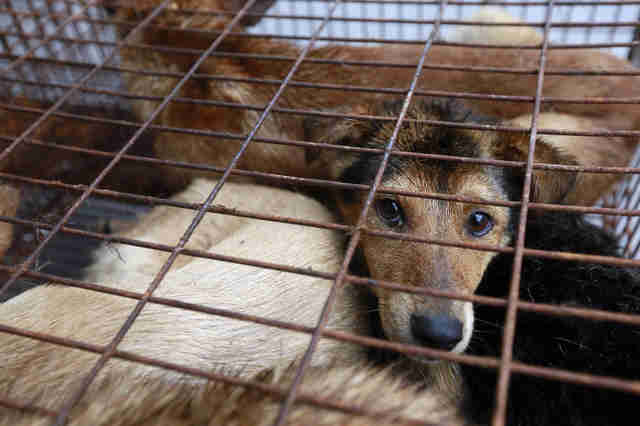 Higgins added that enforcement of the ban will be the key, but it's a good sign that the penalties are not insubstantial. "That indicates to us that this is a ban that is intended to be taken seriously," Higgins said. "It would be naive to declare this an end to the Yulin festival, we're not there yet ... However, as milestone victories go, this is a pretty significant one."
"The authorities are using the order to make known its position … disapproving a controversial trade that has been sustained by a host of illegal and immoral activities," Li told The Dodo. "While we welcome the order, we believe what is important for the Yulin authorities is to make the ban permanent."