Tiny Puppy Goes Exploring And Takes A Very Wrong Turn Near The TV
"It was such a surprise."
When a woman woke up one morning and didn't immediately see her 8-week-old puppy, Ringo Starr, staring up at her, she was only a tad concerned — until she heard his tiny puppy cries coming from downstairs. She quickly ran to check on him …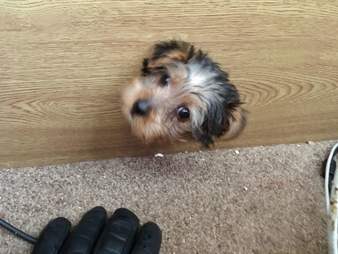 RSPCA
… and found the poor puppy with his head stuck through a hole in the TV stand. 
It seems that during the night, little Ringo had gotten bored and decided to go exploring around the house. During his explorations, he decided to investigate the TV cabinet, discovered a hole in the back of it, pushed his head through and ended up very, very stuck. 
RSPCA
Ringo's mom tried as hard as she could to free him, but the little explorer was just too stuck. Frantically, she decided to contact the RSPCA, hoping that they would be able to help free her beloved Ringo.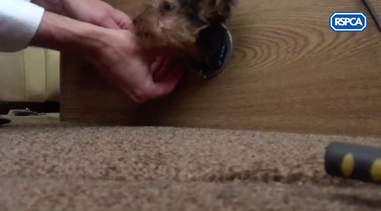 RSPCA
RSPCA inspector Anthony Joynes got the call about Ringo Starr, and immediately rushed out to help him — and couldn't hide his amusement over the sweet puppy's name.
"'A Day In The Life' of an RSPCA inspector can be very varied, and I've certainly freed quite a few animals from tight squeezes like this before," Joynes said in a press release. "Ringo Starr was found in the morning but it's possible he could have become stuck for some time before, it could well have been 'A Hard Day's Night' for him, until he started crying for help."
RSPCA
All jokes aside, Joynes quickly set about trying to free Ringo, but his head was just too tightly wedged into the hole, and Joynes didn't want to hurt the little guy by pulling too hard. He decided the only way to get Ringo out would be to grab some oil, and get him nice and slippery.
RSPCA
"Poor Ringo Starr was very uncomfortable and panicked, but the hole was fairly tight and I wasn't able to free him at first, so with his owner's permission we quickly grabbed some vegetable oil from the kitchen to gently rub around his neck to help loosen him, and with some very careful maneuvering, Ringo's head slid out of the cabinet and he was free," Joynes said.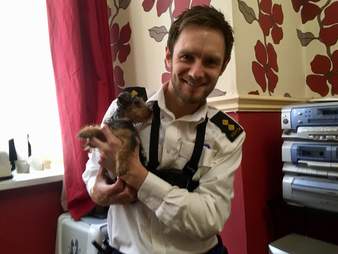 RSPCA
Ringo was so happy to finally be free, and licked his rescuer's face in gratitude. Joynes was worried that Ringo was a little sore or injured from his ordeal, and so he decided to take him to a local vet for a quick checkup — and, of course, a much-needed bath. 
RSPCA
Once the vet confirmed that little Ringo was fine, Joynes brought him back home to his mom, who was so grateful that her best friend was OK, and finally free from the pesky hole.
"After getting the all-clear from the vet he came back home to us that afternoon and after a big lunch, he fell fast asleep," Verity O'Neill, Ringo's mom, said in a press release. "I never thought he'd go poking his head in the hole in the TV cabinet, it was such a surprise, but of course we've now made sure the hole is blocked up."