'World's Worst Cat' Is Looking For Someone Who Appreciates Her Attitude
"We thought she was sick, turns out she's just a jerk."
It takes quite an attitude to earn you the title of World's Worst Cat. But as Mitchell County Animal Rescue says, Perdita is "not for the faint of heart."
The 4-year-old cat is not interested in your petty human need for affection. She doesn't care to interact with other animals — especially kittens — no matter how "cute" they might be. Perdita simply wishes to rule over her domain from the comfort of her gray fleece bed.
The occasional head scratch is allowed, and paying homage with treats is encouraged. However, if you get on her bad side, prepare to be nursing a hand covered in scratches and bites.
But before you judge Perdita too harshly, her life has not been easy. "Her story is actually a sad one," Amber Lowery, executive director of Mitchell County Animal Rescue, told The Dodo. "Her owner passed away and she was left home all alone for some time."
The neighbors, who had been feeding Perdita, eventually called the animal rescue for help.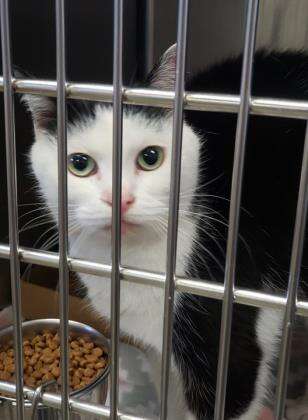 When Perdita finally arrived at the shelter, she was so cranky that staffers thought there might be something medically wrong with her.
As the vet soon discovered, Perdita was perfectly healthy. "We thought she was sick, turns out she's just a jerk," the shelter wrote.
Shelter staffers quickly realized that finding Perdita a home would be a challenge, so they started to think outside the box. "We got together and we decided that we would be brutally honest about her strong personality," Lowery said. "That way, the right person would be able to adopt her and understand that she is not the cuddly kitteny type."
What resulted was a hilariously honest Facebook post advertising Perdita's less-than-pleasant qualities, and labeling her the "World's Worst Cat." The post quickly went viral.
The Facebook post reads: "Meet Perdita, not for the faint of heart. LIKES: staring into your soul until you feel as if you may never be cheerful again; the song Cat Scratch Fever, the movie Pet Cemetery (Church is her hero), jump scares (her specialty), lurking in dark corners, being queen of her domicile, fooling shelter staff into thinking she's sick (vet agrees...she's just a jerk) DISLIKES: the color pink, kittens (yuk they are so chipper), dogs, children, the Dixie Chicks, Disney movies, Christmas and last but NOT least...HUGS. She's single and ready to be socially awkward with a socially awkward human who understands personal space."
These words may seem harsh, but they were for Perdita's benefit, noted Lowery: "Our plan was to highlight all the differences that she has … so when you take her home you're not surprised, and it's a better chance of the adoption actually sticking and her not coming back to us."
With over 100 applications, it won't be long before Perdita finds someone willing to accept her just as she is.
"We are screening the applications very, very carefully," Lowery said. "We're going to be very conscientious about placing her into an understanding and loving home."
Lowery is confident that a calm, patient person is out there, and more than willing to give Perdita all the personal space she desires.