World's Laziest Dog Is Living His Very Best Life
"It is neither an old dog nor one with mobility problems."
Some dogs get famous for doing something good. And other dogs, by doing something bad. This particular pup, meanwhile, has taken a different approach.
He's making a name for himself by doing, well, pretty much nothing.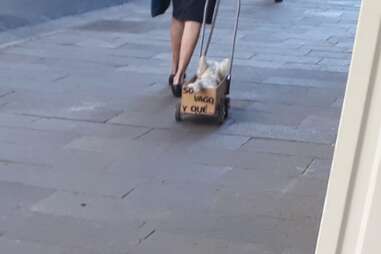 Recently, folks in Rosario, Argentina, have begun noticing a woman going around town in the company of a little white dog. The pup, who appears to be a Westie, is never walking, though — instead, he's always being wheeled along, riding in a cart she pulls.
Evelyn Luna is one of many people who've taken notice. Last Saturday, she and a friend were on the same sidewalk as the lady and her dog.
"We saw it from behind, and I thought it was an old dog or he had mobility problems," Luna told The Dodo. "We started saying, 'Poor thing. What's wrong with him?'"
But then they learned the truth.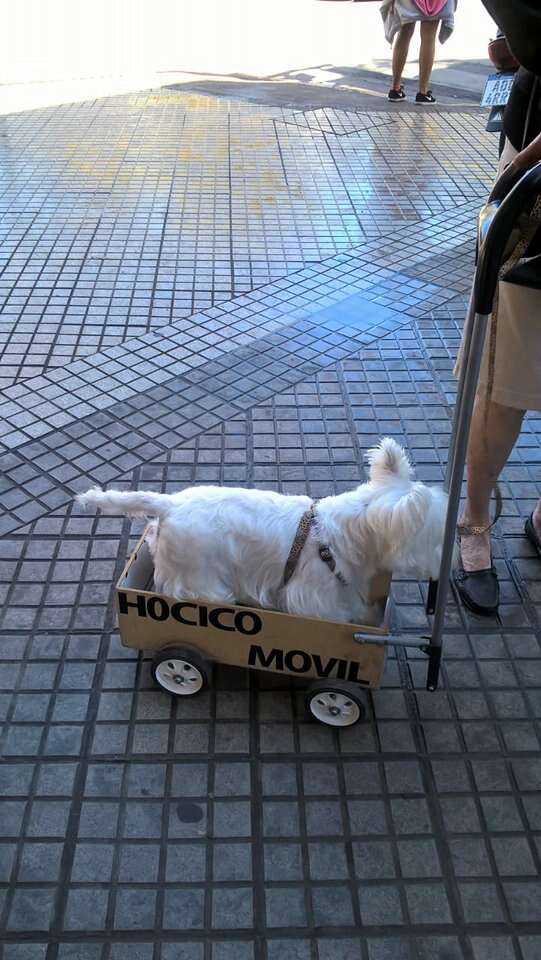 As Luna and her friend got closer, perhaps thinking to give the presumably frail, senior dog a friendly pat, something unexpected happened. He sprung out of the little cart with a lively bounce and trotted over to greet them.
"It is neither an old dog nor one with mobility problems," Luna said.
The dog, they learned from talking with his owner, is just lazy. Very, very lazy.
And unabashedly so.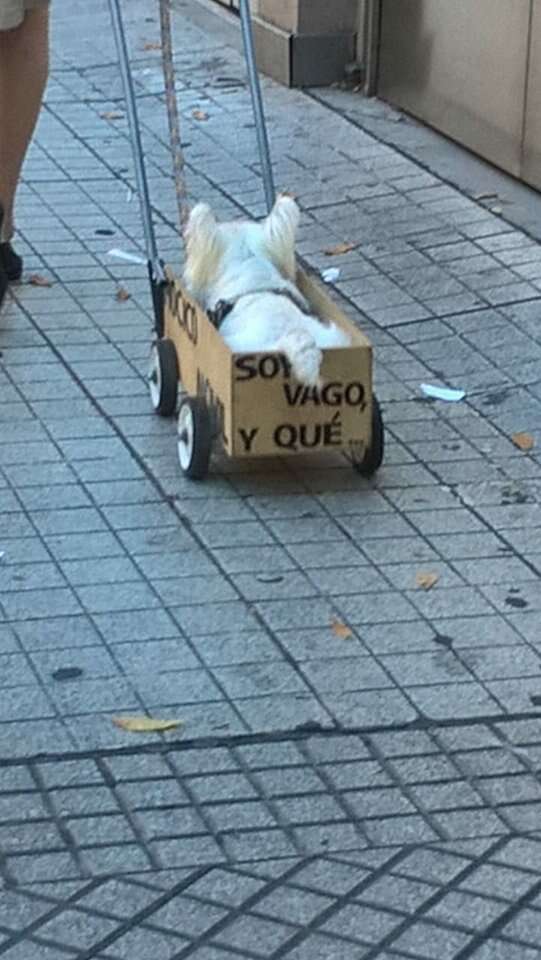 It was then that Luna and her friend noticed what was written on the cart: "Soy vago, y que" — which translates to "I'm lazy, so what."
Most dogs love to get out and stretch their legs. Not this pup.
"The dog is beautiful and super sweet, and his owner is a very kind lady. She told us that he just prefers to take his walks like that," Luna said. "I kept thinking about the dog after that and laughed all day."
Turns out, Luna had met probably the world's laziest dog. And now his penchant for "passive" walks is getting some much wider attention.
This week, someone on Twitter posted a photo of their own encounter — and, of course, it's gone viral.
The pup even made the paper — quite literally, for doing nothing.
Since then, many others around Rosario have begun sharing stories from their own encounters, describing the joy it brought them in knowing that the dog was actually perfectly healthy and happy.
And that's news worth sharing.
"The truth is, it's beautiful," Luna said. "In a world where so many animals are mistreated, here's someone who cares so much for hers. She speaks with a deep love for her pet."