Woman Can't Stop Squealing When She Finds Out She Can Adopt This Cat
"The post mentioned that Bruno was extra. I was in luck, because so am I."
When Bruno first arrived at Wright-Way Rescue in April, he weighed 25 pounds, and immediately won over everyone on the staff by standing on his hind legs and being adorable. He was placed in a foster home, where he demanded to be pet while he ate and required multiple water bowls in every room of the house except for the kitchen. The staffers at the rescue called him "extra" — and couldn't understand why no one had stepped up to adopt such a fun, quirky cat.
After the Illinois rescue shared a long Facebook post about Bruno and his many incredible qualities, people started to take notice and suddenly, Bruno had multiple families yearning to adopt him. So many people wanted to welcome Bruno into their homes — but one woman knew that Bruno was definitely meant to be her cat.
"The only way to put it is that I freaked out at my desk," Lauren Paris, Bruno's new mom, told The Dodo. "My boyfriend and I were already in the market for rescuing a cat, and when I saw Bruno's pictures, I just knew. I felt SO driven to adopt him! The post mentioned that Bruno was extra. I was in luck, because so am I."
Paris immediately started work on the application process, gathering together a letter of intent, recommendations and videos of her and her boyfriend around their home. She wanted to show the rescue how serious she was about adopting Bruno, and knew she needed something to push her application above all the rest. Then, she got the best idea.
Paris' friend Kathleen Gibson, a member of Second City Conservatory in Chicago, wrote a song called "Gimme That Fat Cat." Paris then recorded herself singing the song and sent it to the shelter …
… and it was a performance that the shelter just couldn't ignore.
"We were selected to meet Bruno this past Saturday," Paris said. "We came to the shelter with food, litter, treats and toys for him and his friends. It was so, so exciting to meet him, because he was just as fabulous as I knew he would be. I honestly loved him instantly. So it was really hard to say goodbye and leave him at the shelter, not knowing if we'd ever get to see him again."
Luckily, Paris and her boyfriend didn't have to wonder for long. On Monday, Wright-Way Rescue called them up to let them know they'd officially been chosen to adopt Bruno …
… and Paris could barely contain her excitement and emotion over the fact that Bruno was finally hers.
"I squealed and jumped up and down for about five minutes before laugh/crying for another 55," Paris said. "And then I called everyone I know."
Bruno is now all settled into his new home, and from the moment he stepped out of his carrier, he seemed completely comfortable and thrilled to be a member of his new family. He follows his mom and dad everywhere, and loves getting love and affection every chance he gets. He's currently on a diet to help him lose some weight, and seems to be loving his new healthy lifestyle. His parents couldn't be more thrilled to have Bruno — and were happy to discover that he's just as extra as the shelter said he was.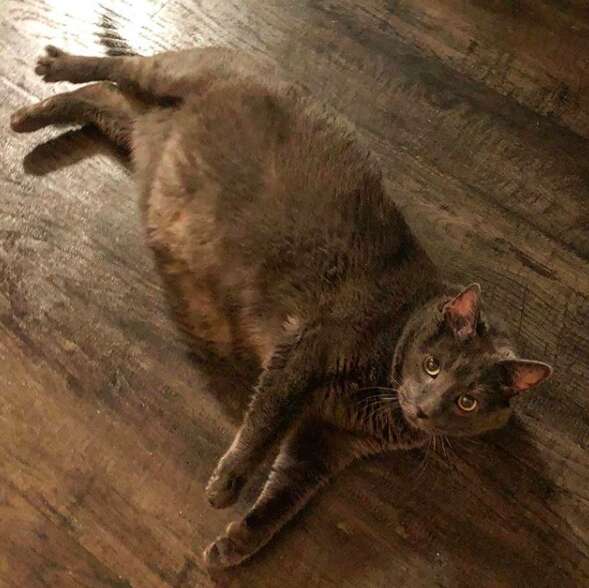 "The hype is true — he definitely needs you to pet him while he eats," Paris said. "Who can blame him?"