Woman Won't Let Serious Illnesses Stop Her From Caring For 80 Cats
"I just love them, and I know that no one else would take care of them ... it's helping me because it gives me a purpose."
Pat Frederick is a woman who's had more than her fair share of health problems — she suffers from congestive heart failure, kidney disease, gout, colitis and osteoporosis. But Frederick has never let her personal problems get in the way of caring for nearly 80 stray cats who live in different colonies in Germantown, Philadelphia.
"I just love them, and I know that no one else would take care of them," Frederick told The Dodo. "I enjoy being with them and protecting them. I know I'm helping them, but it's helping me because it gives me a purpose."
Frederick kissing one of the stray cats she cares for in Germantown, Philadelphia

| Aine Doley
Frederick started taking care of these strays around eight years ago — she'd just moved back to Philadelphia from Chicago so her parents could help her as she underwent medical treatments. Frederick should have been focusing on herself at that time, but she couldn't stop thinking about the skinny, malnourished cats hanging around her neighborhood.
"I felt sorry for them," Frederick said. "They didn't really have anyone to take care of them, and no one was feeding them. As a matter of fact, people had been poisoning them and killing them because they were upset that the cats were breaking into their garbage bags and eating the garbage."
Aine Doley
Frederick already had a little experience with feral cats. After her 15-year-old cat Phoebe died back in Chicago, she had adopted two feral cats, Winston and Harry.
"The emergency vet called me and told me about two cats they had trapped on a farm out in the suburbs, and they thought I would be a good mother for the cats," Frederick said. "I had never heard about feral cats."
Frederick took the cats home to live with her inside her apartment — but it took Winston a year before he allowed Frederick to touch him, and it took Harry nearly four years to seek out affection. But Frederick adored them, and it was worth the wait — and Winston and Harry lived with her until they both died of old age. "They taught me how to appreciate feral cats," she said.
So Frederick started laying out food and water for the stray cats in Germantown. Then she met a woman who helped her trap the strays to get them vaccinated, spayed and neutered. Frederick also tried to find homes for the friendly cats, whom she believes have a harder time surviving on the streets.
Frederick and a friend releasing a feral cat after neutering him

| Aine Doley
"I try to get the ones who are not afraid of people off the streets so they won't be hurt," Frederick said, explaining that people will sometimes turn on the homeless animals. "I've had cats who were taken by the paws and thrown into the air, and BB guns shot at them."
Frederick doesn't try to rehome the ones who are afraid of people — not only would it be difficult to find these cats homes, but Frederick believes that they have a much stronger chance of surviving than the friendly ones.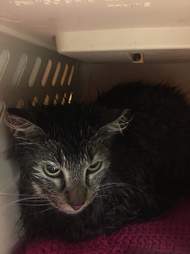 One of the feral cats inside a carrier on the way to the vet

| Aine Doley
"If they're [fully] feral, they'll just run away from the people, so I'm not as concerned for their safety," Frederick said.
It takes Frederick several hours each day to care for her stray cats, who live in 11 different locations around Germantown.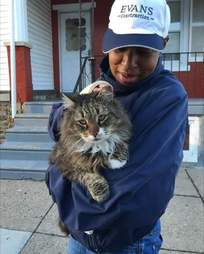 Aine Doley
"It takes about two hours to get all the trays of food together for all the cats — I give them dry and also wet food," Frederick said. "And it takes about three to four hours to feed everyone."
The work is physically demanding — there's a lot of walking up and down stairs and hills, Frederick explained. "Usually, after I've gone to a couple locations, I'm out of breath," she said. "So I take a little break, then get up and [keep] doing it again."
Frederick and two others volunteering for the Best Friends Community Cat Program

| Aine Doley
Besides the physical challenges, Frederick struggles to pay for everything — but she always finds a way to make it work. She gets donations, borrows money from her father and uses her own money to pay for the cats' care.
"I take out money to pay for the medication for my heart, but besides that, I don't buy anything," Frederick said. "I don't do anything and I don't go anywhere. I cut my own hair because I don't have the money to — I could spend the money to do those kinds of things, but then I wouldn't have money to have cat food."
Aine Doley
But nothing has stopped Frederick from helping these cats. Besides caring for the strays in her local colonies, Frederick has also volunteered with the Pennsylvania SPCA and Best Friends Animal Society. 
Aine Doley, former head of The Best Friends Community Cat Program, told The Dodo that she's amazed by Frederick's passion and determination. "She fought through her sickness to volunteer and trap, even once ending up in the hospital during a mass trapping," Doley said. "She never let it stop her from helping these cats."
 
"Pat is one of those people who dedicates herself 110 percent," Kris Papiernik and Kia Griffin, cat rescuers and the women behind Kolony Kats, told The Dodo. "Always going above and beyond. Without Pat, so many cats would be overbreeding, starving, and struggling to survive on the streets. She is a true hero."
You can help Frederick feed her stray cats by purchasing cat food through her
Amazon Wish List
.