Woman Runs Into The Dog Her Parents Gave Away 11 Years Ago
She still has puppy pictures of her
When Kate Griffin was in elementary school, her family adopted a little puppy named Cami. She and her sister absolutely adored Cami, and Cami loved them right back. They were a happy little family for around five years — but when Griffin's parents got divorced, Cami's life became a little too unpredictable to handle.
"She wasn't allowed at my dad's house, so my mom had to take care of her when my sister and I were at my dad's house," Griffin told The Dodo. "After some time, my mom said that it was too stressful for Cami to see us one week and then not the next and because of it she was acting out. So she made the decision to give her to our sitter to take care of."
Kate Griffin
Even though it was hard not having Cami around all the time, the girls were glad that they at least got to visit her occasionally at their sitter's house. But one day they went over to visit and discovered that Cami was no longer there.
"Our sitter informed us that she made the decision to give Cami away to a family because she could no longer take care of her," Griffin said. "It was so devastating."
Kate Griffin
Even though they knew their sitter had done the right thing by giving Cami to a family who had lots of love and attention to give her, the girls were still incredibly upset that they wouldn't get to see their beloved dog anymore. As the years went by, though, they began to heal, and their time with Cami became a fond, distant memory — until one day, years and years later, Griffin was out walking and saw a dog who looked exactly like Cami.
Kate Griffin
Griffin was headed home from Starbucks when she spotted a woman across the street walking two dogs: a large, black shaggy one and a tiny one who looked just like the cockapoo her parents had given away years ago. Knowing it was a long shot, Griffin decided to cross the street anyway and meet the dogs.
Griffin introduced herself and asked the woman what the dog's names were. She said the big one's name was Riley … and the tiny one's name was Cami.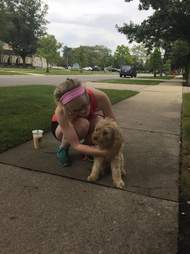 Kate Griffin
"I looked at her and just said, 'Oh my God. I think this is my dog. I had to give her away a really long time ago when my parents got divorced.' The woman said, 'The family I dogwalk for got her from another family. Oh my God. This is so amazing, you have to take a picture with her!' I was in shock so I didn't cry until later when I realized what had just happened."
At first, Cami, now 15 years old, didn't seem to recognize Griffin, but after saying her name over and over again, the dog finally seemed to remember, and began eagerly licking Griffin's face.
Kate Griffin
The dogwalker let Griffin walk Cami all the way home, and before they parted ways she gave Cami a hug and a kiss, so happy to know that she went on to have a great life.
"She said she'd run viciously in circles in the backyard whenever she'd go outside and that's exactly what she did as a puppy," Griffin said. "It was really amazing hearing that she hadn't changed a bit, really. I was so grateful to this woman for letting me reunite with my pup."