Jessica McKelson knew she had to do something to help dogs when she drove past the markets near Medan, Indonesia. Outside a dog meat restaurant, dozens of dogs were being held in horrible conditions, waiting for their turn to be killed.
"I remember looking left at the market and asking the driver to stop, and walking over to see all these dogs in white plastic bags that had been tied up," McKelson, founder of the Sumatran Dog Health Program, told The Dodo. "Looking at their conditions and looking at everyone around me, everything went black and shaky."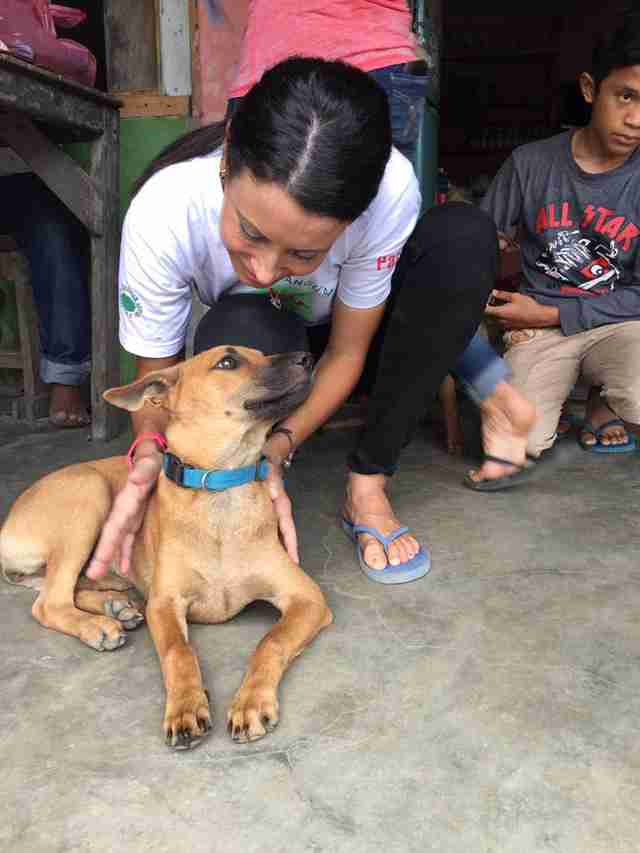 Prior to starting the Sumatran Dog Health Program, McKelson spent four years working as the manager for the quarantine station for the Sumatran Orangutan Conservation Programme (SOCP), where she helped rehabilitate injured and orphaned orangutans, many of whom were rescued after being illegally kept as pets. While she'd been putting the majority of her efforts into protecting wildlife, she couldn't stop thinking about the dogs — and what she could do to help them.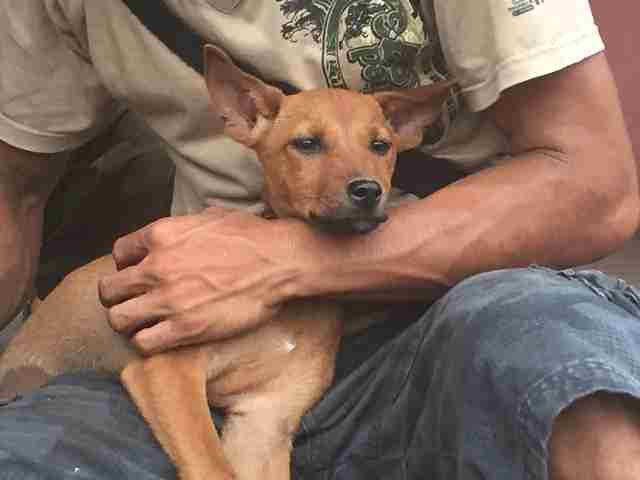 "I always knew the problem with dog meat was there," McKelson said. "I didn't realize the extent of how large the trade was, and how much it had grown. We used to have one or two dog meat restaurants on the way back to Medan that you could see, and then all of the sudden, you've got about 15 that have opened up in the last year and a half."
While McKelson wasn't sure how to directly tackle the dog meat industry, she thought she could start by changing public perceptions of dogs in North Sumatra.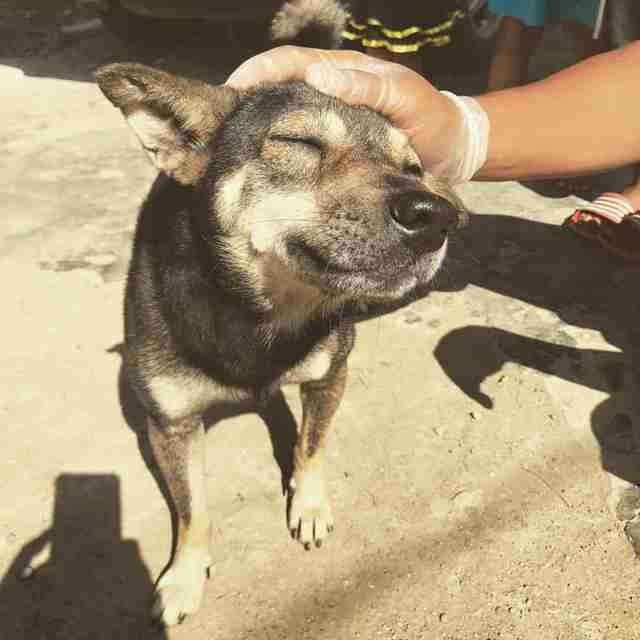 Most people don't view dogs as pets, but as utilitarian animals used to protect their gardens from wild macaque monkeys, who like to steal fruits and vegetables. Most people don't give any medical care to their dogs, and they run around the streets getting scabies, parvovirus and distemper. Female dogs have litter after litter of puppies, and their bodies usually give out after about five or six years, according to McKelson.
And if dogs aren't being used as guard dogs, they're rounded up and killed for dog meat.
"I wanted to try and educate them [the villagers] a bit," McKelson said. "Healthy dogs will be stronger dogs who can better look after their gardens — there had to be a value to what the dogs were doing."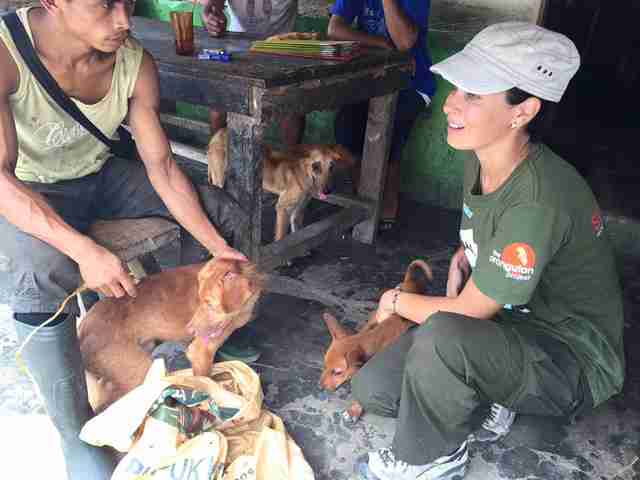 In April 2016, McKelson founded the Sumatran Dog Health Program, which consists of a mobile veterinary clinic that aims to vaccinate, sterilize and provide medical attention for as many dogs as possible (as well as the odd cat). But McKelson has faced many challenges in getting the program started — her main obstacle is gaining the trust of the community.
"There's a myth that once they're sterilized, they're lazy and they aren't able to protect the gardens or homes," McKelson said.
To dispel this myth, McKelson and her team of five volunteers talk to as many people as possible, and explain the benefits of spaying and neutering dogs, and giving them vaccinations and other medical care.
"We treat them [the dogs] directly on the street," McKelson said. "We set up in the village so people have the opportunity to come and have a look at what the vet is doing and how they're doing it."
Slowly but surely, McKelson and her team have made great progress over the past year.
"We're starting to see a huge following, which is great," McKelson said. "We're building a trust amongst the villagers."
Veterinary care is just one aim of the program — McKelson is also trying to teach the importance of caring for animals in general.
"These are ex-illegal logging and poaching communities, so we're now trying … to teach the younger generation, and teenagers in particular, to have empathy towards animals," McKelson said. "Because if you can't teach people empathy for their own animals, how are they supposed to care for the animals in the rainforest, and understand their value and the importance of protecting them for the future?"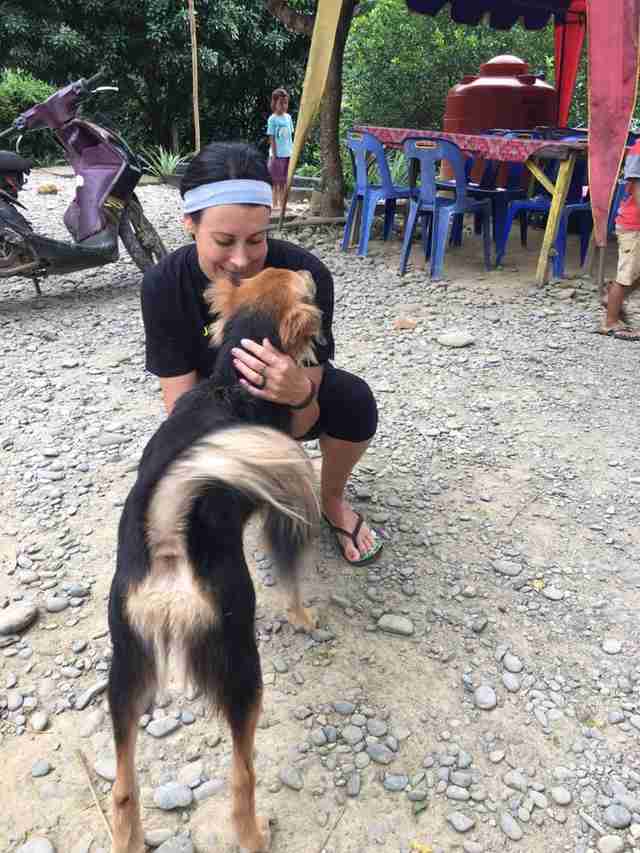 While she's faced many challenges in running the Sumatran Dog Health Program, it's all worth it when McKelson sees how much she's helped individual dogs. Ondong is one dog who sticks out in McKelson's mind.
"Ondong had almost no hair, stunk very bad, very poor teeth," McKelson said. "We knew he was an elderly dog because he had cataracts already, and he was pretty much lifeless. I remember putting him into the cage waiting to be sterilized, and he did not move, did not blink. I thought, 'Oh no, we're going to lose this dog.'"
But after getting a number of treatments for his skin condition, Ondong completely transformed.
"Now Ondong has a new lease of energy," McKelson said. "He runs around his village area. His hair has completely grown back, and he's put on a lot of weight. He's a completely different animal."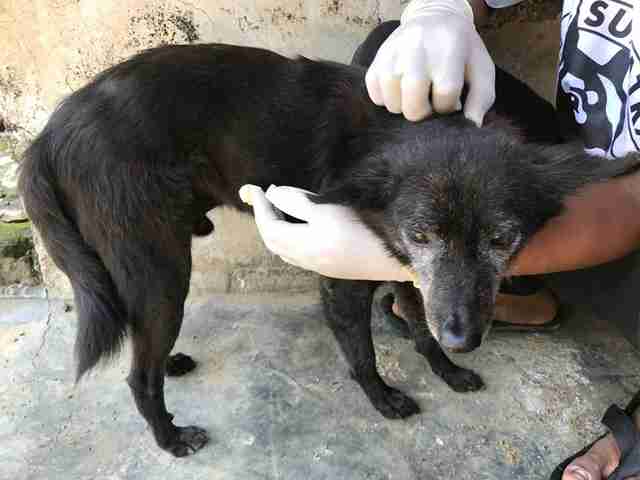 Another dog McKelson helped was Mopi.
"When I first met Mopi, he had no hair and he had a very bad scabies skin condition, and I was very concerned," McKelson said. "We started to treat this dog with the permission of the owner ... and three months later, I saw this black dog run through the village, and I was like, 'Whose dog is that?' And that was Mopi. He'd put on weight, his entire hair had grown back."
So far, McKelson and her team have helped nearly 60 dogs in villages around Medan, Indonesia, but McKelson hopes to help at least 500 more in the next two years. To do this, she wants to purchase a van, and also hire a driver and full-time vet. Another goal of McKelson's is to develop a national strategic method for directly dealing with the dog meat industry.
"Our ethical policy is that every animal counts, and every animal is an individual," McKelson said. "They have a right — and deserve a right — to have a quality of life."