Stray Dog Who Wouldn't Let Anyone Touch Her Melts In The Arms Of Her Rescuer
"As soon as I sat in my car and started the car and drove off, she melted into my lap and just dug her head into my arm."
No one could catch the stray dog, no matter how hard they tried.
For days — or maybe weeks — the tiny terrier mix scurried around a parking lot next to a school and church in Monrovia, California, dodging cars on the busy road in front of the buildings.
Yet Piper Wood, founder of Hand in Paw, a rescue organization in Los Angeles, was determined to rescue the dog.
"I had seen [Facebook] posts prior to this — people posting pictures of her in the bushes, and in the church's parking lot," Wood told The Dodo. "So I decided, 'OK, I really need to do something now.'"
When Wood arrived, the dog — now named Matilda — was cowering in a corner of the school building.
"She was just lying in the corner, and there were puddles of pee and feces that she was just sitting in because she was too scared to move," Wood said. "She had tar hanging from her chin, and tar covering the pads of her feet. So I'm sure it was pretty painful."
Since Matilda was in a corner, it was easy for Wood to loop a leash around her neck and pull her toward her. But Matilda was still petrified.
"When I first picked her up ... she seemed really tense, and she almost wanted to get out of my arms, but I had a very good grip on her," Wood said.
This quickly changed. In fact, Wood says it only took about a minute for Matilda to soften up.
"As soon as I sat in my car and started the car and drove off, she melted into my lap and just dug her head into my arm," Wood said. "She just buried her head in my arms the whole way home."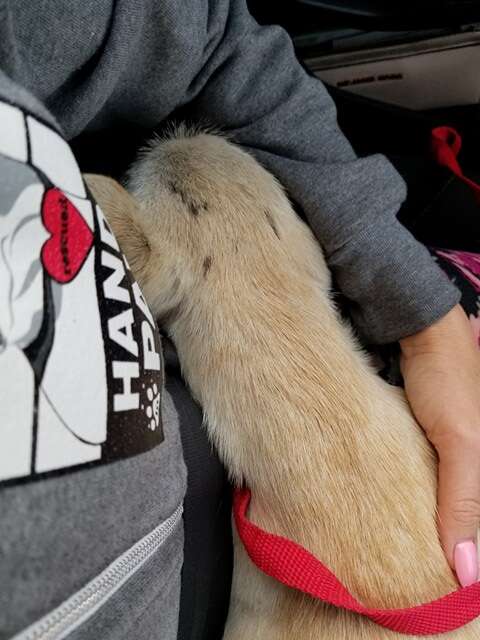 Once at home, Wood immediately started cleaning the tar from Matilda's fur, which Wood believes she got from spending time beneath cars.
"I got her in the shower with me and she was pretty scared, but I washed her about five or six times," Wood said. "The water was so black and I had to pick out all of that tar from her fur."
Then Wood placed Matilda into a warm dog bed, and Matilda instantly fell asleep.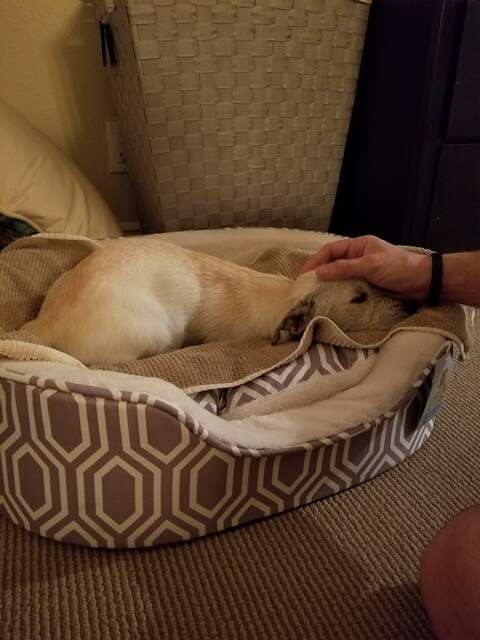 "She just slept for hours," Wood said. "It looked like she hadn't slept in days or weeks. I hand-fed her, pet her a lot. She's still scared, but she's very loving."
But each day, Matilda has felt a little better.
"She is so grateful," Wood said. "Today was the first time I saw her wag her tail. She comes over and creeps into my lap, and buries her head into my lap, and I can tell that she is so happy to be safe and warm and not have to worry about traffic or other animals or the cold."
Yesterday, Matilda went to the vet for a checkup, and to be spayed and vaccinated. She was very groggy when Wood and her friend picked her up, but she wasn't any less affectionate.
"I just put her in my friend's lap and she started cuddling with her," Wood said.
Matilda will stay with Wood until she finds a forever home — but Piper doesn't think she'll be without a home for long.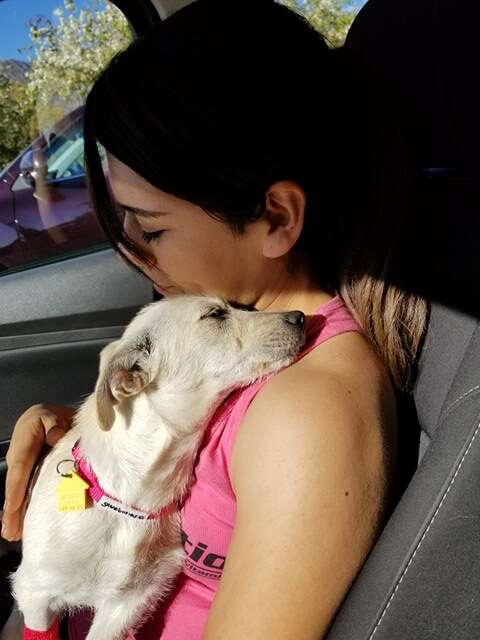 "She's really cute, and I think she's going to make a great companion for a family that's ready to adopt," Wood said.
If you live in the Los Angeles area and you're interested in adopting Matilda, contact
Hand in Paw
.