Cat Mom Leaves Most Hilarious Instructions For Pet Sitter
"Like I told you yesterday, she's a puker."
As Gail Burgess prepared for her upcoming vacation, she did what many doting pet owners would do — she wrote out instructions for her cat sitter.
Her four adopted cats, Cooper, Lucy, Pootydoots and Jack, would be on their own for over a week and Burgess, a volunteer and a cat adoption counselor at the Greater Androscoggin Humane Society in Lewiston, Maine, wanted to be sure everything went smoothly while she was 1,500 miles away.
Gail Burgess
"In order to make it easier for my cat sitter, I figured it would be good to tip her off to their tricks," Burgess told The Dodo. "Jack, for example, is not the brightest bulb on the cat tree, and will almost always go through ANY open door, closet, cabinet, he doesn't care."
Pictured: Jack (Left), Cooper (Right)

| Gail Burgess
While plenty of people make sure their sitters understand their pet's medical requirements, feeding times and other special needs, Gail went one step further, and cat owners everywhere would appreciate the time Burgess took to make sure her fur babies were understood.
Burgess left her sitter printed-out sheets, complete with pictures and detailed biographies of each of her four cats. The dossiers painted a picture of the cats' unique personalities, inter-cat relationships, how they liked to be fed, and their habits and hobbies, with a level of detail that would make a CIA agent proud.
Amanda Burgess
"I left the pictures because [the sitter] was having a hard time remembering their names (and yes they know their names)," Burgess said. "I figured a picture is the easiest way to keep them all straight."
Cat favorites became pretty clear: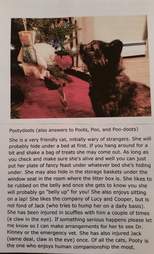 Gail Burgess
In the cat bios, Burgess detailed their likes and dislikes.
"She likes to be rubbed on the belly and once she gets to know you she will probably go 'Belly up' for you! She also enjoys sitting on a lap!" Burgess wrote. "She likes the company of Lucy and Cooper, but is not fond of Jack (who tries to hump her on a daily basis)."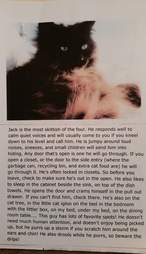 Gail Burgess
Their unique quirks: "He is jumpy around loud noises, sneezes, and small children will send him into hiding. Any door that is open is one he will go through. If you open a closet, or the door to the side entry ... he will go through it. He's often locked in closets."
Gail Burgess
When Burgess' daughter, Amanda, popped in unexpectedly to check on the house last weekend, she stumbled upon her mom's over-the-top cat care directions.
Amanda shared the photos with her sister, Allison, who posted the "cat dossiers" on Twitter — where they quickly went viral.
Twitter users became fascinated by the unrequited love between Burgess' cats, Jack and Pootydoots, as well as Lucy's sneaky behavior.
"She will try to sneak outside if you leave the door open for more than two seconds," Burgess wrote. "She usually goes out, eats some grass, then comes back in [and] pukes it. Like I told you yesterday, she's a puker."
Pictured: Pootydoots

| Gail Burgess
But writing up these bios was not unusual for Burgess. "I know that cats (and dogs) all have very distinct and unique personalities. Just like children. I wrote similar bios of my kids when they were young and had to leave them with a sitter," Burgess said. "The cats (in my opinion), while obviously not human, do have different personalities."
It was her cats' individual personalities and quirks that rescued Burgess when she was in a dark place, and have enriched her life immeasurably, she said, so it seemed only natural that they should get the same attention and care as any other family member.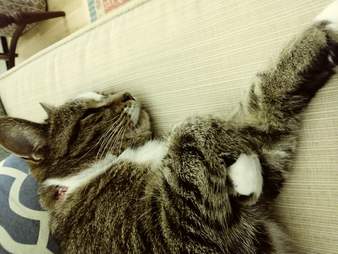 Pictured: Cooper

| Gail Burgess
"I never even liked cats until the first one walked into my life almost 18 years ago. I was a dog person," Burgess added. "I feel like that cat pulled me back from the edge of a bad depression that was slowly taking me down and poisoning my life ... I was down for the count. Saved by a cat. I know that probably sounds ridiculous, but it's the truth."
Vacation has been nice, but Burgess is looking forward to seeing her kitties soon — and making sure Lucy isn't back to eating grass.