Woman Uses Tinder To Track Down Her Missing Cat
"Charlie said he just saw my Tinder profile, looked out his window, and the cat was in his garden!"
Although she's already in a happy relationship with her boyfriend, Katie Alsop recently signed up to the online dating app Tinder in hopes of finding another true love — her dear cat who'd gone missing.
Last week, Katie was left devastated when her orange and white kitty, named Peanut, managed to escape during the night from her home in Northampton, England, and failed to return. While that alone would be enough to concern any devoted pet owner, Katie had another reason to worry; the region has been experiencing a spate of mysterious cat murders, and the perpetrator had recently struck again not far from where she lives.
Rather than simply hope Peanut came back safe on his own — Katie got creative.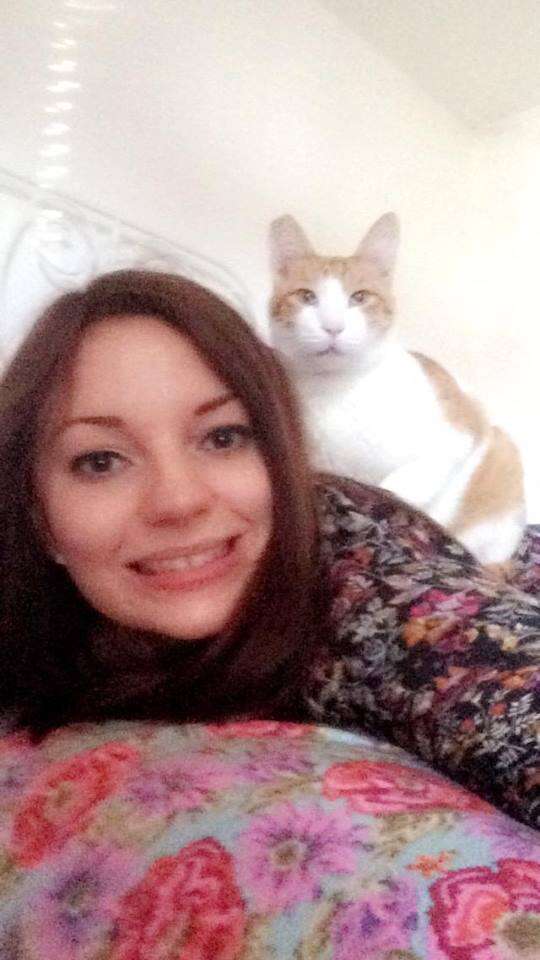 "I couldn't eat and had to have a day off work because I was so worried!" Katie told The Dodo. "I started thinking of ways I could ask people to look for him other than Facebook and posters. Then had a brainwave and downloaded Tinder."
Tinder, for those who don't know, is an app that allows users to create photo profiles (typically of themselves) and a brief bio, usually in hopes of finding a romantic "match" with other people living in a certain proximity to them. For an extra fee, the app will push a user's profile to even more people in the area.
That's the option Katie used — only, she made her profile about Peanut, and added a plea for folks to keep an eye out for him.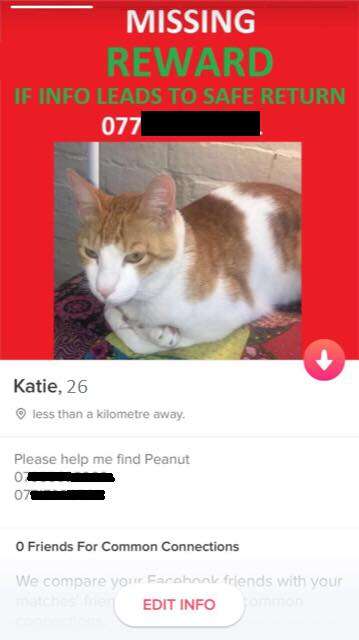 Lost pets aren't the typical fair you'll find on Tinder, of course, but Peanut's profile was quite well-received: "I got 400 matches, so lots of people were looking for him," she said. But then, within just a half hour, Katie got a response from a guy named Charlie — and it was exactly what she had been hoping for.
"Charlie said he just saw my Tinder profile, looked out his window, and the cat was in his garden!" Katie said.
The Tinder plan had worked!
That night, Katie met up with Charlie and together they scoured the area where he'd been seen — and sure enough, they spotted Peanut again. Unfortunately, the frazzled cat got scared and ran away before they could reach him. Chasing Peanut might only drive him farther away, Katie thought, and at least now she knew exactly where to dedicate her search going forward.
Then she got creative again. Really creative.
"I went out every night for a week making trails of used litter so Peanut could find his way home!" she said. "It didn't work until the final night when I added items of my dirty laundry and warm tuna to the trail! At 2 a.m., I heard him crying on our street and took him inside. He was scared and skinny."
It's not surprising that Peanut was a bit bedraggled after his misadventure on the streets, but Katie says he's doing well now and seems happy to be home. She sure knows she is.
"He was only missing for one week in total, but it was awful," Katie said. "I would never have known where to search for Peanut without using Tinder, and really don't think he would have found his way home on his own. He's never going out again!"