Woman Goes Out Looking For Pokemon — And Finds Someone Who Needs Her
He chose her ❤️️🐶
Ela Okreša Đurić had been thinking about adopting a dog for around two months, but every time she went to the shelter, she didn't seem to click with any of the dogs there. She was worried something was wrong with her and wasn't quite sure how to proceed — until one day, the perfect dog found her all on his own.
Đurić was out playing Pokémon Go with her boyfriend and some friends a few weeks ago when out of nowhere, a dog approached the group. The poor dog had extremely matted fur, was covered in ticks and fleas and was so exhausted he could barely keep his eyes open. Despite how uncomfortable he must have been, though, he was suddenly fixated on Đurić's group.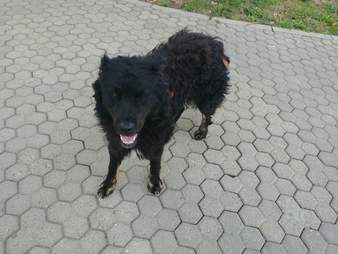 Ela Okreša Đurić
Đurić let the dog, later named Loki, sniff her hand and she whispered kind words in his ear — and that was enough for him to decide that he had found his new family.
"I just sweet-talked to him like to any other dog," Đurić told The Dodo. "He followed us around the city. He was very calm and surprisingly well-behaved."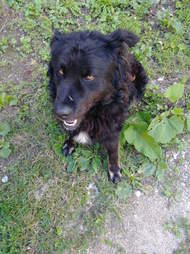 Ela Okreša Đurić
After an hour passed and Loki was still following his new friends, Đurić decided she had no choice but to take him home with her. Loki had chosen her, and as they walked home together, she began to fall in love with the sweet dog. 
Ela Okreša Đurić
After offering him some food and water, Đurić took Loki back outside to see if he might lead her to wherever he had come from, but he stayed loyally by her side. She contacted a local animal shelter, who came out to scan Loki for a microchip and didn't find one. They offered to take him back to the shelter to try and find him a home — but in that moment, Đurić knew that Loki was already home.
"I couldn't even imagine him being locked up in a cage and that was what made me decide to give him a home," Đurić said.
Ela Okreša Đurić
After deciding to officially adopt him, Đurić took Loki to the vet to get him cleaned up and checked out, and was relieved to find out that he was in pretty good health. Loki is slowly settling into his new home, but is still learning how to be a dog. From the way he acts, it seems he may have been living on the streets for quite some time, so he's still adjusting to finally having a home and a family.
Ela Okreša Đurić
"He has a very calm personality so he is a great dog," Đurić said. "He started playing outside with a ball just two days ago and he is still learning."
Before Đurić met Loki, she couldn't figure out why she couldn't find the perfect dog for her — but now she knows it was because Loki was meant to be hers all along.
Ela Okreša Đurić
"I was not sad, but frustrated," Đurić said. "And then, all of a sudden, Loki came into my life, and now I couldn't be happier."