Woman Brings Sick Dog To Groomers — And Never Comes Back For Him
She clearly didn't want him anymore — but his life is about to get SO much better 💕
Last Thursday, a middle-aged woman with red hair and an eyepatch covering her right eye walked in the front door of The Secret Garden Pet Resort in East Bridgewater, Massachusetts. Trailing behind her was a senior bulldog ready for his grooming appointment.
The woman filled out an intake form, listing her name as Melanie Wichester; for the dog's name she wrote "William Katz."
When staff took the bulldog to the back for his bath, they could see immediately that he was in pain. The older dog was covered in pressure sores, possibly from being stuck in a crate, and suffering from skin, eye and ear infections.
They did their best to clean him up and make him comfortable, washing the dog with a special medicated shampoo to ease his scratching, and waited for his owner to return.
Three hours later the appointment was over — but the woman with the eyepatch was nowhere to be found.
The bulldog waited and waited.
By the time the sun came up, the dog was still far from home.
"He spent the night in our facility, and in the morning when there were no calls or answers we had to contact animal control and they took it from there," Katie Ross, a manager at Secret Garden Pet Resort, told The Dodo.
The identity and phone number on the intake form proved to be fake, and the dog's vet papers were forged. Investigators from the MSPCA set to work tracking down the owner — reviewing security footage, interviewing nearby homeowners and checking police databases.
Days passed and the dog's origin remained a mystery, but grooming staff have been doing everything they can to help the abandoned dog feel loved and wanted.
While staying at The Secret Garden Pet Resort, William has his very own bed with plenty of blankets where he can relax in the air-conditioning, and a snuggly T-shirt to help protect his skin. "We leave a shirt on him so he won't scratch himself raw," Ross said. "When he walks around he looks like an employee in one of our T-shirts."
And it hasn't taken long for William Katz to make himself a fixture during his stay, immediately winning over everyone he meets.
"He is the biggest, biggest ham you will ever meet," Ross said. "He can't get enough love and attention and he's just such a sweet dog."
"If you sit down, he'll come right over," Ross explained. "The first thing he does is look and see if you have any snacks — and if not, he definitely expects a belly rub and some scratches on his face. He'll sit there for as long as you will give him attention."
While the older dog is not too keen on exercise, he loves to be part of the action.
"He loves to go outside, [but] you kinda have to bribe him to get up — he's definitely a bit of a couch potato — but once you do get him out he loves to sniff," Ross said. "We have horses, so he loves to check everybody out. He's got to say 'hey' to everybody along the way, and when he comes back in he has to get at least two cookies and then he heads right back to bed."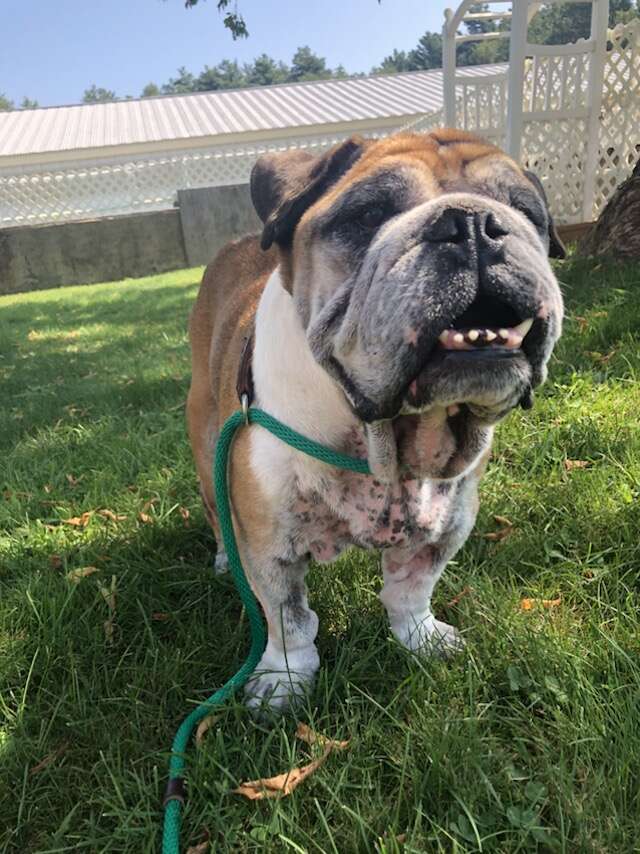 Once his seven-day stray hold is up, William Katz will be transferred to Long Island Bulldog Rescue, where the search for his forever home will begin in earnest. He will also undergo surgery to alleviate the constant pressure caused by his ear infection, and will finally know what it feels like to live pain-free.
But for now, the staffers are doing everything they can to pamper the older dog.
"He definitely deserves better than what he was getting," Ross added. "We're definitely spoiling him rotten."
Anyone with information that could help the MSPCA identify the woman in the video can call the MSPCA's toll-free law enforcement line at 800 628 5808.
If you are interested in adopting William Katz, you can
contact Long Island Bulldog Rescue
.