Woman Finds Scared 'Coyote' Hiding In Backyard Storage Tent
"He was scared, but at the same time, he was trying to tell us that he needed help because he was whimpering."
An animal was cowering inside Lauren Sullivan's storage tent in her backyard. At first, Sullivan thought it was a coyote or some unusual creature.
"I didn't know what he was, because he looked so wild and skinny," Sullivan, who hails from Charlotte, North Carolina, told The Dodo.
Sullivan had discovered the strange animal when her three dogs, Reny, Fasta and Beverly, ran over to the tent and started sniffing it. She'd immediately rounded up her dogs and put them inside. Then Sullivan took some food and water out, and set them in the tent for the animal, who looked like he could eat a good meal.
"I went back inside, fed my dogs," Sullivan said. "When I went back outside, the food was completely gone, but the water was untouched." She also noticed that the animal was still there, hiding in the shadows at the back of the tent.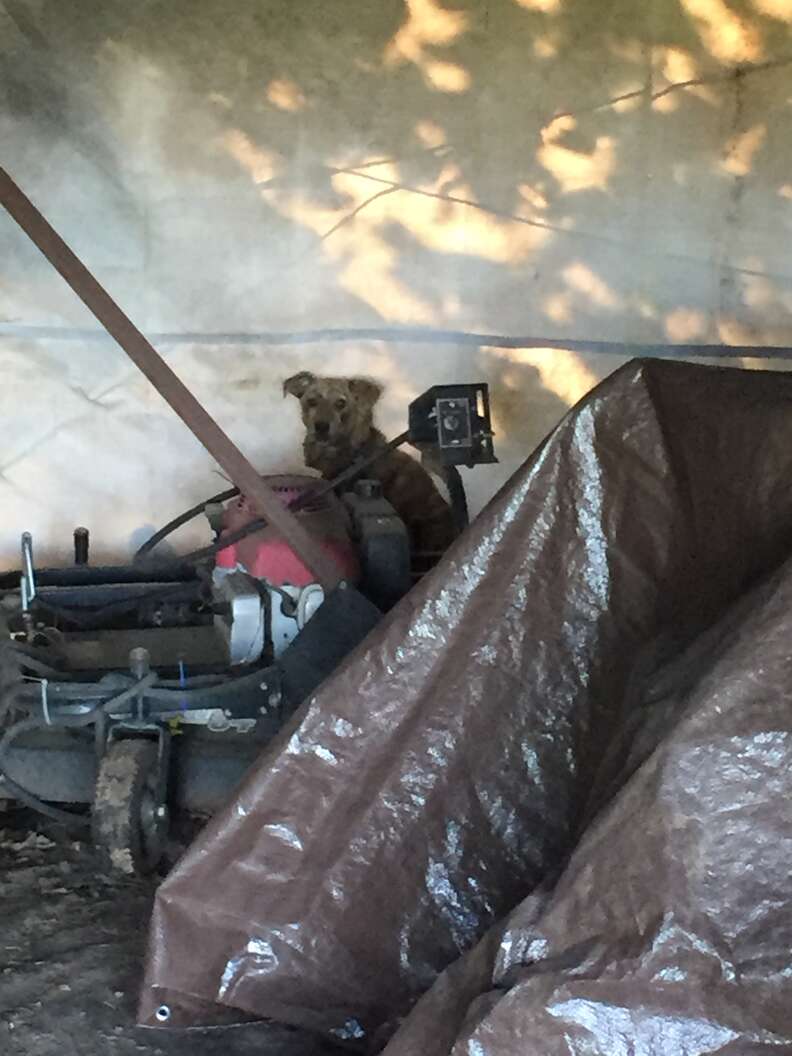 When Sullivan's husband, Sean, came home from work, they had a good look at the animal, and realized it was a dog — probably a stray. But when they tried getting close to him, the dog growled.
"He was scared, but at the same time, he was trying to tell us that he needed help because he was whimpering," Sullivan said.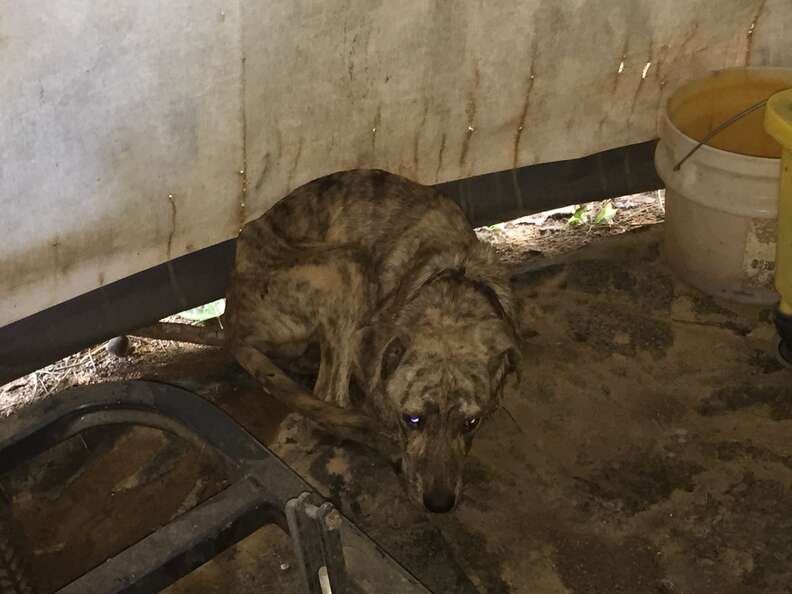 Sullivan was determined — she slowly inched her way toward the dog, who continued to growl and whimper. But he didn't move.
"I thought he had a collar on his neck, and I told Sean, 'Go get a leash,'" Sullivan said. "But before he even turned to go do that ... I saw that what I thought was his collar was actually his ripped flesh from the rope around his neck. At that point, I started crying. And Sean's like, 'Calm down. We'll take him to the ER.'"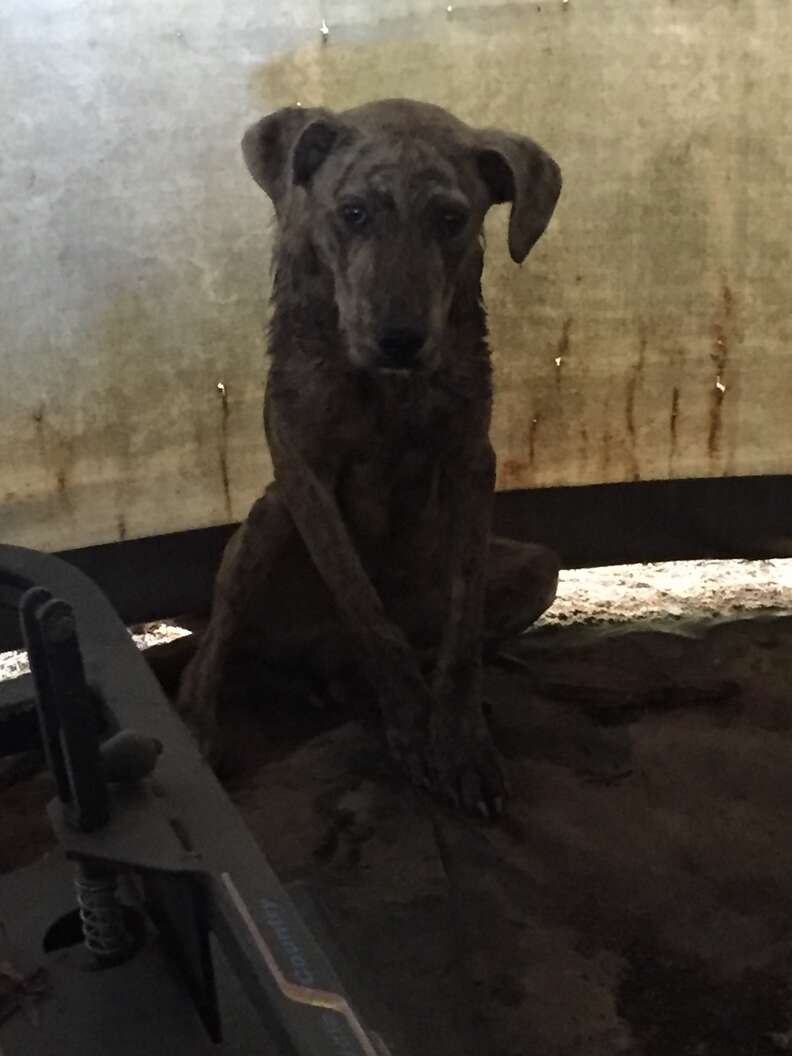 The couple found a way to catch him. "Sean sneaked up on him slowly and threw the blanket on him and he didn't budge," Sullivan said. "He had given up on life at that point."
Once the dog was in the blanket, they lifted him up and loaded him into a spare kennel. Then they drove to an emergency vet hospital. On the way there, they gave the dog a name — Tobie.
Tobie's neck injury turned out to be pretty bad — it was deep and infected, and Sullivan worried he might have sepsis, a life-threatening complication of an infection. "At that point, we didn't even know if he'd survive," Sullivan said.
The injury had been caused by a rope being tied around Tobie's neck, which Tobie had eventually chewed off. "They found rope in his poop the next day," Sullivan said. "He probably chewed himself free. He had the will to live."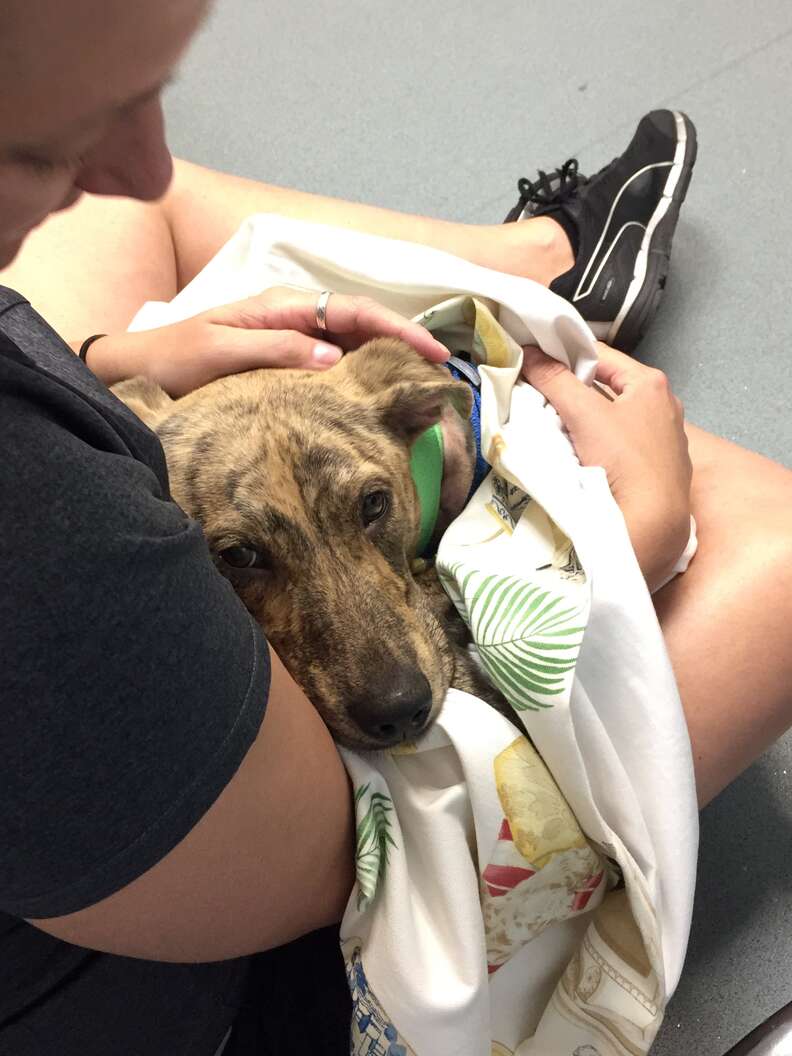 Based on the state of his injury, the vet estimated that Tobie had been tied up for several months, although no one has figured out exactly where he came from.
Tobie went into surgery that very night, and when he came out of it the next day, Sullivan and her husband went to visit. In fact, they started visiting Tobie at the vet every day. By this point, the couple knew they were going to keep him.
"I said to Sean, 'He's ours. We're going to fix him up and keep him. We're not going to give this one away,'" Sullivan said.
A few days later, Tobie went home with the Sullivans. "They wanted to hold onto him for a week, but his anxiety was so high that they decided to send him home a few days early because they thought he would recover more quickly if he was at home with us," Sullivan said.
They were right. Tobie swiftly relaxed in his new surroundings and his healing progressed. "Three or four days after we brought him back from the ER, he had his first wagging tail," Sullivan said.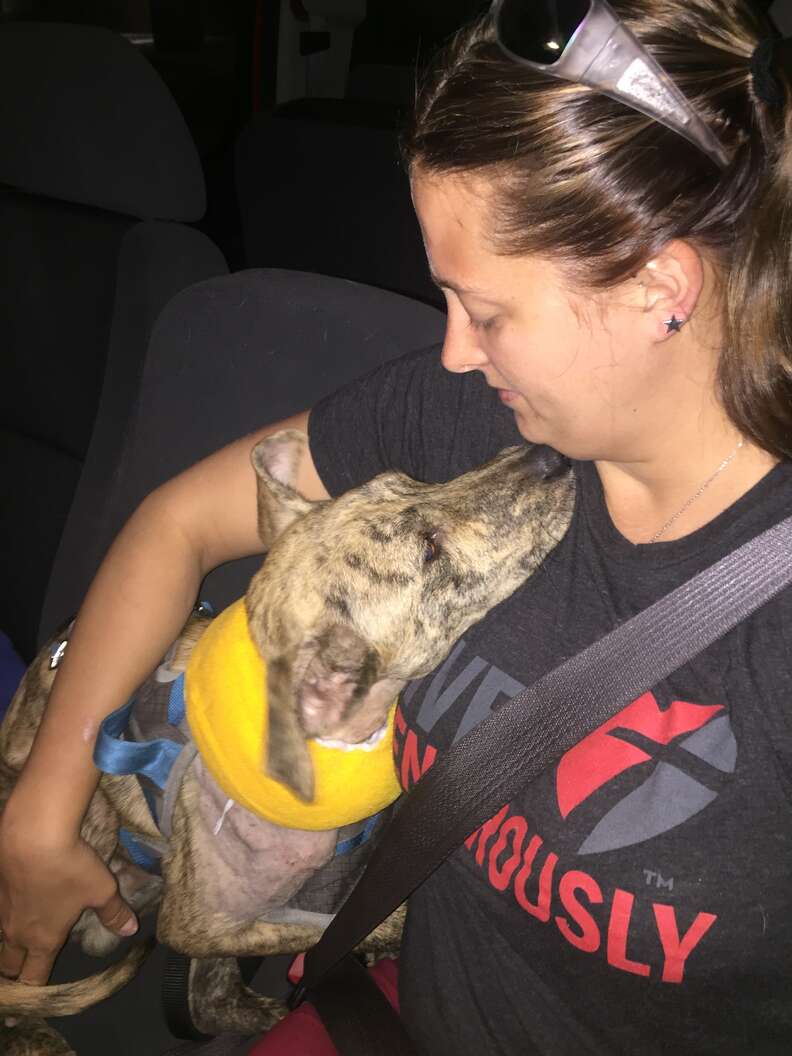 They initially kept Tobie in a doggy playpen inside of the house, but Tobie didn't stay in there for long. "We knew he was ready to join the family when he started climbing over the walls and trying to jump out," Sullivan said.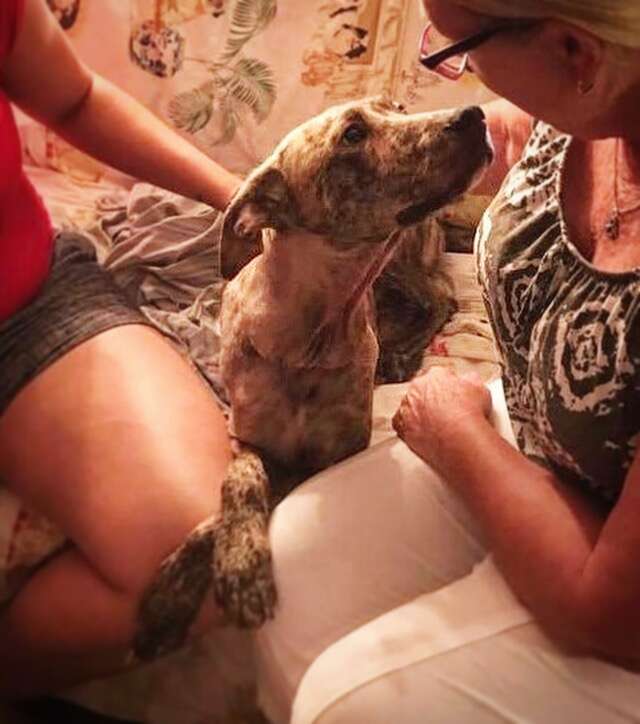 "The other dogs knew he was injured," Sullivan added. "They would not mess with his neck. They would play with him, but they would be very gentle when they got near his neck."
Tobie still had much to learn about living inside a home. He was afraid of doorways and sudden noises, and he didn't know how to drink water from a bowl. "You could tell that he'd never been inside and that he'd never had a normal dog life," Sullivan said.
Tobie often looked to Reny, Fasta and Beverly for help. "He takes his cues from the other dogs, so if they're calm and relaxed, he's calm and relaxed," Sullivan said.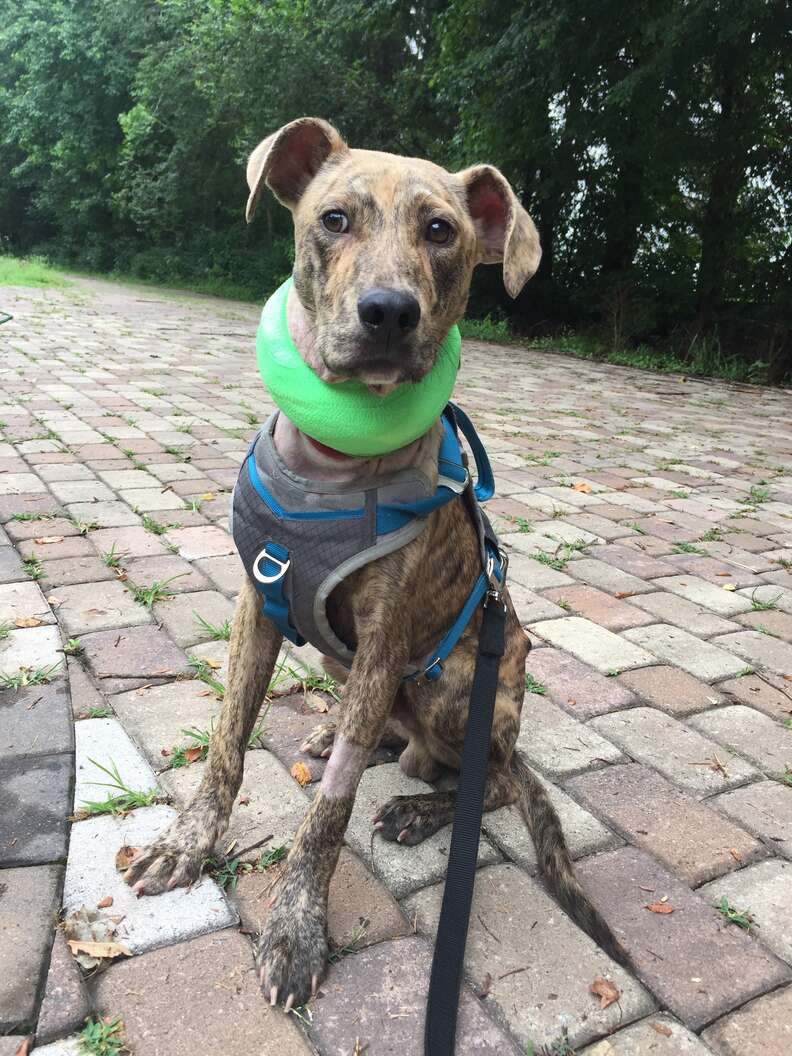 Tobie also put his full trust into the Sullivans. "We didn't know what kind of abuse he'd been through, besides the obvious, and we were surprised he trusted us so readily," Sullivan said.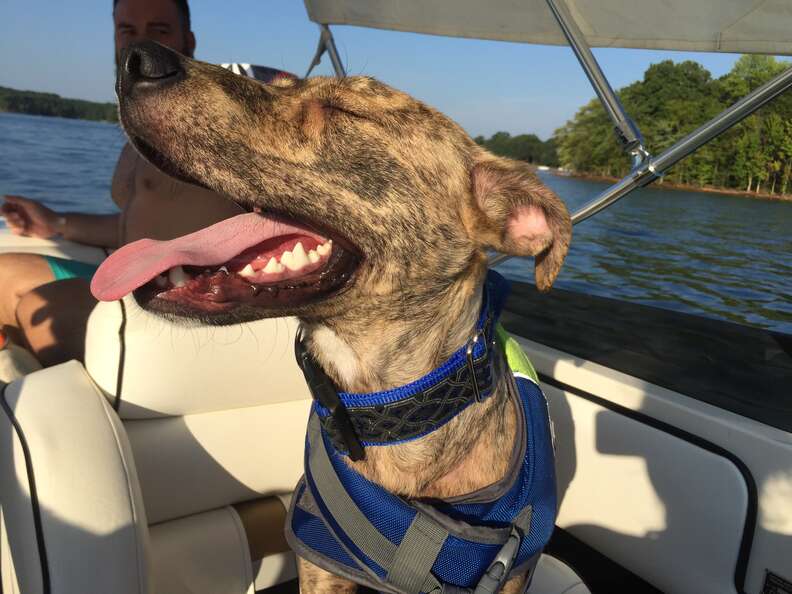 Nine months have now passed since Tobie's rescue, and Tobie has become an important part of the Sullivan family.
"He is still a loving, trusting creature after everything he'd gone through," Sullivan said. "He forgave whatever happened in his past."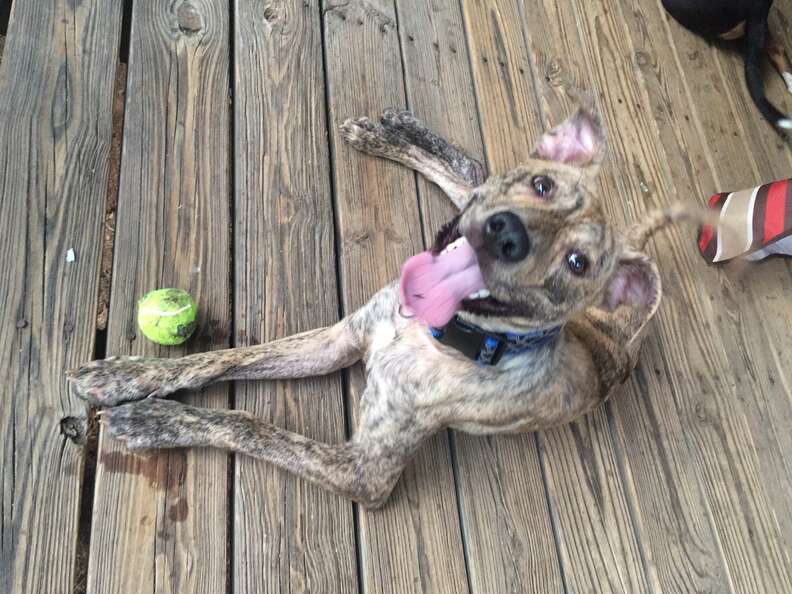 "He knows how to get along with everyone," Sean Sullivan told The Dodo. "We can't imagine not having Tobie."
Thinking about adopting? Then meet Dodo Adoptbot, an interactive guide for new pet parents. Get started on
Facebook Messenger
or text HOME to 38349.