Woman Hears Noise Coming From Chicken Coop — And Can't Believe What She Finds
They're all living in her house now, safe and sound.
When Allison Hull and her roommates heard noises coming from the chicken coop outside, they didn't think anything of it at first — until they realized those noises were actually tiny meows. They quickly realized there must be kittens living in the coop. They were unable to find the kittens at first, but after a few days they spotted them, and immediately set about trying to rescue them. 
The kittens, however, were a little nervous about being rescued, and evaded being caught for a while …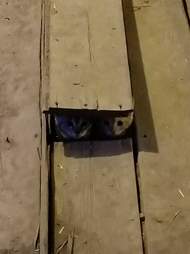 Allison Hull
… but eventually ran out of places to hide, and the roommates were able to catch the two smaller ones and take them inside to safety. 
"We pulled one out about three weeks ago, a little brown kitten, who my roommate kept and named Cent," Hull told The Dodo. "The next was an orange tabby who my other roommate found a home for, but is still living with us and goes by Marmalade."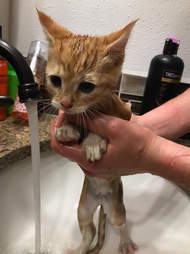 Allison Hull
Hull and her roommates knew there was a third kitten out there somewhere, but couldn't seem to catch her …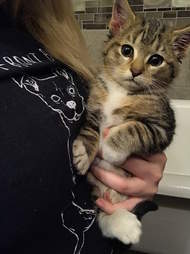 Allison Hull
… until finally, about a week ago, they were able to grab her, and realized she was a little larger, and chubbier, than her tiny siblings.
"We're assuming they're all from the same litter, about 10 weeks old now," Hull said. "Kiki is just slightly larger than the rest of them. Longer and has bigger paws too."
Allison Hull
Hull decided to keep Kiki for herself, and suddenly, the roommates had three rambunctious kittens running around their home — who had formerly lived in a chicken coop and were SO excited at all the space they now had for adventures.
Allison Hull
Despite their uncertain beginnings, the three kittens are now thriving and developing adorable personalities, each incredibly different from the next.
"The first one we rescued, Cent, has been a little ringleader of them," Hull said. "She's adventurous and likes to be cuddled by anyone. I'm hoping that rubs off on Kiki. Kiki's personality is still a little reserved; she doesn't like being held yet but she's been coming around people a lot more."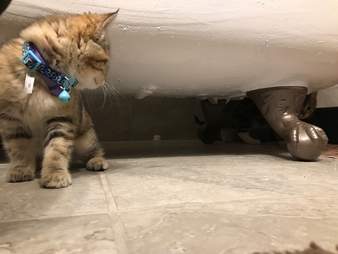 Allison Hull
Despite still being a little nervous about her new life, everyone has already fallen hard for Kiki and her incredibly unique looks …
Allison Hull
… and with a little help from her siblings, she'll likely be a friendly, snuggly cat in no time.