Woman Goes To Throw Away Bag Of Old Teddy Bears — And Finds A Ferret Inside
She's safe now, and the shelter gave her her very own box of teddy bears to play in ❤️
A woman was bagging up a bunch of old toys to get rid of and left them sitting in her garage for a bit. She eventually started to throw some of the bags away, when something inside one of them suddenly started to move. Alarmed, she opened up the bag — and found a little ferret inside, confused but also very, very comfy among all the teddy bears.
Shocked and perplexed as to where the ferret could have come from, the woman immediately contacted the RSPCA for help. Animal collection officer Kirstie Gillard came out to collect the teddy bear-loving animal, and decided to name the cream- and brown-colored ferret Honey.
RSPCA
"I think the member of the public who found her had quite a shock when her little face poked out between the teddies," Gillard said in a press release. "Poor Honey had obviously wanted to find somewhere nice and warm."
Honey was taken in by the RSPCA's Blackberry Farm Animal Center, where she was checked over and determined to be in generally good health, despite being a little underweight. Staff at the shelter quickly learned that Honey wasn't used to being handled by people, and was therefore a little nervous at first.
RSPCA
Those who worked with Honey wanted to find a way to help ease her nerves a little …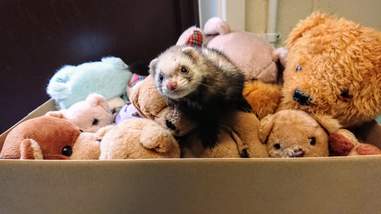 RSPCA
… and decided that her very own box of cozy teddy bears would be just the way to do it.
Honey was clearly enjoying hanging out in the bag of old teddy bears before she was found, so the shelter staff figured she'd enjoy a huge box of new teddy bears just as much, and they were absolutely right. Honey adored cuddling up in the big box of cuddly bears, and it seemed to help make her a little more comfortable with her new surroundings.
RSPCA
No one is quite sure how Honey came to be in that bag of teddy bears, but everyone who knows her is excited to help her get a second chance, and find a loving new forever family.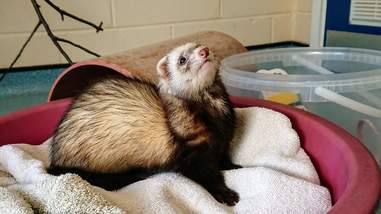 RSPCA
"We don't know if she was abandoned or if she escaped but she had no microchip and no owner was ever traced," Gillard said.
RSPCA
Honey would do best in a home with adults or older children, and could definitely live with other ferrets. It will take her some time to get used to interacting with people, but the shelter is confident that before long, she'll be a happy, confident little ferret. She just needs a home where she'll be given lots of love and care — and hopefully a few teddy bears to play with, too.
If you're interested in adopting Honey, you can
contact the RSPCA
for more information.