Woman Catches Her Dog And Cat Sharing The Sweetest Moment
"Did my dog just pet my cat?? And did my cat just hug my dog??"
Whenever Jordan Ireland, a student at Concordia University Wisconsin, goes home to Colorado, she always looks forward to spending quality time with her pets.
But this December she found her furry siblings, Pumpkin and Maggie, behaving a bit … differently. Maggie, a miniature Labradoodle, joined the family when Ireland graduated high school, and her arrival rubbed the family's calico rescue cat, Pumpkin, the wrong way.
"Maggie and her originally hated each other," Ireland told The Dodo.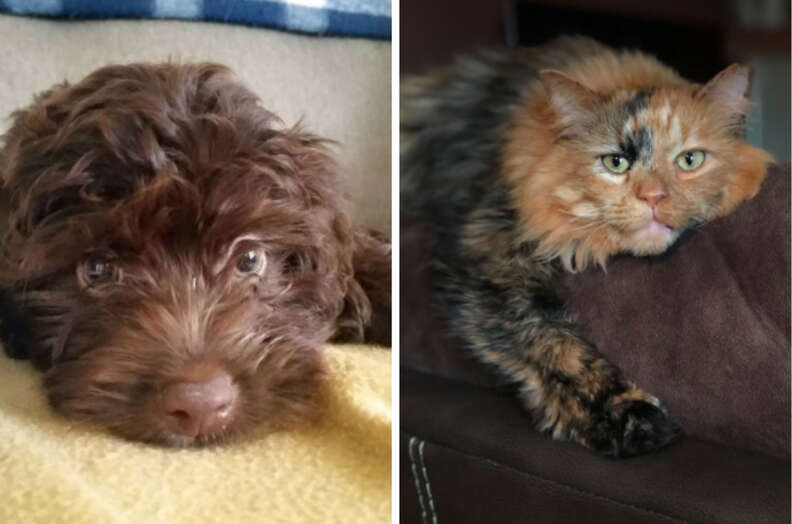 As time passed, Pumpkin and Maggie began to act more like friends and less like enemies, having fun together while their big sister was at school. "They always play," Ireland said. "They typically chase each other up and down the hallways and stairs."
But Ireland had no idea how close the two had grown until she walked in on the animals engaged in an odd new game. Luckily, she had her phone handy to capture the sweet moment.
In the video, Maggie appears to stroke her cat sister's back with her paw, to which Pumpkin responds by wrapping her arms around her fluffy dog friend's chest.
Ireland posted the heartwarming clip to her Twitter, with the caption: "Did my dog just pet my cat?? And did my cat just hug my dog??"
In just over a week since its posting, the video has gained over a million likes and has been shared across social media hundreds of thousands of times. Commenters were thrilled to see such a pure example of unlikely cat and dog love. "This made my whole 2019 already," one commenter responded.
And it's clear from all the licking and snuggling that the unlikely friends are truly inseparable.
While Ireland has been surprised by how popular the video has become, she's mostly just happy that she had her camera ready. "They are like best friends and grew up with each other, so it's a regular occurrence that they mess with each other," Ireland said. "I just happened to catch it on video this time."