Woman Sleeps Overnight At Vet Clinic To Comfort Sick Dog
"I hold a special place in my heart for pit bulls. My heart went out to this baby."
Hayley Baer had never met the puppy, but when she saw her picture on a friend's Facebook page, she knew she wanted to help her.
Majesty, a 4-month-old pit bull, had been admitted to a vet hospital in San Pedro, Belize, after contracting parvovirus, a deadly disease that attacks and breaks down a dog's intestinal linings.
"[The owners] were told by the person who sold them the puppy that she had her vaccinations, but [they] didn't ask for the paperwork showing proof," Baer, an independent dog and cat rescuer, told The Dodo. "They trusted when they shouldn't have and had no clue as to what could happen."
When a recent outbreak of parvovirus swept across the island of Ambergris Caye, where San Pedro is located, Majesty was one of the many dogs who was affected. She got sick — really sick. The vet team worked tirelessly to try and save her life, but they weren't sure if they could.
Even though Majesty already had a family and she wasn't up for adoption, Baer felt compelled to help her, so she went to visit her at the hospital. Baer felt particularly motivated to help the puppy after losing her own pit bull Jewel, who died very suddenly four weeks earlier.
"I hold a special place in my heart for pit bulls," Baer said. "My heart went out to this baby."
At this point, the vet team was giving Majesty a 50/50 chance of surviving, and they weren't sure if she'd survive the night. When Baer realized the seriousness of Majesty's condition, she knew she didn't want to leave her.
"I offered to stay overnight," Baer said. "The vet and her staff had been coming in during the night to check on her. I thought it would help to give her love all night long."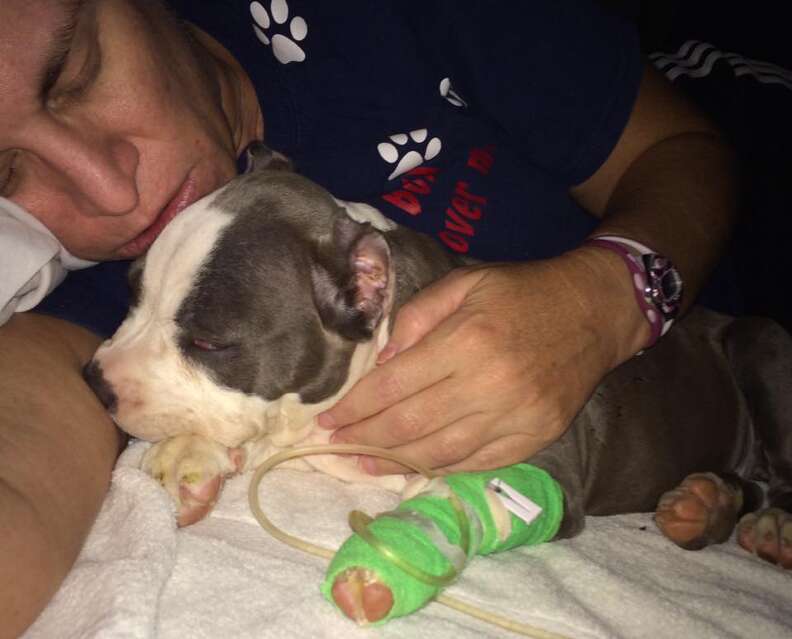 The vet team knew Baer and trusted her, so they agreed to the arrangement. They showed her how to work the machine that controlled Majesty's IV drip, and got Baer a mattress to sleep on. But Baer didn't sleep much that night — instead, she stayed awake to monitor Majesty's health.
"She was up and down a lot," Baer said. "She finally started eating and drinking that night, so I was giving her small amounts all night long."
But no matter how sick Majesty must have felt, the puppy didn't want to go back into her kennel — instead, she insisted on staying close to Baer.
"She would give me sad eyes and whine until I took her out to be with me," Baer said. "She spent most of her time lying next to me on the mattress while I read or watched Netflix on my laptop."
Majesty made it through the night, and the next day she seemed to feel a lot better. And the day after that, Majesty improved even more.
When Baer went to visit the puppy again, Majesty smothered her with kisses.
"She was perky and wanted to kiss me like crazy," Baer said. "She ate like a champ and didn't throw up. We had a wonderful time together."
Yesterday, Majesty was released from the vet hospital with a clean bill of health, and she got to go home with her family. Baer was pleased to have helped Majesty, but she knew that Majesty had helped her just as much.
"I think my Jewel sent this puppy for us to help each other," Baer said. "It has done wonders for me."