Woman Didn't Want A Cat — But She Fell In Love With The 'Scary' One
"He was everything I thought he would be ... He snuggled right under my chin and purred loudly."
When Shawna Solberg went on a tour of Best Friends Animal Sanctuary in Kanab, Utah, with her two daughters, she was sure she wasn't going to adopt any animals. In fact, she was adamant.
"I had already told my daughters to not ask for any animals to adopt," Solberg told The Dodo. "We already had two cats and a dog at home. We toured the property, and while I felt sorry for the other animals, I was attempting to remain steadfast in my decision to not adopt."
When they visited the cat building, Solberg spotted Oscar, a 12-year-old cat with a distinctive look — he was missing the outer parts of his ears and half of his tail.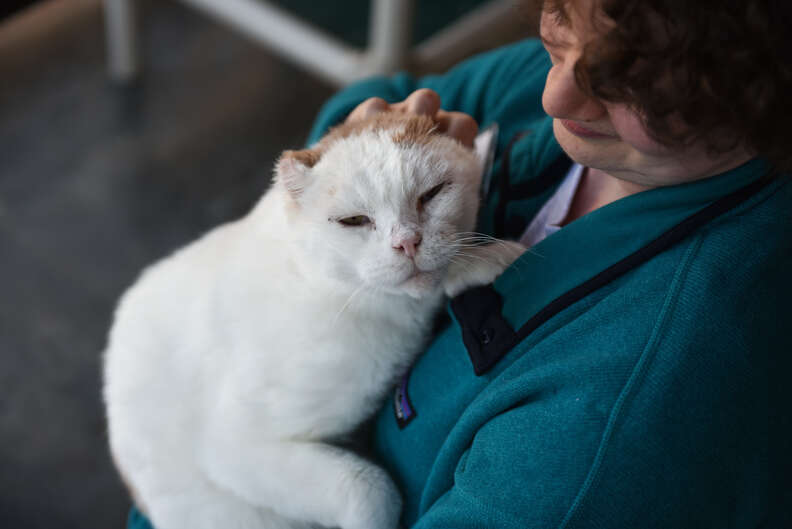 "I looked through a window in a door next to me and saw Oscar sitting on an upper level of a cat tree," Solberg said. "I remember seeing him and thinking, 'Man, he looks rough and mean.' I figured he probably got his ears damaged from fighting. Then his eyes were half-closed and he seemed like he had the attitude that he could not be bothered."
Oscar's rough appearance had a lot to do with his background. Last October, Oscar arrived at the sanctuary after getting picked up on the streets near Kanab.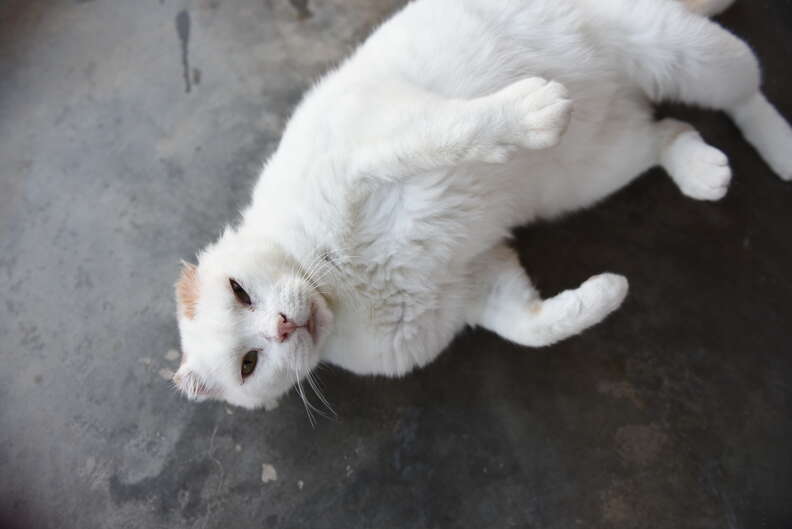 "When he came in, his back was a bit scabby and raw," Danielle Barnhart, a cat caregiver at Best Friends Animal Sanctuary, told The Dodo. "He had a huge yeast infection all over his ears and on his back. His tail was really short and stubby ... it kind of looked like his tail got run over or he got attacked or something."
The vet team also discovered that Oscar had skin cancer on his ears, and they had to remove his ear flaps to stop the cancer from spreading.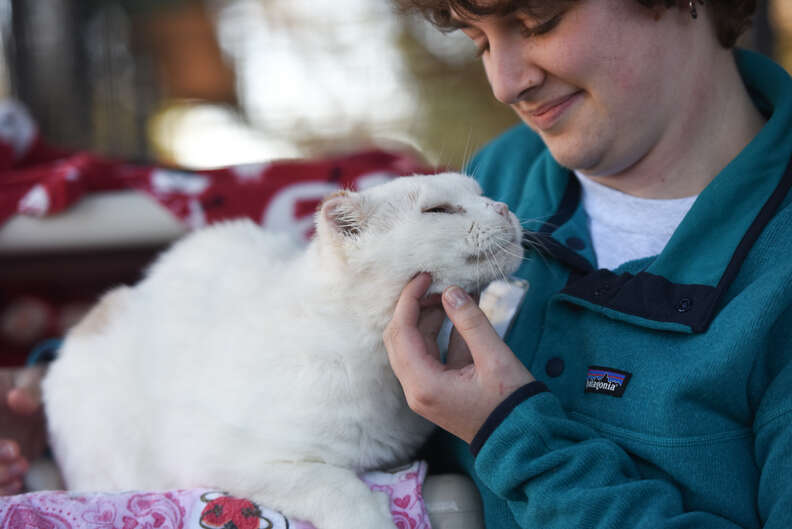 The operation left Oscar looking a little "scary," which may have had something to do with his difficulty finding a home — he'd been living at the sanctuary for the last six months. "Some people might not like the look of him, especially if little kids come in," Barnhart said.
But in reality, Oscar wasn't scary at all — he was one of the nicest, most cuddly cats at the sanctuary, according to Barnhart.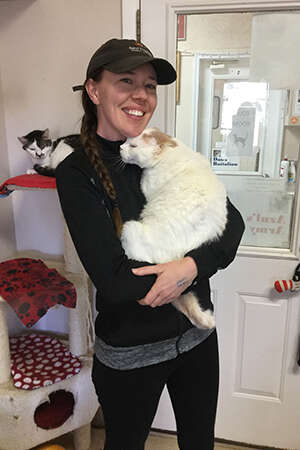 "He just loves people and he loves being held, more than any cat I've ever known," Barnhart said. "He puts his arms around your neck to give you a hug, and he nuzzles his head under your neck. He'd be content doing that for hours."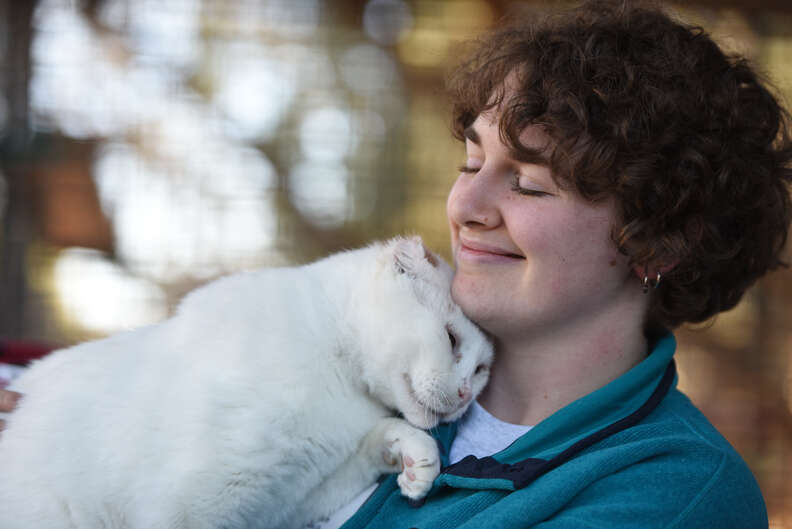 When Solberg and her two daughters entered the cat room, the sanctuary workers introduced them to Oscar. And despite her best efforts, Solberg found herself falling for him.
"The caregiver picked up Oscar, and I saw how he kept snuggling under her chin and how he was so dang lovable," Solberg said. "The more I heard of him from the caregiver, the more I kept being drawn to him. I did not hold him or snuggle with him at the time because … I was keeping an eye on my youngest daughter. All I did was give him a pet while she held him."
But Solberg couldn't stop thinking about Oscar.
"We left the building and I told my oldest daughter, who's 19, that I wanted to adopt him," Solberg said. "She looked at me and gave me a small admonishment for not sticking to my decision to not adopt any animals, but she was smiling the whole time since she loves all animals and loved the idea of adopting him."
That afternoon, Solberg and her daughters met with the adoption coordinator, but they got some devastating news about Oscar.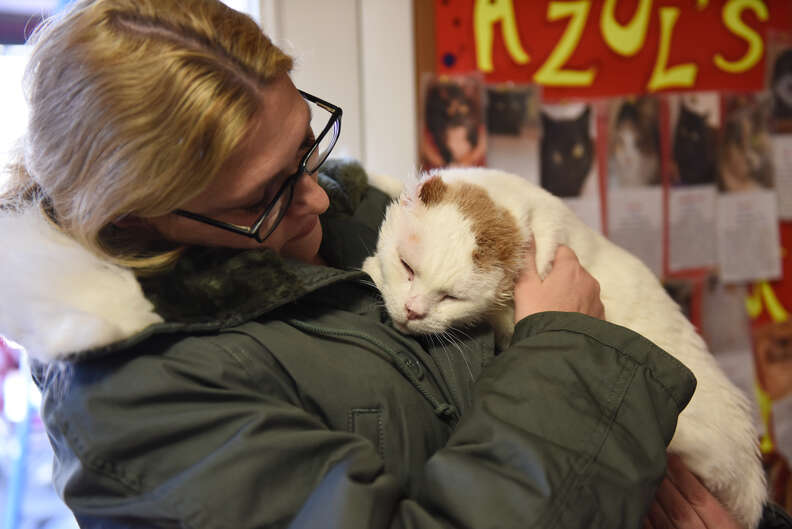 "They had just found out that Oscar had tumors in his lungs and [asked], 'Would we still be willing to give him a home?'" Solberg said. "I knew I didn't mind it because if I could give him a loving home for even a small amount of time, I was willing to deal with the heartbreak that would surely be associated to loving then losing him. But I had to see what my daughters thought. I didn't want to share the heartache of losing him with them without them accepting the possibility first. Both did not hesitate to agree that we still wanted to bring him home with us."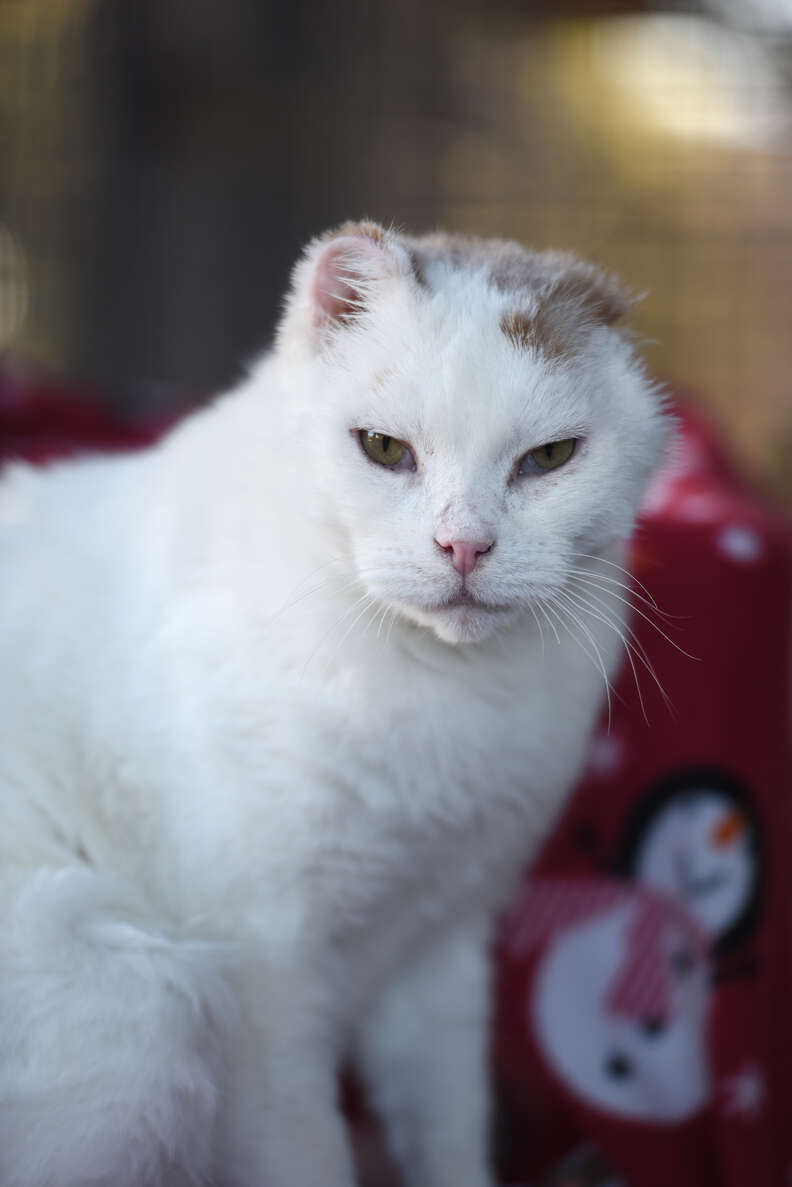 They took Oscar home that very day.
"I filled out the required papers and then I finally got to snuggle and hold him while they were getting a bag of his medication ready for us to take home," Solberg said. "He was everything I thought he would be when I saw the caretaker with him. He snuggled right under my chin and purred loudly."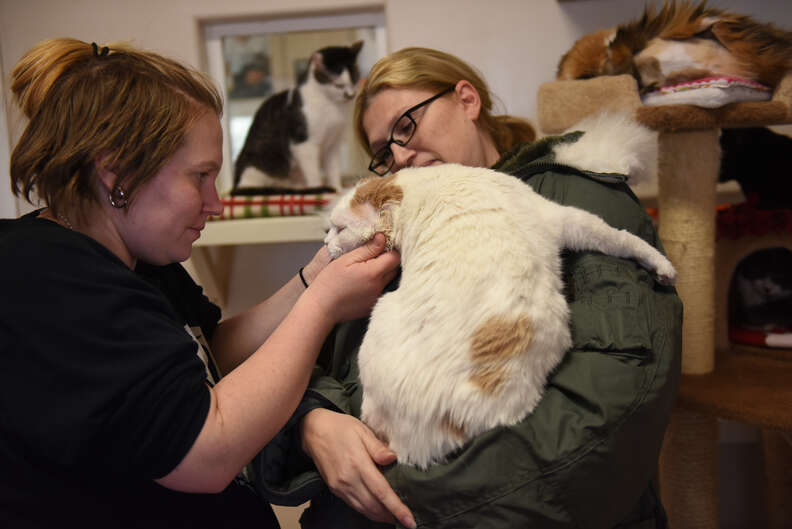 Now Oscar lives with Solberg, her family, their two cats and dog — and he's settling in nicely.
"My daughters and I are gone during the day at work and school, so he gets to lounge around the house all day," Solberg said. "Then when I get home in the afternoon, I give him his medications, and then we all just take turns cuddling with him."
"He seems to follow whoever he wants to be with then jumps up wherever they are and then that person cannot help but give him attention by either petting him or snuggling with him," Solberg added. "If it's not the full attention he wants he has had no problem climbing up on your chest and snuggling on your chin."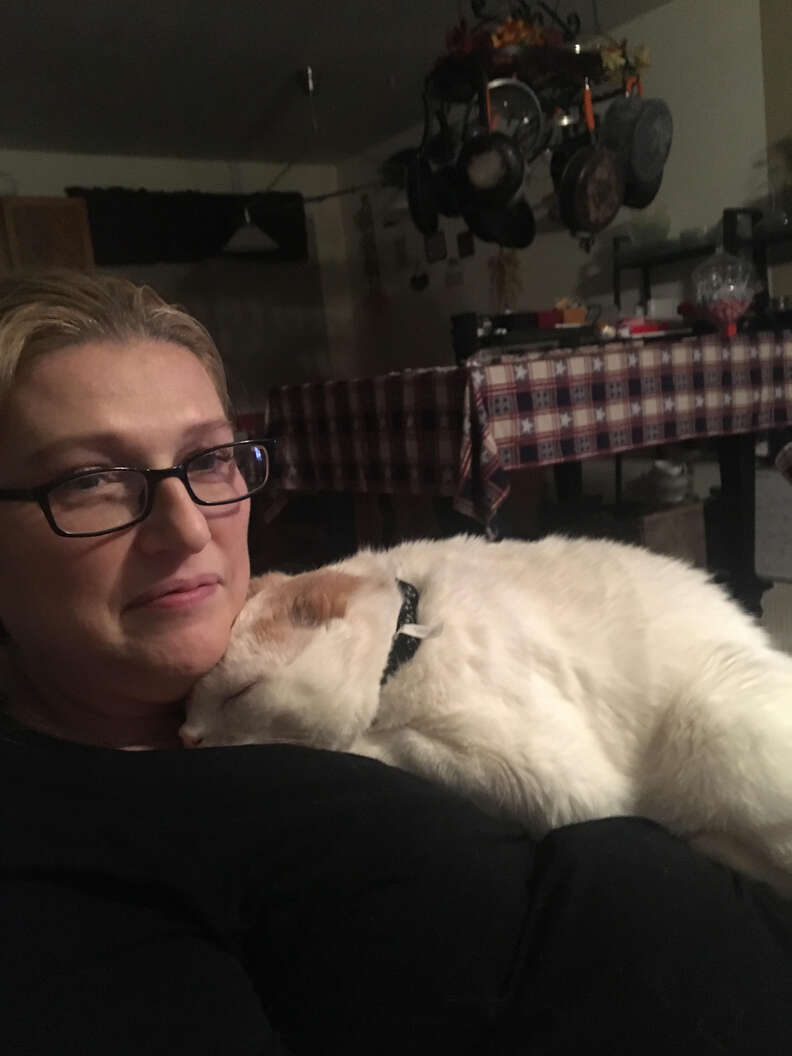 The team at Best Friends Animal Sanctuary is delighted. "He's the best cat," Barnhart said. "He did not need to be living here. He needed a family to snuggle him."
And even though Solberg never intended on adopting another cat, she's beyond grateful that Oscar is part of her life. "Even though we have not had him long, I cannot imagine my life without the earless, lovable guy," she said.