Six years ago, Michael Petruzzi lost his wife to cancer — but in some ways, she's never really left.
For as long as Michael had known her, his wife had been an avid bird lover. Throughout her life, she'd adopted numerous feathered companions whom she doted upon like real members of her family. Michael had always liked them too, but admits that he couldn't quite understand why she was so devoted to them — going as far as to decline travel opportunities just to remain close at hand.
"I never knew how much she loved them," Michael tells The Dodo. "She had no children. They were her babies."
Now, Michael says he understands.
When Michael's wife became ill, she had 20 cockatiels under her care: "She would adopt so many. Because she loved them," Michael says.
As her cancer progressed, he began to learn more about the birds and how to care for them — but such a large flock was too much for a newcomer to handle. So, when she ultimately passed away, friends of Michael's wife stepped in to help, taking in 12 of her birds and leaving him with eight she'd thought suited him best. And before long, Michael came to know why his wife had such deep affection for them.
"I never knew birds could be so loving," he says. "They are my babies now. I guess I love them so much because they remind me so much of my wife. I love and feel her through the birdies. They make me happy when I'm down."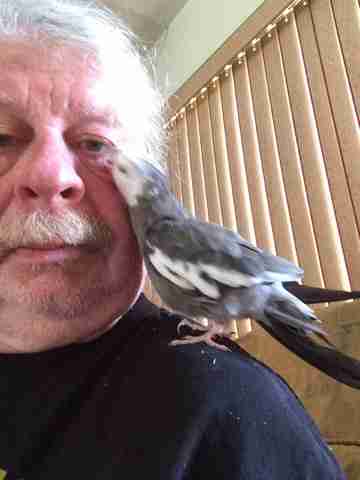 Six years have gone by now since he lost his wife, but Michael still tears up when talking about her. In that time, four birds she'd left to him have passed away from old age. Still, he's heartened to share his golden years with the remaining four senior birds under his care — creatures whom his wife had loved so dearly.
"They are my family now," he says. "I have found peace with my flock."
Michael's flock has found peace with him as well, thanks to his understanding of how these pets should be treated and loved. He hopes others might take note.
"Birds are supposed to be free," Michael says. "Don't get one and put it in a cage in the corner. Interact and play with them. They are social animals. If you are young, expect to have a friend for many years. They will be your friend for life."