Happy-Go-Lucky Dog Has Been Adopted And Returned Four Times
His name is Bandit and he's still looking for someone to love him 💙
After being found as a stray and taken to Gwinnett County Animal Shelter in Georgia, Bandit was pulled from the shelter and taken in by the Gwinnett Jail Dogs Program. He was checked over by a vet and found to be heartworm positive, so his rescuers quickly started him on the treatment. The heartworm treatment is something that many rescue dogs go through and is normally very routine — but unfortunately, Bandit suffered some rare and very severe side effects. He lost the use of his back legs.
"At first we all assumed this was something acute or temporary," Lori Cronin, a volunteer with the Gwinnett Jail Dogs Program, told The Dodo. "We were wrong. His condition not only persisted, it got worse."
Unfortunately, the rare side effects from the heartworm treatment left Bandit completely paralyzed in the lower half of his body. For the first few months after he was paralyzed, his handlers had to help him do everything, until the Society of Humane Friends of Georgia, the organization that helps run the jail program, gathered up enough money to buy Bandit his very own wheelchair.
Bandit has now been with the Gwinnett Jail Dogs Program for four years, and during that time he's been adopted out four times by four different families — and every single time he's been adopted, he's been returned again, because his adopters were unable to deal with his disability and everything it comes with.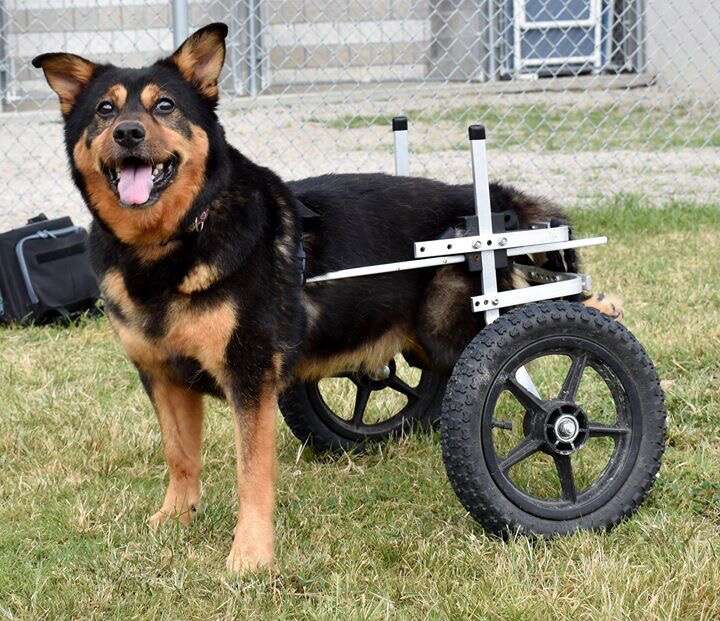 The Gwinnett Jail Dogs Program, founded in 2010, pulls at-risk dogs from local shelters and houses them in the jail with the inmates. Each dog is assigned a primary handler, and not only does the dog sleep in their handler's room, but the handler is in charge of caring for and training their assigned dog as long as they are in the program. Licensed trainers and animal professionals come into the program and work with the inmates to teach them about caring for dogs and providing basic training, and about the importance of animal welfare practices in general. The program now also includes cats, who are housed with female inmates in a different unit.
Even after he became paralyzed, Bandit has thrived in the jail dogs program. The 8-year-old dog is one of the happiest, sweetest dogs anyone has ever met, and everyone in the program absolutely adores working with him.
"He is probably one of the most happy-go-lucky dogs in the program," Cronin said. "He has never met a stranger and gets along well with the dogs in his unit. When coming inside to the unit after his daily outings in the yard with his handlers, he will literally run to the deputy's desk looking for a handout (treat)! His handlers say he is a great dog to work with. They have taught him some pretty unique tricks since he is in a wheelchair. He does just about everything the other dogs do, if not more!"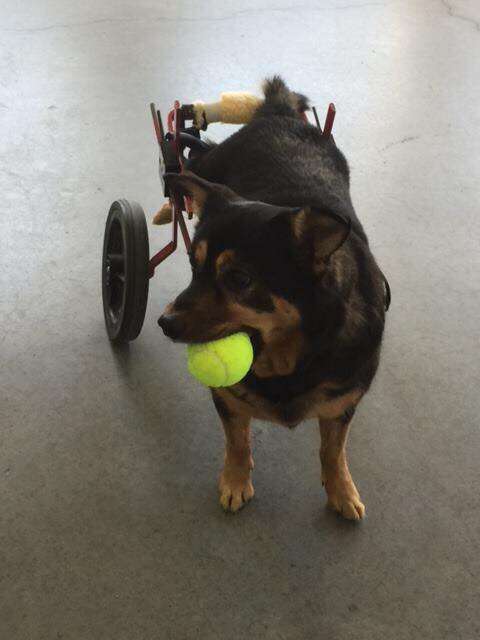 Due to his paralysis, Bandit needs a lot of help going to the bathroom every day. While he gets around just fine in his wheelchair and his disability doesn't affect most other parts of his life, helping him go to the bathroom can be a cumbersome, daunting task for some people, and seems to be the main reason that he keeps getting returned every time he finds a family.
"People don't realize what it takes to accommodate a special needs dog," Cronin said. "He doesn't always know when he is [going to the bathroom], but when kept to a schedule his handlers know [when he has to go] and can get him outside during that time of day. Keeping him on a schedule is what works best for him. He weighs 40ish pounds and has to be lifted in and out of his cart throughout the day so that makes it difficult on someone that is unable to pick him up."
Despite his challenges, Bandit is such a loving dog, and just wants a family he can give all of that love to. He's never met anyone he hasn't loved instantly, and while he loves going for walks and exploring the world around him, he's also content to just hang out on the couch and snuggle.
Bandit has been waiting four long years for a home, and everyone who knows him is hoping that very soon, a family will come along and realize just how special Bandit really is.