'Werewolf' Stood On Side Of Road For Months Waiting For Help
"It's hard to think that all those cars passed him by and never stopped" 💔
He was skinny, balding and had been hunched over at the side of the road for months.
His skin looked almost scaly, and his tail was pointy and shriveled. What was left of his black fur stood straight up on his neck and back in disheveled tangles.
He hadn't eaten in what must have been weeks, and he was barely able to walk. No one knew anything else about the strange creature except that he had been limping around a Madera Ranchos, California, orchard for a long time.
He started becoming known as the werewolf, because people simply didn't know what kind of animal he was — and they were too afraid of getting close to find out.
By the end of March, a woman driving nearby spotted him and made a post asking for help on Facebook, then decided to wait nearby until someone arrived. It wasn't long before local dog rescuer, Megan Bowe, was on the scene.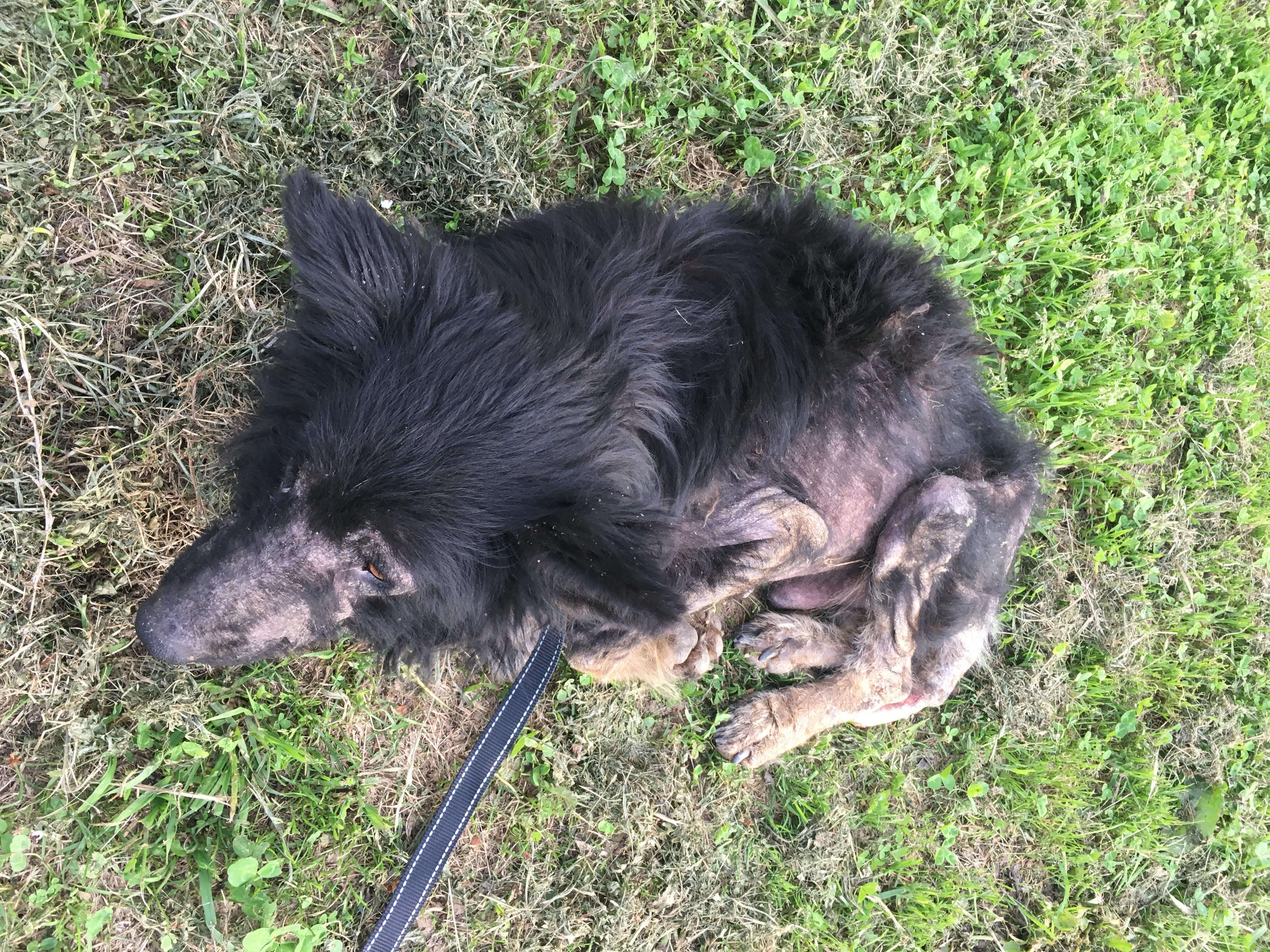 "I was about ready to cry when I saw how bad off he was," Bowe, founder of Bowe's Adoptable Rescue Pups, told The Dodo. "He was really on his last leg. He was depressed and could barely even stand up."
Up close, Bowe knew right away what the "werewolf" really was: a very sick German shepherd.
She named him King and rushed him into her car to bring him to an emergency vet. He was so glad to finally have help that he went willingly along with her.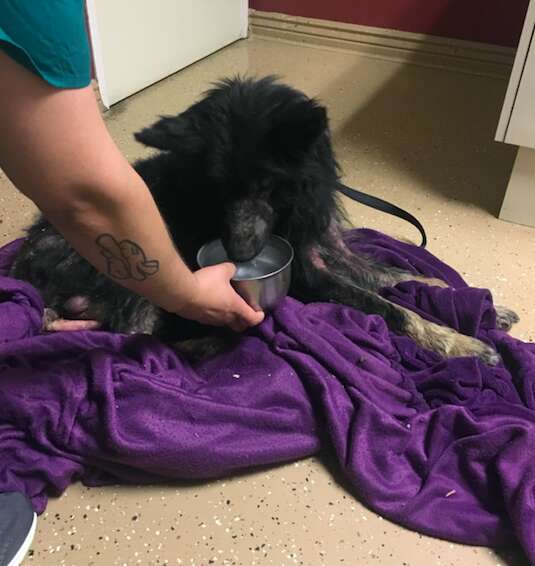 The vet discovered a laundry list of different ailments and injuries — most notably, King was suffering from scabies, a broken pelvis and a severely broken tail.
Even though he looked very old, King was only about 1 year old.
"My vet thinks he got hit by a car, and that would explain how his tail was so messed up, too," Bowe said. "That injury happened months ago, because by the time I got him it had already started to heal incorrectly. And with such a damaged pelvis, he wasn't able to get around very far on his own to look for food so he was extremely skinny and dehydrated."
Since his mange was contagious, Bowe had to set up a quarantine area in her garage so King could heal without potentially passing it on to other animals in her care. She also started him on small feedings to build his weight and strength back up to get him ready to have surgery on his hip and tail.
Although he was weak and in pain, it was clear he was so grateful.
"He's a super loving dog," Bowe said. "If I sit down, he has his face right next to mine and leans in as if he's giving me a hug. He has been so calm and relaxed through everything."
After about a month and a half of around-the-clock care, feedings and medicine, King's scabies began to improve and he was regaining strength. A few weeks ago, he was finally well enough to get surgery on one hip and his tail.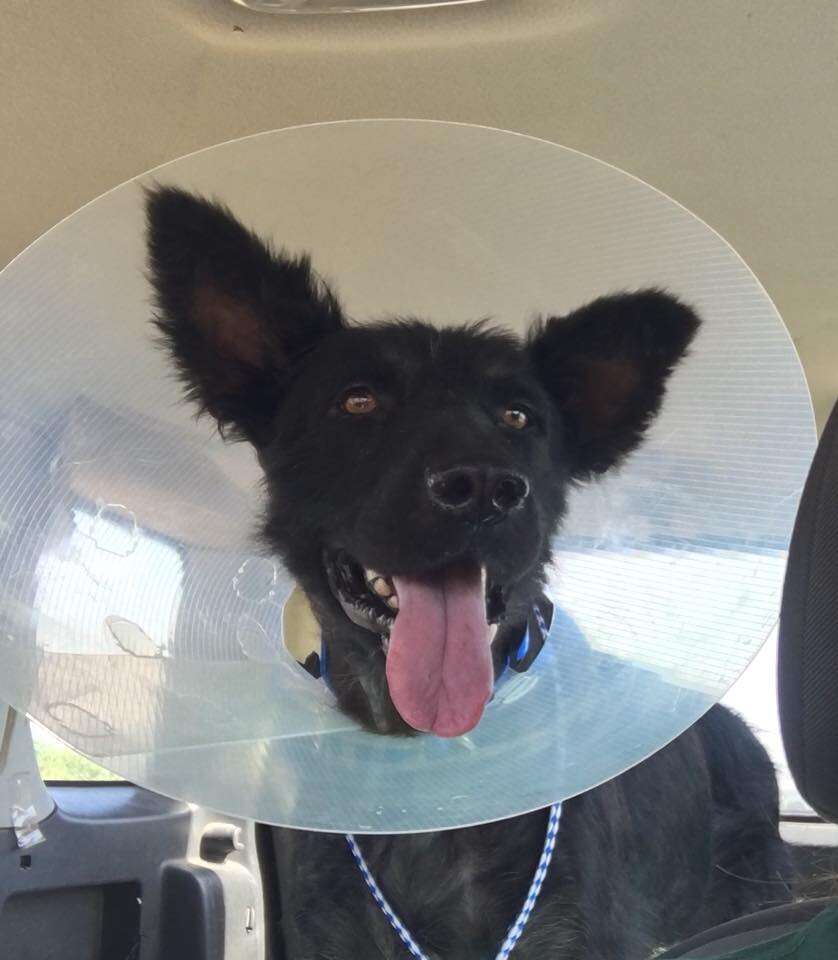 "He is going on daily walks to strengthen his leg, per vet orders," Bowe said. "He will go back for a follow-up appointment at the end of the month to see how he's healing, and to get his stitches out. Once he's fully healed, he'll be checked out again to see if his other hip will need surgery."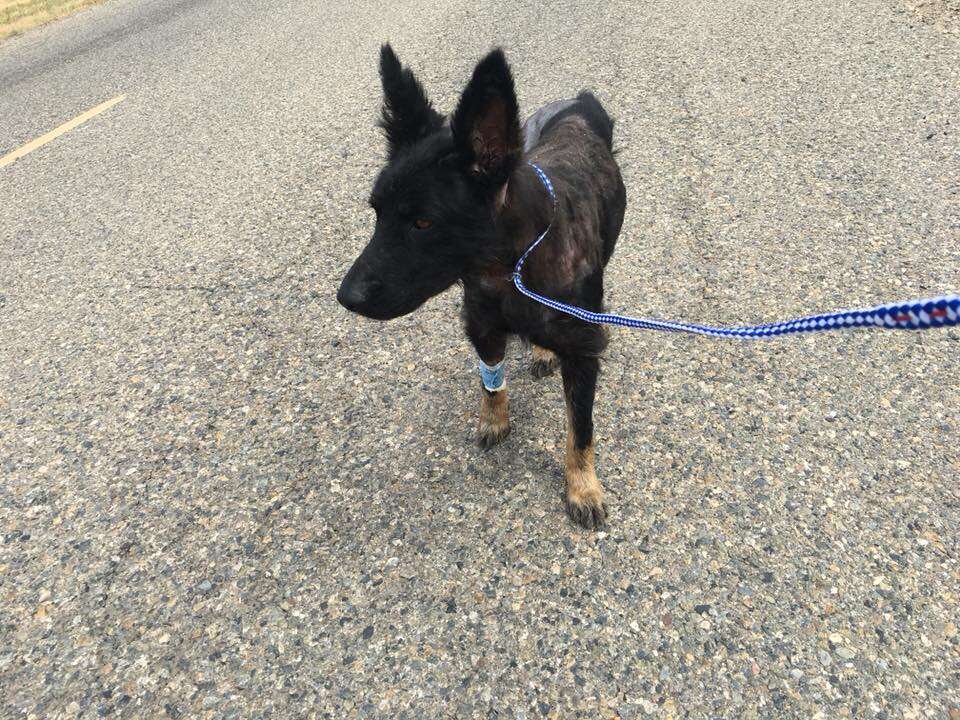 While King isn't out of the woods just yet, he is already doing so much better — and already looks entirely different from the "scary" creature people thought he was.
Once he's fully recovered, which Bowe expects will be in a few months, King will be available for adoption. Until then, he's learning all about the new joys of life, like eating treats, taking walks and going for car rides with the windows open.
"He is happier than ever now," Bowe said. "It's hard to think that all those cars passed him by and never stopped. No one wanted to bring him home or help him because he looked so bad ... But all it took was one person."