Weather Service Issues 'Small Dog Warning' Due To Very Strong Winds
Hang on to your dogs, people! 😂🍃🐕
There has been a lot of strange weather going on around the country lately. Bouts of extreme cold, lots of rain in places it doesn't usually rain and the list goes on. With all of this extreme weather sometimes comes weird weather advisories — and one weather service recently issued an unusual warning regarding people's pets.
The Cleveland branch of the National Weather Service (NWS) recently issued what they called a "small dog warning" for pet owners in northern Ohio and northwest Pennsylvania. Winds in those areas were expected to reach speeds of up to 50 mph throughout Tuesday and Wednesday of this week, and weather experts couldn't help but warn people about the effects of these strong winds — complete with appropriate illustrations.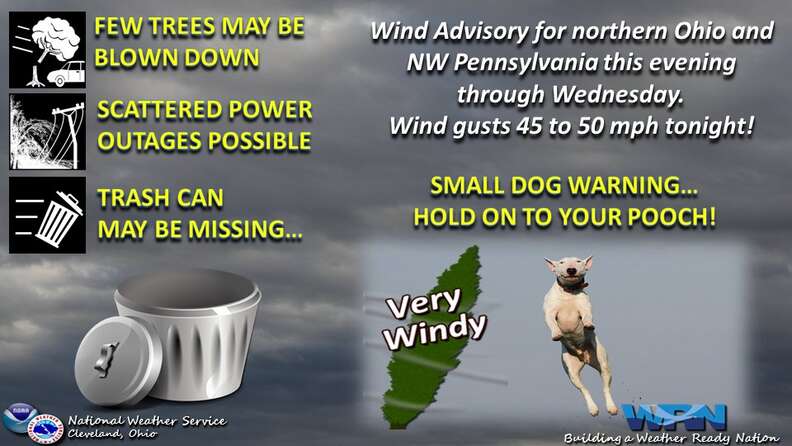 "Hold on to your Pooch! … We have an unofficial 'Small Dog Warning' Wind Advisory for northern #Ohio and NW #Pennsylvania this evening through Wednesday," NWS Cleveland wrote on Twitter yesterday. "Wind gusts 45 to 50 mph! A few trees may be blown down. Scattered power outages possible."
With really strong winds, sometimes even people feel like they're about to be blown away — so there's no harm in holding on tightly to those leashes, just in case.
Of course, as soon as people heard about the "small dog warning," jokes began to fly, ranging from "The Wizard of Oz" comparisons …
… to asking if the warning applies to cats too …
… to sharing pictures of their own dogs braving the harsh weather conditions.
As comical as the "small dog warning" is, it's also a real reminder to keep an eye on your pets during any and all extreme weather conditions, and to always make sure they're well-protected.