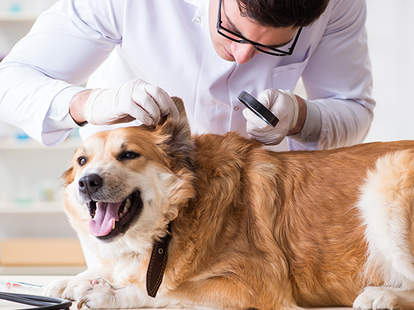 Yep, it's really tax time again — doesn't it feel like you just did this?? — and like most mildly tedious things in life, it's best to get it done early and fast.
But there is some exciting news: Your dog or cat can actually help you get more money back in your tax refund — which, of course, means having extra cash on hand to spoil them even more!
There are a couple ways to approach adding your pet to your return. For instance, the adoption fee you pay for your pet can count as a charitable donation and having an Instagram-famous kitty influencer can mean chalking up care fees to business expenses. It's also good to know that if you have a certified service animal, you can deduct some associated costs such as training and medical services.
While not everyone will qualify for those options, knowing the tax code will help you get the largest refund possible. If you're struggling to find all of the deductions you deserve this year, don't fret: H&R Block has tax experts waiting for you. Either visit an office and file in person or use H&R Block's Tax Pro Go, which matches you with a tax pro who's best suited for your unique tax situation. Submit your documents online and they'll send your completed return back for approval before filing for you. It saves you time and stress so you can get back to what's most important: Your pet.
Of course, receiving your maximum refund is especially important for pet parents because our best friends can come with unexpected expenses. Here are the top ones to know about -- plus tips on how to prevent or cushion these unforeseen costs so you're always prepared and able to give your pet the best care.
THE SURPRISE: Emergency care
From late-night tummy aches to an injured paw, one in three pets may require emergency care this year. (One eye-opening stat: more U.S. dogs have knee surgery than people.) Those sudden vet visits can pack a wallop on the wallet, too: Pet parents may spend well over $1,000 in a single emergency appointment.
BE PREPARED
Go to the Vet Regularly
You go to regular check-ups with your doctor, right? Give the same level of care to your pet! Schedule annual appointments with your vet and increase those visits to bi-annual as your pet reaches senior age — 7 or 8 years old in most dogs, 10 years old in most cats.
Pet-Proof Your House
Just as you would for a human baby, keep easy-to-swallow objects out of your pet's range, especially if they're young, curious, and mischievous. (Procedures to remove objects trapped in teeth or in a tummy can run anywhere from $1,600 to upwards of $3,000).
Keep Them Safe
If your pet enjoys the great outdoors, make sure they're in a well-gated area or on a leash at all times. (A heart-breaking stat: 1.2 million dogs a year are hit by cars, and if surgery is possible, it can cost thousands of dollars.)
Consider Insurance
Out of the 183 million pet dogs and cats in the U.S., only 1.2 percent are insured. While pet insurance averages $44 a month, the cost can be well worth the investment to safeguard against sudden, astronomical hospital bills (the average cost to treat stomach problems, a top illness in both dogs and cats, is $6,500). The upshot: Many pet insurers pay out around 90% of the total costs. 
Shutterstock
THE SURPRISE: Pet splurges
Your pet loves you unconditionally — so it's no wonder you want to provide your BFF with everything they could need. But that also means it's extra easy to indulge them with elaborate plush beds, cute clothes and dozens of cool, fun toys… and all of those impulse buys can really add up!
BE PREPARED
Join a Pet-Loving Community
Look for a local "Buy Nothing" Facebook group where you can exchange lightly or never-used pet items, such as beds, carriers, and toys with your animal-adoring neighbors. As a member of one of these groups, your pet can always be showered with fun new things, and in addition to not spending on those items, you'll meet new friends -- and maybe a new backup pet sitter for when you're in a bind.
Start a Toy Fund
Make a "Splurge Jar" where you can throw your loose change at the end of each day; come month's end, use that extra money to buy something new for your pet.
Get Creative
Just as some of a toddler's most beloved items are the simplest — cardboard boxes! Tupperware! — so, too, can your pet go wild over things that don't necessarily carry a big price tag. That could mean instead of buying a bunch of new toys or clothes, you try cross-stitching a cozy sweater for your pet, building a DIY outdoor house for your dog or cat, or creating cool toys made from household objects.
Unsplash
THE SURPRISE: Travel costs
Giving your pet a safe, dependable place to stay when you take a planned or unplanned trip — or paying the costs associated with taking your pet with you, such as airline and lodging fees — can add up fast. Just one night of boarding your pup can run you $85 and averages $25 for a kitty; airlines charge an average of $125 for a pet each way on domestic flights, and many hotels stick on a $25-a-day service fee.
BE PREPARED
Start a Savings Plan
If you're keen on annual family trips or know you need to do a lot of out-of-town travel, consider putting away a monthly stipend toward the costs required to give your pet a good place to stay, or to bring your pet with you. This built-in savings method ensures you'll always have funds at the ready to pay a pet sitter or to book a Pup Palace or Chez Cat boarding facility. 
Book a (Free!) Sitter
Check out the site TrustedHousesitters to match with a person who will watch your pet in your house — gratis — in exchange for a free place to stay. (Don't worry, the site does a thorough job of vetting potential animal- and travel-loving sitters.) 
Shutterstock
THE SURPRISE: Household messes 
Living with a fun-loving animal means that, sometimes, you may come home to a bit of chaos from playful roughhousing. This is part and parcel of pet ownership, but the price associated with it can be a little shocking — especially when it means replacing household items. 
BE PREPARED
Give Them an Education
Get ahead of pet rowdiness and enroll them in an obedience school or training course. This nationwide dog-training service comes to you to train your pup in your home, and uses only humane teaching methods. (Their testimonials are glowing, too; as one client put it on Yelp, "I would give our trainer 1,000,000 stars!") Or you can try a cat-training program like this one that allows you to download the curriculum and teach your favorite feline yourself. (One of the dozens of glowing reviews: "Modern, science-based, and the support I received from the organization is outstanding.") In any case, a little bit of prevention — or the couple hundred dollars that training costs — is well worth it to avoid untold amounts spent on household replacements.
Sweat Out the Mischief
A lot of pets go stir-crazy when you're out if they're not getting enough exercise when you're home. Ensure that your pet is burning off frisky energy with a solid hour of movement. One fun way: Sign up for a pet-plus-owner workout class, so you both get in on the action.
Entertain Them!
Keep in mind that pets get bored, just like the rest of us. Give your pup or kitty some brain-building projects by creating or investing in a stimulating toy or game. The double benefit? Even more QT spent together!
At the end of the day, you'd much rather spend time with your pet than plumb the depths of the U.S. tax code for ways to get the most out of your return. By filing with H&R Block, a tax pro can help take the guesswork out of tax season — and make sure you get the refund you deserve.