Woman Falls In Love With Cat From Viral Story — And Hops On Plane To Save Her
"Everything fell perfectly into place. Twelve hours of travel, three flights and three states."
Perhaps you already know the story of Freya, a stray cat who needed help and so decided to hop into a woman's car in Salt Lake City, Utah, and sit on her lap. But you likely don't know the ending yet.
Before she even had a name, the stray was hanging out in the parking lot of a school when she spotted Susannah Nevison, a doctoral student at the University of Utah, walking toward her car. "When I got to my car, I opened the door and climbed in," Nevison told The Dodo. "While I was putting my purse in the passenger seat, the little cat jumped right up in my lap!"

Nevison noticed not only the stray's extremely sweet demeanor but also her eye, which seemed to be bothering her.
Nevison, who considered adopting Freya herself but realized that her allergies were just too problematic, took the cat to Salt Lake County Animal Services (SLCAS) to get her help for her left eye. Shelter workers named her Freya. She didn't have a microchip, was about 1 year old and needed to have surgery to have her eye removed.
Meanwhile, The Dodo told her story. It was shared far and wide — but Freya was still waiting at the shelter. There was even an adoption event. But Freya the one-eyed cat was passed over, despite her claim to virtual fame. So The Dodo told her story again.
This time, Caren Kolb's daughter shared the story with her mom. And something clicked into place.
"My daughter tagged me in Freya's story," Kolb told The Dodo. "Something just struck my heart as I read her story and I just blurted out to my husband, 'I want to adopt this baby!' He took one look and said, 'OK.'"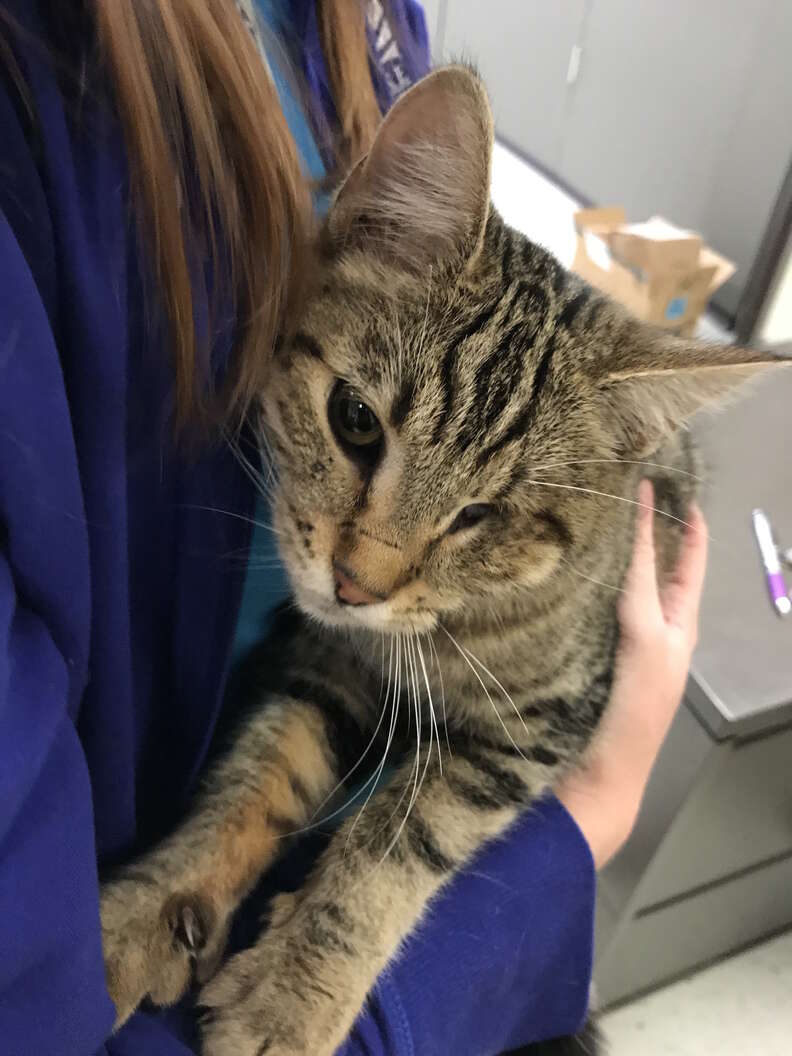 The Kolbs already have two rescue cats, siblings, who are now 5 years old. Caren couldn't believe her husband was on board. "We really didn't need any more fur babies," Kolb said. "I just knew that this kitty needed a home, now!"
But then the issue was getting there. The Kolbs live in Las Vegas, Nevada, and the cat they were determined to help was in Salt Lake City, Utah. Luckily, Kolb works for an airline.
The shelter has a policy against holding animals for specific adopters, so Kolb knew she had to move quickly. "They were having an adoption event and I thought that certainly someone would adopt her, but I touched base at the end of the day and sadly she hadn't been adopted," Kolb said. "So, it was on."
Kolb hopped on board a flight to Salt Lake City after barely making it in time. When she landed, she was lucky enough to get a ride to the shelter with a friend who happens to work at the airport.
When Kolb got to the shelter, her connection with Freya was obvious.
"Everyone there worked so hard to get her processed quickly so I could make my next flight," Kolb said. "If we missed it, we wouldn't be able to get back to Las Vegas until 10 p.m. We got to the gate just as they began to board. And we got first class!"
She and her new cat arrived in Phoenix, where they had a layover. "So I was able to take her to the break room and let her meet some of my friends," Kolb said. "We got first class on the next flight home. It was an amazing, exhausting day."
The family decided that Freya deserved a new name to mark the new start in her life, and they hoped to reflect the fact that she's missing an eye.
"First my son suggested a pirate name," Kolb said. "But most female pirates had simple names like Anne or Mary ... So I kept thinking of strong women, survivors."
The Kolb family are "Game of Thrones" enthusiasts, so they started thinking of characters' names. "I thought of Sansa for Sansa Stark but then remembered the character Yara Greyjoy, from the Iron Islands, captain of a fleet of ships, who set off to rescue her kidnapped brother when even her father wouldn't," Kolb said. "We liked it."
And Yara's first voyage was finally at an end. The little ex-stray can finally rest now that she's found a real home.
"Everything fell perfectly into place," Kolb wrote on Facebook. "Twelve hours of travel, three flights and three states."
Yara, of course, needs some time to explore and get acclimated to having a family after her life on the streets. "We will take it very slowly as we introduce our new fur baby to her siblings," Kolb said. "We will just let her take all the time she needs to get acclimated to her new home."
Kolb added: "Last week, we saw her on a viral video, and now she's home with us. It's a little surreal."