Dog Abandoned In Parking Lot Is So Grateful To The Woman Who Saved Him
"He was cowered down with the saddest look in his eyes. I looked at his tail, and it was tucked so tight. He was terrified."
Someone spotted the pit bull in a lot near a busy road in Harrisburg, Pennsylvania. He was all alone, and he'd been sitting in front of a chain-link fence for at least an hour. Most likely, someone had dumped him there.
Last Thursday, Janine Guido, founder and president of Speranza Animal Rescue, received a phone call about the pit bull along with a photo — and she immediately leapt into her car to get him.
The photo Guido received of Vincent sitting in front of the chain-link fence

| Speranza Animal Rescue
"Every time you get called in for a stray, your adrenaline is pumping and you're not sure if they're going to run off or anything," Guido told The Dodo.
When Guido arrived at the site, animal control was already there, and the officer (whom Guido is on friendly terms with) had caught the dog and put him in his truck.
"I went up to Fred [the officer] and I said, 'How is he?'" Guido said. "He was like, 'He was growling and snapping a bit. I had to catch pole him.' I said, 'OK. Can I see him?'"
Vincent after he was rescued

| Speranza Animal Rescue
The officer obliged and opened the back of his truck, revealing a trembling pit bull.
"I see this poor little dog," Guido said. "He was cowered down with the saddest look in his eyes. I looked at his tail, and it was tucked so tight. He was terrified."
The dog, whom Guido named Vincent, also had cropped ears, and whoever had done it had removed most of the dog's ears.
Speranza Animal Rescue
"When I say he has no ears, I mean he had no ears," Guido said. "There were like holes in his head. Somebody had butchered them."
Guido asked the officer to let her take Vincent out of the truck — and as soon as the dog emerged, his entire demeanor changed.
"I knelt down, and Vincent came up and curled up in my lap," Guido said. "His tail started getting more relaxed — it was shaking really, really fast. And I was like, 'You're OK, buddy, you're OK.'"
Vincent kissing Guido after she rescued him

| Speranza Animal Rescue
Then Vincent started smothering Guido with kisses. "He turned into the sweetest dog," Guido said. "You can always tell when they're grateful."
Besides having terribly cropped ears, Vincent was covered in fleas and he was underweight — but Guido made sure he got the help he needed.
After a visit to the vet, Guido took Vincent back to the shelter run by Speranza Animal Rescue, where he'll live until he recovers from his ordeal. Each day, Guido sees an improvement in Vincent.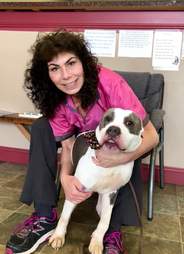 Vincent with Anita from Happy Tails Grooming

| Speranza Animal Rescue
"He'll wag with his whole body," Guido said. "And he has a big smile on his face."
Eventually, when Vincent is ready, he'll be put up for adoption.
"He loves everybody, and he seems excited when he sees dogs walking," Guido said. "I just think he's going to be a great pet for somebody."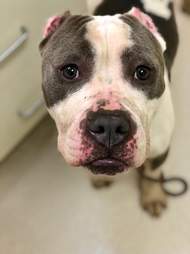 Speranza Animal Rescue