Tisoy used to be a cat without a home. But now he has a home, as well as a portfolio of fancy cardboard properties.
In 2011, a lady found Tisoy wandering outside of an apartment building in Singapore. She scooped up the cat and took him to an animal hospital run by Mount Pleasant Veterinary Group, hoping the staff could find him a home.
But as it turned out, Tisoy already had a home — staff discovered this when a young boy came into the clinic looking for him.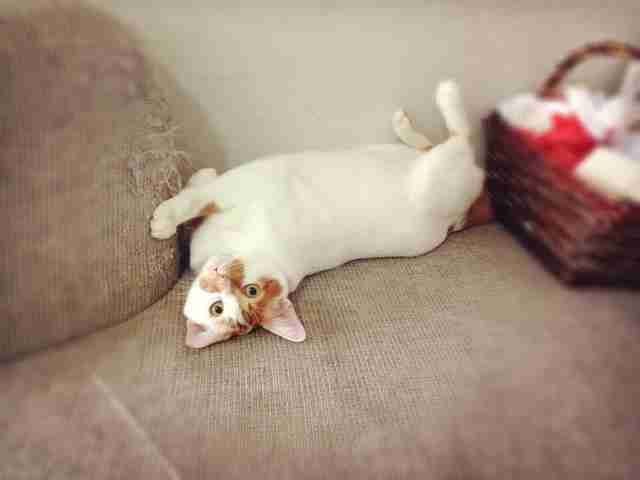 "We found out his owner was a young boy who … did not have the time to responsibly take care of Tisoy," Jaclyn Liew, education and communications officer at Mount Pleasant Veterinary Group, told The Dodo. "He understood that Tisoy would have more attention and a better life with us."
So with the boy's permission, the staff adopted Tisoy, making him the first — and only — resident cat at the clinic.
"The team fell in love with Tisoy quickly and easily," Liew said. "We adopted him in a heartbeat."
But Tisoy turned out to be a hard cat to please — he had very particular likes and dislikes.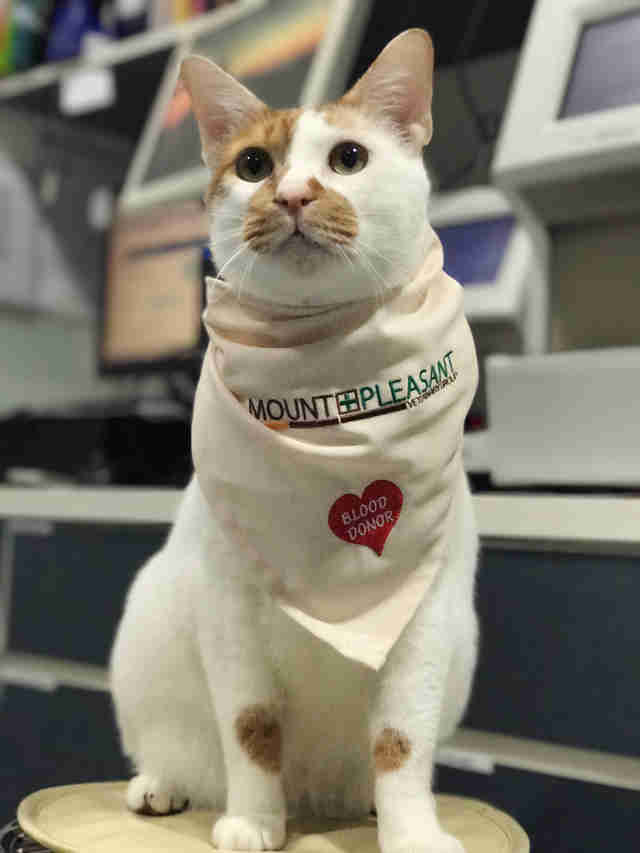 "In the beginning, Tisoy had soft beds and towels to rest on," Liew said. "Then he developed this habit of kicking towels into the litter box."
Two of the vet techs, Dorothy Tsang and Gillian Koh, decided to give Tisoy a cardboard box — and he immediately took to it.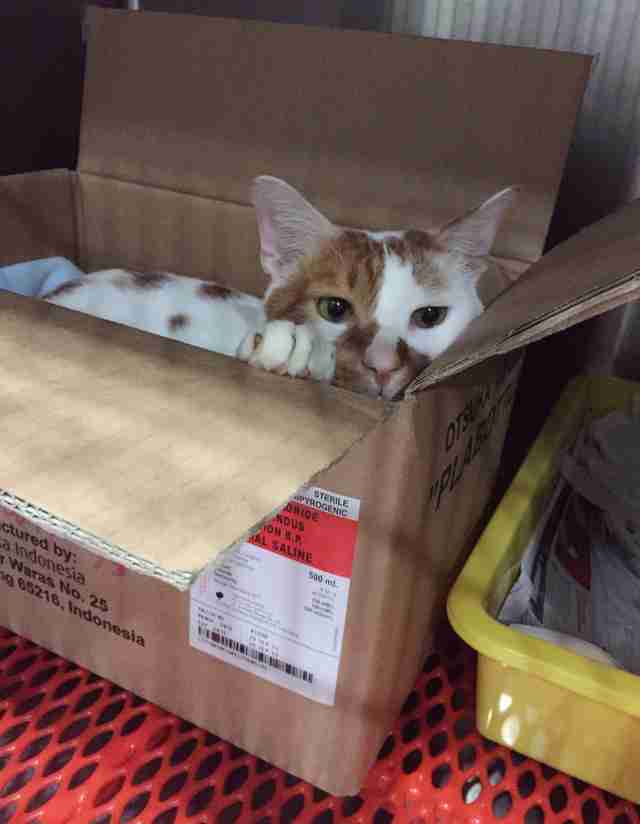 "He hopped into the very first cardboard box and settled in comfortably," Liew said.
Tsang and Koh didn't stop there — they decided to create fancy cardboard homes for Tisoy in their spare time. The first one they made was a hipster café.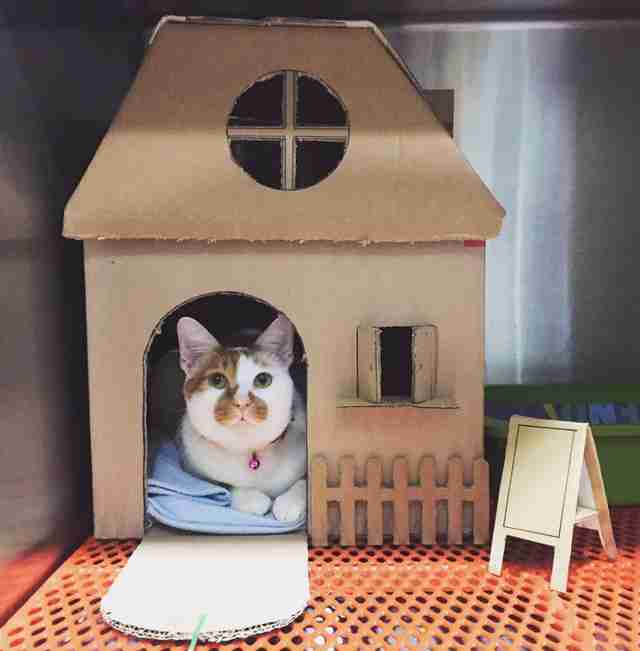 "Even before it was completed, Tisoy would go in and out, checking it out and peering out through the window," Liew said. "Later on, he also learned how to open the door — we knock, he pushes the door open with his paw and he gets a treat."
After the hipster café, Tisoy got an igloo …
… and a pet ambulance ...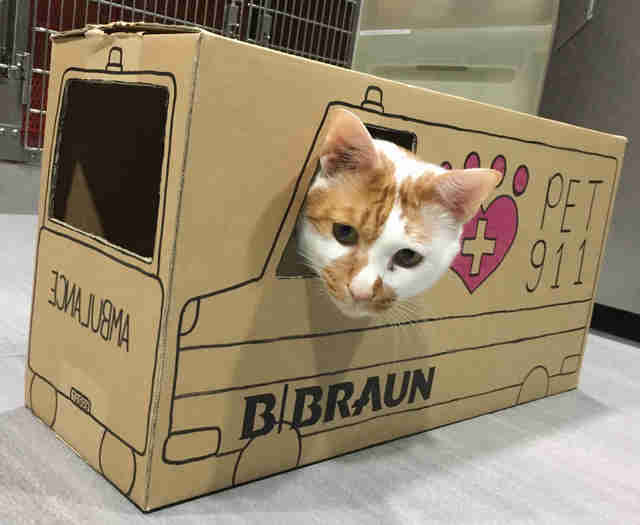 … and a gingerbread house ...
… and a Chinese temple ...
… and even a replica of Mount Pleasant Veterinary Group's clinic.
Tisoy adores every cardboard construction, according to Liew.
"We know because he saunters into the houses proudly and doesn't come out unless there is food," Liew said. "Sometimes, we have half-completed houses kept aside in another room. During his free-roam time, Tisoy will find those half-completed properties and go inside to check it out or take a nap in them."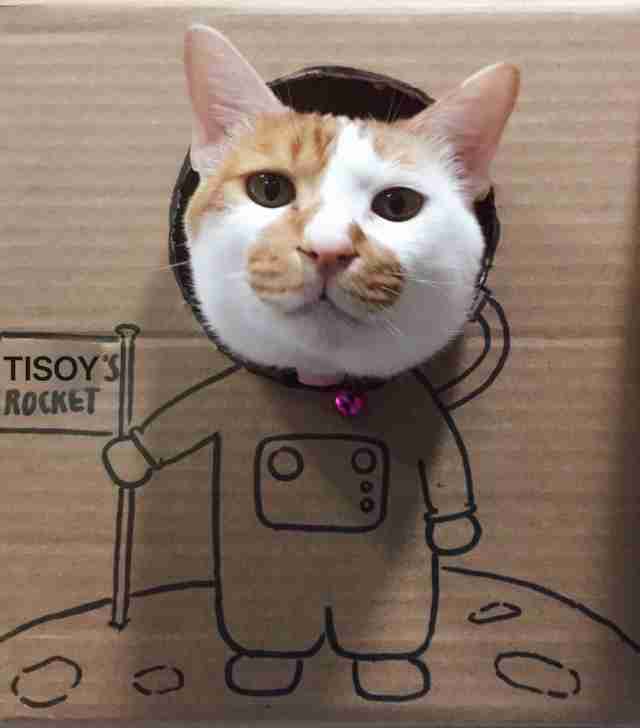 The houses last anywhere from a few weeks to a few months, Liew explained. And when Tisoy is ready for a new house, he lets the staff know.
"During their breaks, Dorothy and Gillian will make cat houses for our hospitalized cats," Liew said. "Oftentimes when Tisoy sees that, he would destroy or soil his current home, as if 'telling' Dorothy and Gillian that he wants a new house too."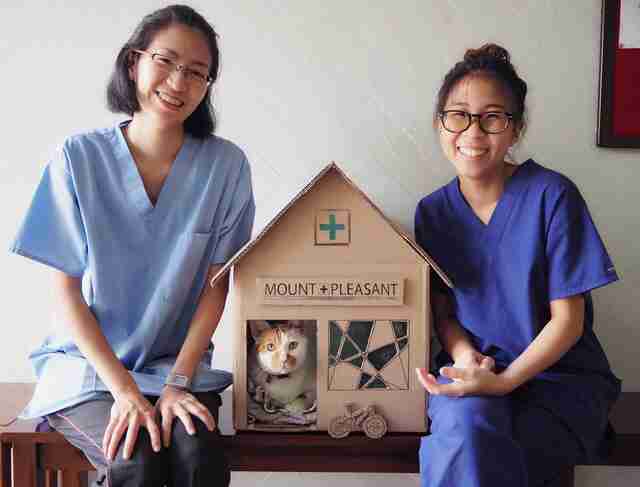 But neither Tsang nor Koh mind making Tisoy new cardboard houses — in fact, they relish any opportunity to spoil him.
"Making houses for Tisoy and our feline patients is satisfying and rewarding," Koh told The Dodo. "A box to a cat is like a safe haven, a kitty cave where he or she can take refuge in."
"We enjoy making the homes," Tsang told The Dodo. "Tisoy loves them, our patients love them and owners and parents love them. Making the homes helps us destress and relax, and the homes have a similar effect on Tisoy and our feline patients."
Tisoy couldn't agree more.