Dog Is Terrified Of Vet — Until He Decides To Sing To Her
"The first time we went to him, he sang to her and she ended up on the floor kissing him."
Sadie was rescued from a local shelter when she was around a year old, and when she joined her family, she was quick to let them know that she was always down to have fun.
"Her personality is SO sassy and playful," Kaeley Simek, Sadie's mom, told The Dodo. "Ever since we gave her her first toy, she loves to play as often as she can. She is very high-energy and pretty much up for anything."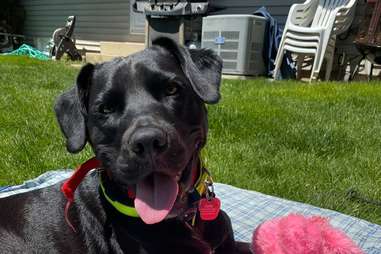 While Sadie is usually the life of the party, the one thing that doesn't make her smile is having to go to the vet.
"Sadie was not scared of vets when first rescuing her, but once she realized that she always goes there to get shots or if she has pain, she quickly learned it is not a fun place to be," Simek said.
Sadie didn't have great vet experiences when she was first rescued, and after that, she was absolutely terrified every time she realized that's where she was headed. Her mom desperately wanted to find a vet who would understand Sadie's anxiety and try to work with her to overcome it — and that's when they met Dr. Noah.
"We started going to Dr. Noah of Dr. Noah's Ark in Shorewood, [Wisconsin], in September of 2019," Simek said. "After the bad experiences, I researched heavily a vet who would take time to understand and accept scared/reactive dogs. He was very highly rated and I also saw many reviews that [said] he doesn't wear the 'white coat' at appointments, which can be a huge trigger for dogs."
At their first visit, Simek explained Sadie's anxieties to Dr. Noah, and it wasn't hard to see how scared she was. That's when Simek learned that Dr. Noah's secret trick was singing to his patients.
In order to try and calm them down and make them feel more comfortable, Dr. Noah serenades the dogs who are scared or nervous — and most of the time, it totally works.
"The first time we went to him, he sang to her and she ended up on the floor kissing him and he was able to give the two shots she needed," Simek said. "He has sang to her ever since."
Dr. Noah understands that going to the vet can be overwhelming for some pets, so he does his best to create a positive experience for them the best way he knows how — through music.
"He heavily believes that music can completely change the mood," Simek said.
For Sadie, it's definitely been working. Even though she's still scared when she first gets there, she definitely trusts Dr. Noah more than any other vet she's been to, and with his help and his music she's slowly learning that the vet isn't actually so scary after all.
"She still has a lot of fear about the vet but he takes the time to sit down with her and we go for happy vet visits weekly so she can have positive associations," Simek said. "He has the biggest heart out of any vet I've ever seen."