Vet Sings To Nervous Puppy To Comfort Her Before Surgery
"She calmed down and put her head on my lap."
Sometimes the best medicine isn't medicine at all.
Just ask this kindhearted veterinarian who's found a way to put his furry patients at ease — with a song.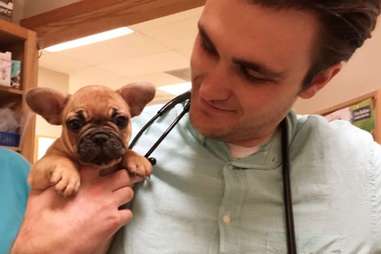 Dr. Ross Henderson, of Fox Hollow Animal Hospital in Colorado, was recently set to perform routine surgery on a fluffy puppy named Ruby. Not surprisingly, perhaps, when the time came for Ruby to be prepped for the procedure, she became a little nervous.
Lucky for Ruby, her vet knew just what to do to make her comfortable.
"She was running around and jumping up on the kennel, whimpering," Henderson told The Dodo. "I had my guitar there, so I decided to sing to her. She calmed down and put her head on my lap. It's a good testimony to how effective music can be."
Here's video of that special moment.
Henderson says that he and the clinic staff have always sung to their animal patients to calm their nerves and to make them feel more at home, so the added instrumentation was just a logical next step.
"My guitar lives here now," said the vet. "A lot of pets have never been to a veterinary hospital before, so anything we can do to love on them is good — especially considering how much love they give to us."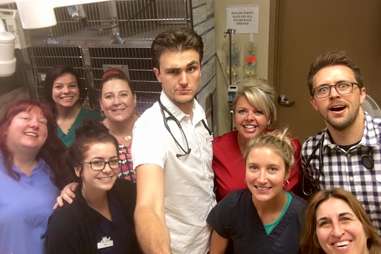 Not all animals, however, are so moved by the clinic's musical stylings.
"We have an office cat, named Greg, who's immune to the music. It's probably because he hears us singing so much. Other animals really respond to it," said Henderson. "If we can inspire people to love on their pets by singing to them, then it's a victory for sure."