Vet Was Supposed To Euthanize Dog — But Decided To Save Him Instead
"He just kind of leaned right into me, and he was really, really sweet."
The vet was supposed to euthanize Deebo — at least, that's what the dog's owner asked him to do. But Dr. Eric Setzer, owner of Lesslie Animal Hospital in Rock Hill, South Carolina, knew he couldn't do that. Instead, he decided to save the dog's life.
"We got a phone call that a dog was coming in for euthanasia who had a tumor on his face, and he was only 5 years old, so that got my attention right away because 5-year-old dogs aren't euthanized very often," Setzer told The Dodo.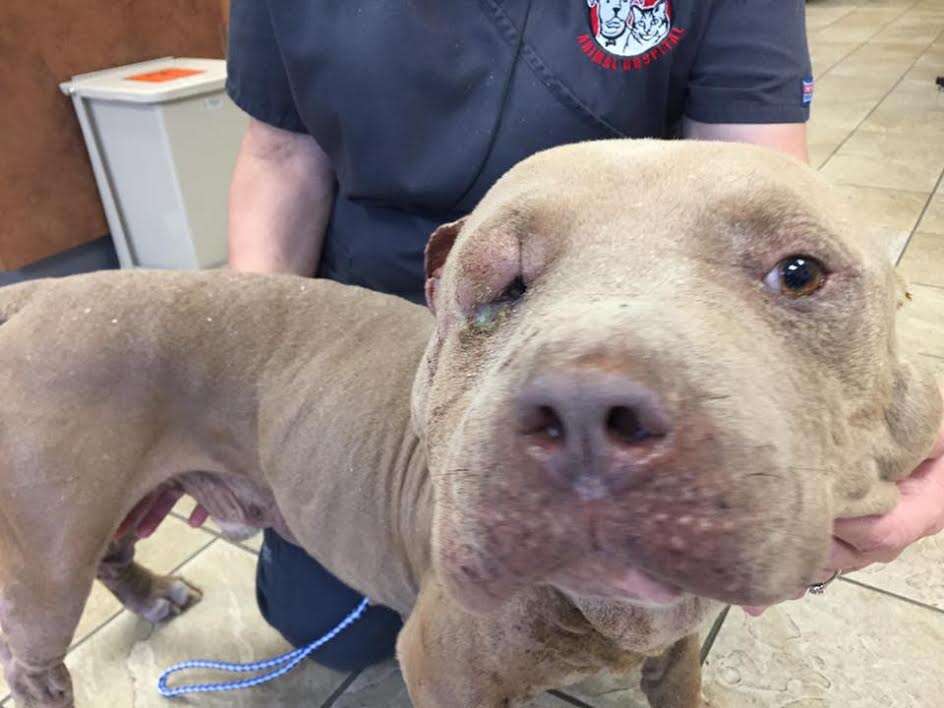 When Deebo came in, Setzer could see that the dog was in bad shape — he was emaciated and had a skin condition and infections in both ears. Then there was the issue with his face — it wasn't a tumor, as the owner had said, but several abscesses. Deebo also turned out to be heartworm positive.
But all of Deebo's health issues were treatable, according to Setzer.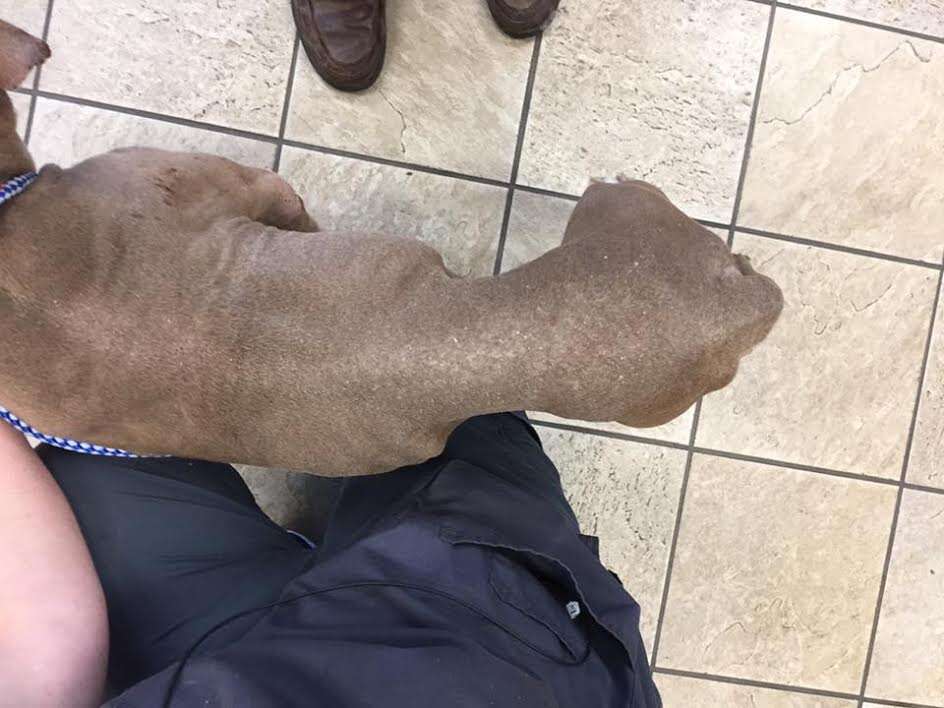 "I gave her a quote for what the treatment would cost, but she said she couldn't afford it, and to still put him to sleep," Setzer said. "So I had her sign him over to the animal hospital."
After the owner signed Deebo over, Setzer got in touch with volunteers at a local rescue group, Carolina Big Hearts Big Barks Rescue, who agreed to help fundraise to pay for Deebo's medical bills and help find him a new home.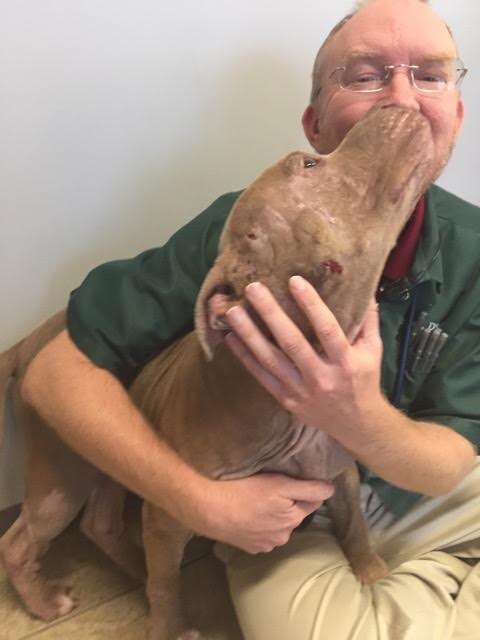 But first, Deebo needed to get better. He stayed at the vet hospital for about three weeks, which gave him lots of time to bond with the man who had saved him.
"He's one of those real lazy dogs," Setzer said. "He kind of lumbers over to you, and you can tell that all he wants is to be petted and loved. He just kind of leaned right into me, and he was really, really sweet."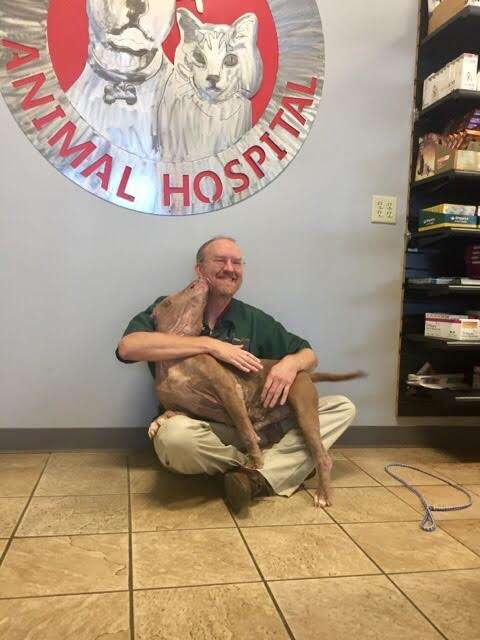 Deebo wasn't the first animal whom Setzer saved from euthanasia.
In 2014, Setzer rescued another pit bull mix named Snoop, who is now the Setzers' family dog.
"His owner brought him when he was a couple months old," Carly Setzer, Eric Setzer's daughter, told The Dodo. "We weren't too sure about the whole situation, but he needed to have his leg amputated, but [the owner] didn't want to pay for any kind of surgery for him. So he was going to have him euthanized, but my dad decided to have him sign him over instead."
Last year, Setzer also saved a cat named Ollie, whom Carly ended up adopting.
"It was a very similar situation," Carly Setzer said. "She needed to have her leg amputated as well, but the owner didn't want to have to pay for it. She was older though, probably about 8 or 9. I was looking for a pet at the time because I was going to be living alone, and I wanted to have some company, so I decided to take Ollie."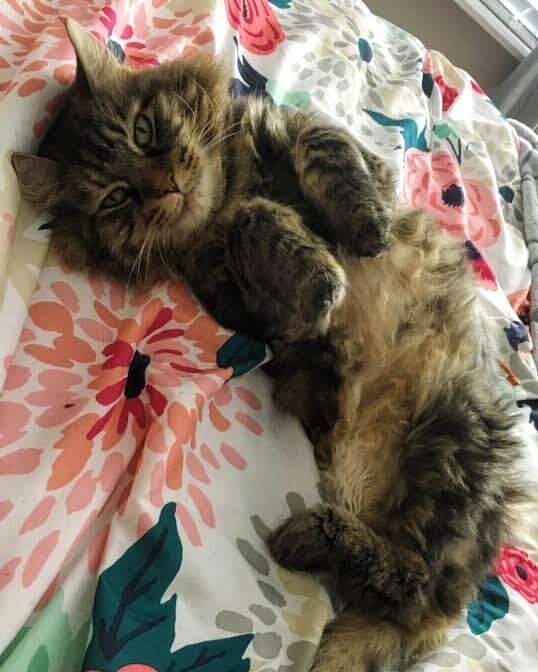 "I'm so proud of my dad," Carly Setzer added. "He's super loving toward all animals."
While Setzer is always happy to rescue animals, he emphasizes the importance of being a responsible owner.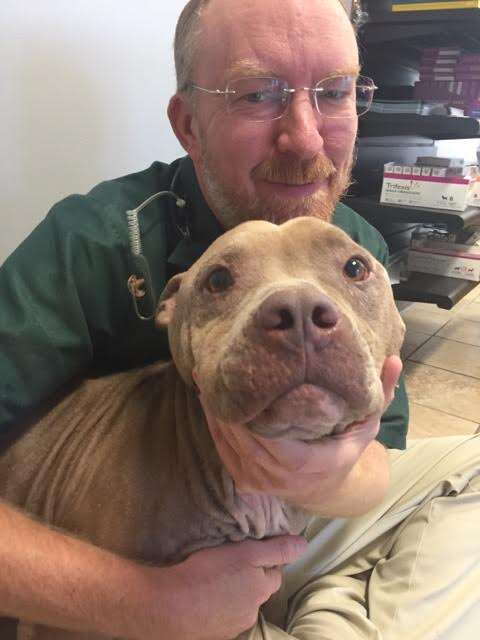 "If you get an animal, make sure that you have the financial wherewithal to take care of it, no matter what happens," Setzer said. "[Deebo's owner] had three animals, and if she only had one, she might have been able to afford the treatments."
Deebo will remain in foster care for a couple more weeks while he continues to recover. Then he'll be up for adoption.
"Deebo would do great in any home," Suzanne Blocker, vice president and cofounder of Carolina Big Hearts Big Barks Rescue, told The Dodo. "He is friendly with other dogs, indifferent to cats and he is a huge snuggle bug. He thinks he is a lap dog."