Shelter Dog Hops Into Random UPS Van — And His Life Is Changed Forever
He found his best friend ❤
This is Ernie.
The bighearted pup had been just another shelter dog in need of a loving forever home to call his own — that is, until he found just the person to deliver him there.
Cindy Grisanti volunteers as a dog walker at the City of Buffalo Animal Shelter in New York. One morning earlier last month, she took Ernie out of his kennel for a stroll and fresh air. But little could Grisanti have guessed that the walk would be a life-changing one.
Along their route, Grisanti and Ernie spotted a UPS van driven by Jason Coronado; he'd parked to take a 10-minute break. Though they'd never met before, Ernie reacted to Coronado as if he was a long-lost friend.
"He was over the hills excited to see me, so I called him on up [into the cabin]," Coronado told The Dodo.
In an instant, the dog and driver were strangers no more.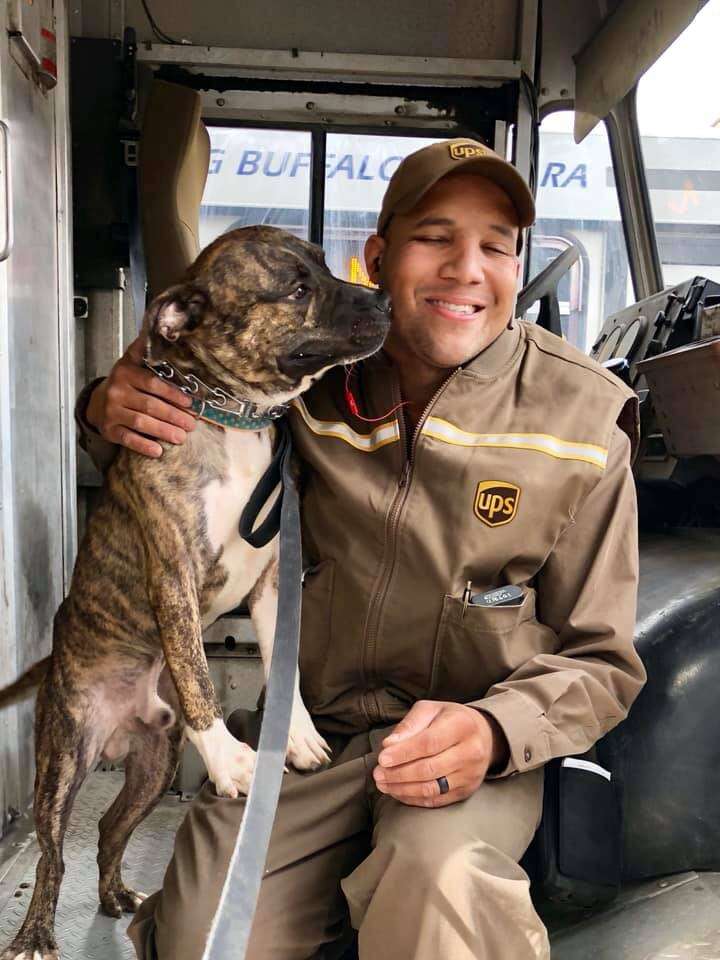 "[Coronado] sat on the steps of the truck and Ernie sidled right up to him and started licking his face," Grisanti told The Dodo. This went on for a while. "After quite a few snuggles I tried to get him out to continue our walk, but it definitely took some doing — he wanted to stay in the truck with his new friend!"
Ernie was clearly smitten. And so too was the UPS driver.
As the weeks passed, the dear dog never left his mind.
More than a month after the random encounter, Coronado came to learn from a post on social media that Ernie had still yet to be adopted. He'd actually been waiting for a home since August, making his one of the longest stays for a dog at the shelter.
"I was sad to hear he was still there," Coronado said.
So, after giving it some thought and consulting with his family, Coronado decided to give Ernie a home with him. From that beautiful first impression, now a lifetime of love will blossom.
Ernie finally found his family — and he knows it.
"He is very joyful," Coronado said. "I'm upset I didn't take him home earlier."
For Grisanti, and other shelter volunteers who work to help homeless pets make connections with potential adopters, Ernie and Coronado's story couldn't be more perfect:
"It's these happy endings this keep us going and doing what we do," she said.