Guy Drives 2,800 Miles To Save Dog He Fell In Love With
The pup had the BEST reaction when he met his new dad for the first time 😍🐶❤️
Mario Rodriguez absolutely loves pit bulls.
So when his wife recently told him about Hickory, a smiley 2-year-old dog on the kill list at Animal Care Centers of NYC (ACC), Rodriguez fell in love right away. He wanted to adopt him — and knew there probably wasn't much time left.
"Everyone in our family grew up with the breed, and we raised our kids with the breed as well," Rodriguez told The Dodo. "They are such lovebugs. Looking at Hickory's picture, I could tell he just wanted to be loved."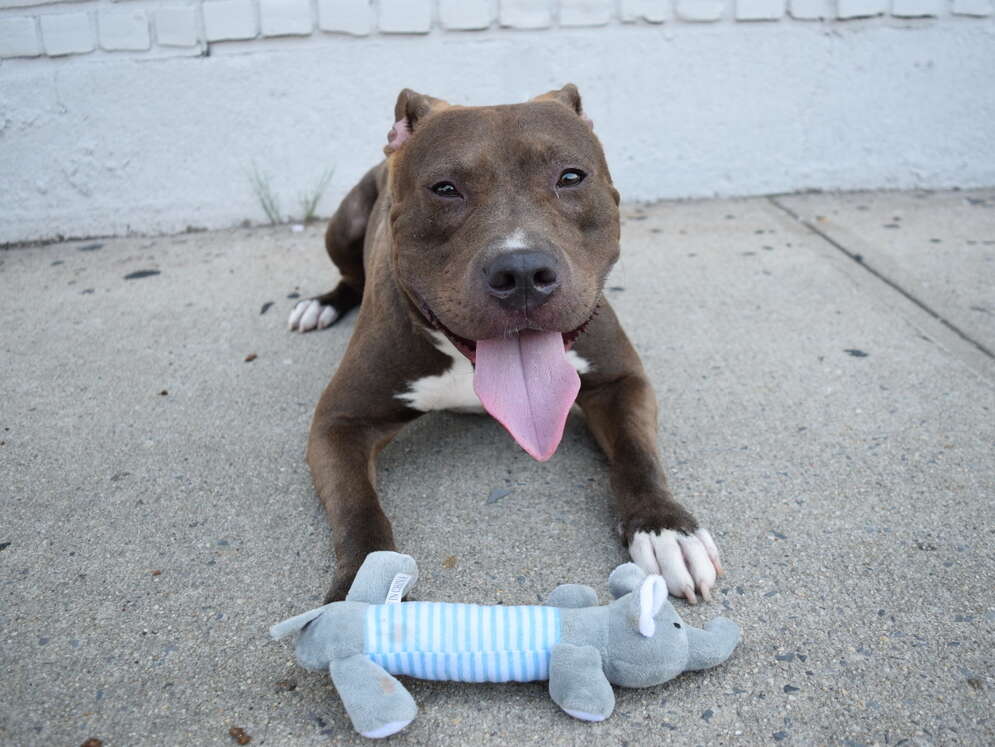 But there was just one problem. Rodriguez, a truck driver, was 2,800 miles away for work in California. So he did what any animal lover would: He dropped everything.
"I told my wife, 'I need to go get him,'" he said. "'I'm on a mission to rescue this dog.'"
Rodriguez contacted his employer and, luckily, they were very accommodating and scheduled a delivery route that would take him to New York. He called the shelter to let them know he was coming, and then he was off.
"I was pushing through traffic and calling the shelter every single day, and by the third day, they knew my number," Rodriguez said. "They were like, 'He's still here, Mario, he's still here!'"
After six long days on the road, Rodriguez arrived at the Brooklyn ACC shelter on August 20. He was finally going to meet his new family member in person after driving 2,800 miles.
"I parked my truck and rushed inside," Rodriguez said. "As soon as Hickory saw me, he literally almost jumped through the kennel door. I said, 'That's it, buddy! We're going home!' He started wagging his tail going crazy. He immediately started jumping on me, licking my face."
It was love at first sight. Rodriguez was so overjoyed — and Hickory was too.
"It just looked like he was expecting me," Rodriguez added. "It was so weird. We had an instant connection. I've never had a dog get attached to me that quickly in my whole life."
Rodriguez filled out the adoption paperwork, and it wasn't long before the two pals were on the road again. Hickory hopped right up into the truck, and they set off for Rodriguez's home in Georgia.
There, Hickory got to meet his new family, including his two pit bull brothers, Cooper and Angel. Hickory seemed shy at first toward them, but after a few minutes the three took off running together in the lawn and started playing.
"They immediately just started playing like three little kids," Rodriguez said. "It was a sight to see."
Hickory also went to the family's vet, where he was given some medicine for a slight respiratory infection he may have caught from another dog at the shelter.
After some tasty food and with a loving family by his side, Hickory didn't take long to settle in. He even took to Rodriguez's young grandson, who is very used to dogs by now.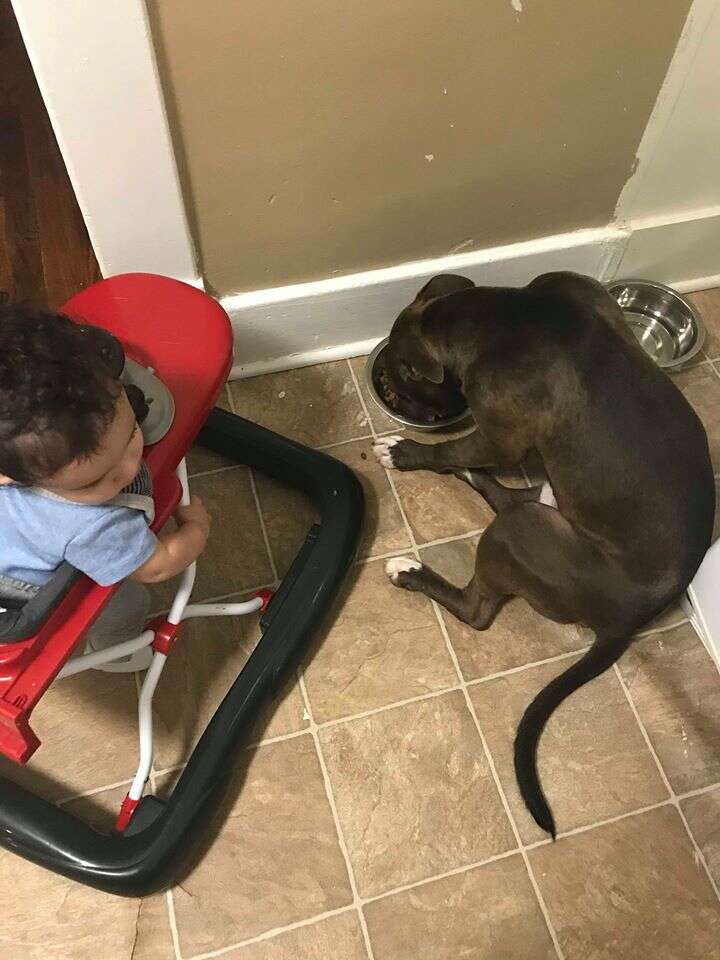 But above all, Rodriguez is clearly Hickory's favorite person. Knowing Rodriguez had to hit the road again soon for work, the family came up with the idea to have Hickory become his dad's copilot.
So far, he's loving life on the road.
"He's seeing so many things he's never experienced before," Rodriguez said. "We've stopped off places all the time, like to the park, or to farms out west where he's met some horses. He's barked at cows on our way down the highways ... He's really having fun."
At night, Rodriguez takes the truck's full-sized bed, and Hickory has his own dog bed.
"The first couple nights he was with me in the truck, he laid with me and fell asleep as I was petting him," Rodriguez said. "After that, he started settling into his own bed. He sleeps on that thing like a king."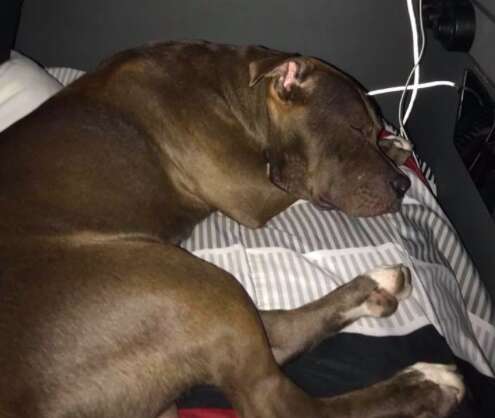 On the road, Rodriguez and Hickory are making so many great memories together. And even more, Rodriguez is saving one cent for each mile they travel to donate toward covering adoption fees for other at-risk dogs at shelters.
When Rodriguez can retire in around five or six years, he wants to fulfill his dream of starting his own pit bull rescue. But for now, it's just him, Hickory and the open road.
They've already earned a ton of admirers along the way.
"God has blessed me so much in life, and to have an animal be loved … there's no price on that," Rodriguez said. "Hickory was worth every one of those miles."