What Really Happens To Racehorses After They're Done Racing?
"Some are nervous, others are confused and some have just given up hope" 💔
After eight long years running around the track, a Thoroughbred named Groomedforvictory had forgotten how to be a horse.
As his racing career came to an end, Groomedforvictory bounced from owner to owner, unsure who would take him home after each race. The 12-year-old horse had proven himself strong and durable, but after so much time spent running, some potential new owners viewed him as used up.
Horses who are bred for a racing career start training young, before they are even done growing. Trainers begin working with these horses when they're around 18 months of age to break them in. During this time the horses get accustomed to taking direction, wearing a saddle and eventually taking a rider and running timed gallops of different lengths. Then comes their first race.
A racehorse's career generally peaks at 3 years old, when they are thought to be at the height of their athletic prowess. This is when horses can compete in the most prestigious American races: the Kentucky Derby, Preakness Stakes and Belmont Stakes. Only 12 horses have managed to win all three of these races, claiming the coveted Triple Crown trophy.
Groomedforvictory wasn't a Triple Crown champion, but his career had been long and, by all normal accounts, successful — he competed in 68 races, earning him "war horse" status, and won over $735,000 in prize money. But once he retired, his future was uncertain.
There are many reasons why a horse's racing career can end. Champion racehorses are often retired early, becoming what's known as a "stud horse." When a former racehorse begins a second career as a stud horse, it means his owner gets paid for the horse to breed with mares, the goal being to potentially produce new race-winning foals. This can be extremely demanding for the stallion, who may need to perform multiple times a day, but can be very lucrative for the horse's owners, who can earn thousands of dollars for just one visit.
Racing careers can also come to an abrupt end if a horse is injured during training or competition. A number of factors can contribute to the likelihood of injury — from weather, to track length and surface (dirt tracks are more dangerous than synthetic), to the overuse of performance-enhancing drugs. There are many strain- and fatigue-induced injuries that may put an end to a horse's racing days, but don't need to mean the end of his or her life.
"Some [retired racehorses] are lucky enough to be picked up by trainers or rescuers who put a lot of time and training into them to give them a new career," Ashley DiFelice, founder of Twist of Fate Farm and Sanctuary in Pennsylvania, told The Dodo. "Others are not so lucky. Many will end up at auctions while some are sold directly to kill buyers or dealers. These horses will ship directly to slaughter with a very slim chance of being saved."
Though cases of horses being sent to slaughter have decreased since the '90s and early '00s, when the practice was more common, unwanted racehorses can still fall prey to the slaughter pipeline today, ending up in livestock auctions and kill lots before being sent to meat-processing facilities in other countries like Mexico and Canada.
Though the last remaining U.S. horse slaughterhouse closed in 2007, American horses are still being transported over the border to horrific ends, Marty Irby, senior advisor and equine expert for the Humane Society of the United States (HSUS), told The Dodo. Between 2010 and 2016, over 100,000 American horses were killed in overseas slaughterhouses each year. In 2017, the number dropped to 78,857 horses, according to HSUS.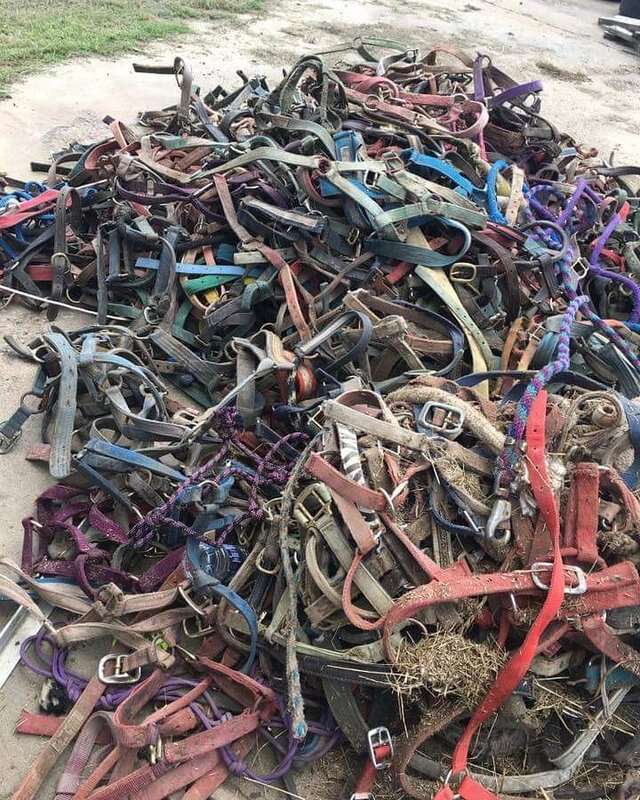 "At our local horse auction, the horses are typically all tied to the wall, side by side on either side of the aisleway. Some are nervous, others are confused and some have just given up hope," DiFelice explained. "There is usually a huge variety of horses: most commonly drafts, quarter horses, Thoroughbreds, Standardbred and saddlebreds. The Standardbreds who were once racehorses are usually sold as buggy horses. They end up pulling buggies until they can longer keep up on long trips, then they are sold for slaughter."
But, occasionally, a racehorse at a livestock auction gets lucky and finds someone willing to help — as was the case with Q.
At Twist of Fate, Q, a former racehorse, found a home. Injured at the age of 3, his racing career had been brief, but adjusting to his new life was no easy feat.
"When we first rescued Q, he wasn't sure how to just be a horse," DiFelice said. "He would stand in the field and not know what to do with himself. He wouldn't roll in the dirt or play. He would just stand there."
One day, it struck DiFelice that maybe he had never learned how to enjoy himself, so she decided to introduce him to a formerly wild horse named Austin.
"After two days together, Q was playing tag, rolling in mud and was noticeably happier," DiFelice said. "He finally learned how to enjoy life just being a horse."
While Thoroughbreds aren't thought of as family horses, Irby explains, with a little patience and care, these hardworking horses can go on to become loving members of a family, or on to second careers in jumping, dressage or trail riding.
And for these special horses, age doesn't mean a thing.
After his final race, Groomedforvictory was taken in by New Vocations, an organization that rehabilitates, retrains and rehomes retiring racehorses. Besides stiffness in his neck and shoulders, the war horse was far from run-down. His trainer, Cathy Sanders, found him so easy to work with that she immediately fell in love with his calm demeanor and adopted him three months after his final race.
Now called Oliver, the older horse is training for a second career in competitive trail riding, but acclimating to retirement wasn't easy — especially when it came to being around other horses.
"He took about a year to adjust to having lots of friends," Sanders told The Dodo. "It's like he forgot how to be a horse, but now he plays and is a real part of the herd."
Oliver loves playing outside in the sun, and doesn't even like to be in the stall for more than a few minutes — quite a change from the rigorous life he once led.
"He's really bonded with me and will do anything for me," Sanders said. "I just have to make sure I don't go past his limits."