Trash Collectors Hear Tiny Cries Coming From Garbage And Start To Dig
"This made my whole year, to be honest."
Somewhere trapped beneath this heaping pile of garbage and waste was a life that needed saving.
And thanks to those who heard his cries, he was rescued just in time.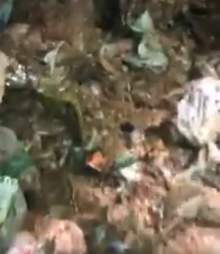 Twitter/ELSHOSHI82
On Thursday, Fernando Marie, a sanitation worker in Uruguay, was nearing the end of his shift when his colleague suddenly asked him to be quiet. In the moments of silence that followed, Marie heard what had alerted his partner.
Faintly emanating from the rear of their trash-filled truck was the sound of an animal in distress.
"We decided to open to check it," Marie told The Dodo "The truck was full of garbage, and we kept hearing that crying. It kept getting quieter and quieter, like it was drowning in the garbage. So, we grabbed some shovels and began to dig."
Working carefully, the pair scoured through the trash until the creature trapped inside — a tiny puppy — managed to break through. Here's video of that dramatic moment:
Hoy nos ganamos el cielo en mi laburo abrimos un camión lleno de basura porque escuchábamos llorar un perrito adentro nació de nuevo hay que ser hijo de puta para tirar esta hermosura
Bien nosotros Imm buceo pic.twitter.com/6QzrAjbWkO

— fernando (@ELSHOSHI82) August 24, 2018
The puppy was disoriented, but in otherwise good health considering the circumstance.
Afterward, Marie's colleague searched through the rest of the trash in case other dogs were trapped within, but fortunately found none.
 
It's unclear how the puppy ended up there, but Marie suspects that he'd been thrown out like trash and left to die by some heartless person intentionally. If this is indeed the case, that wanton act of cruelty failed to achieve its aim.
Instead, compassion won the day.
Twitter/ELSHOSHI82
According to Marie, his colleague decided to adopt the puppy and bring him home as a new friend for his daughter. He's just glad they were able to help save a life.
"I hadn't been having a good week, but I've been happy ever since," Marie said. "This made my whole year, to be honest."