Trader Joe's Employees Find Lost Dog — And Drop Everything To Help Her
She was SO happy to finally be back in her owners' arms.
Employees at a Trader Joe's in Oregon were closing up the store one night when they suddenly noticed something moving under a large line of carts. After getting a closer look, they realized it was a tiny, terrified dog, who had somehow gotten lost and found her way to their store.
The dog, Zoe, was incredibly overwhelmed and scared, and refused to move or come out from under the carts, no matter how many people tried to coax her out. There were six employees still left closing up for the night, and every single one of them made it his or her mission to help the little dog and pull her out to safety.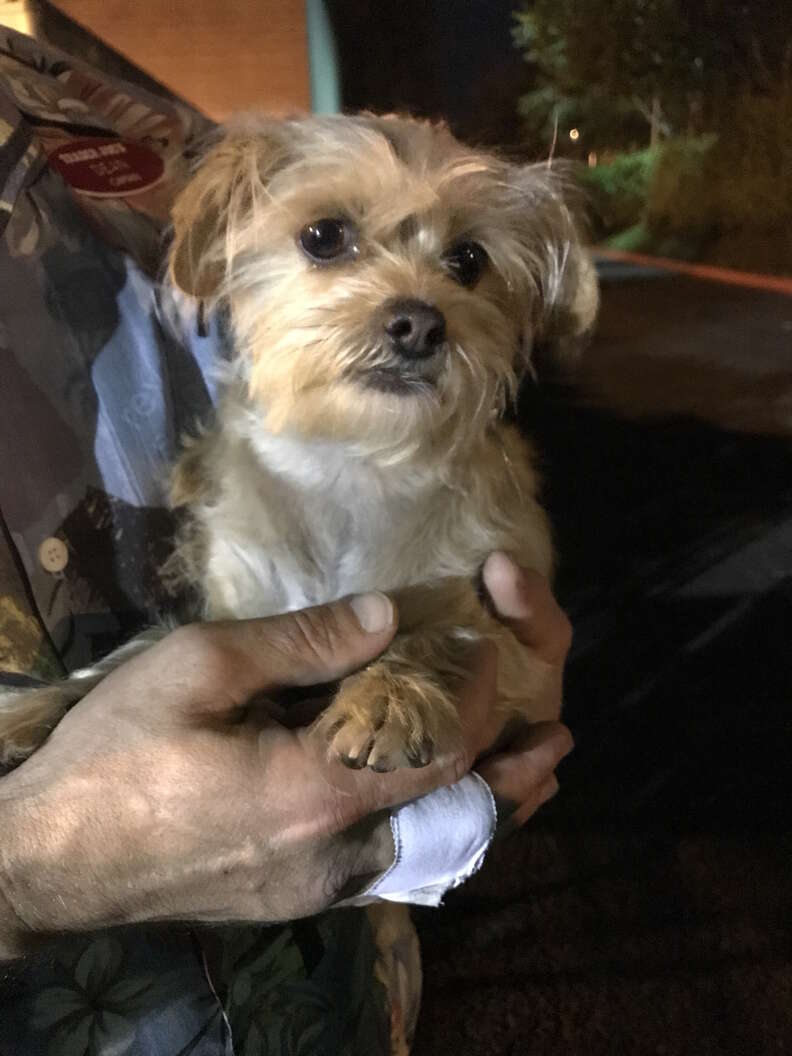 "She wouldn't move even when we offered her treats," Grace Benavente, one of the employees, told The Dodo. "She was shaking heavily and didn't make a sound. After several minutes of us figuring out if she was injured or not (she wasn't) and trying to soothe her, we decided to get her out. We weren't sure how tightly she was hiding under the carts so several of us lifted the cart she was under while a coworker reached in and gently pulled her out."
As soon as she was out from under the carts, Zoe began to relax a tiny bit, but was still incredibly nervous. Luckily, the little dog was wearing a collar with a tag, which included her family's phone number. The group all took turns tending to her and comforting her while someone called her parents — who answered on the first ring and were absolutely ecstatic that Zoe had been found.
Thankfully, Zoe's parents actually lived right nearby, and were there to pick her up in only 10 minutes. Zoe still seemed very nervous as she waited for her parents — until she spotted them walking across the parking lot.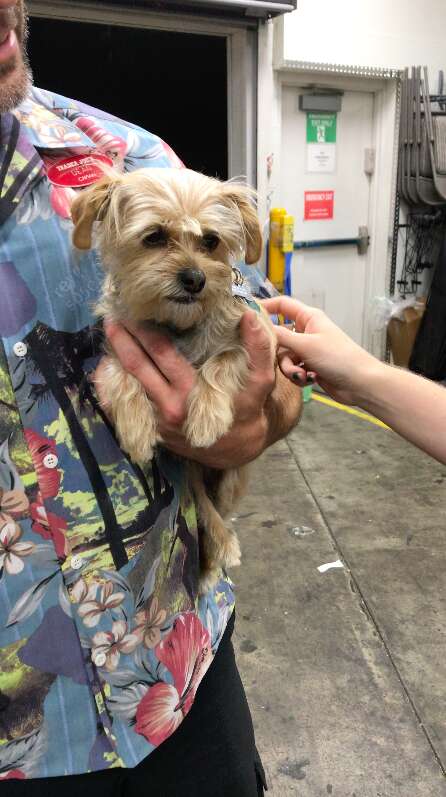 "I was holding her when they pulled into the parking lot, and as soon as her owners got into the light and said her name she wiggled so much she almost flew out of my arms," Benavente said. "I handed her over and she began licking her owner's face and was the happiest dog I've ever seen."
Zoe's parents explained that they had just moved to the area, and Zoe was still a little unsure of her new environment. She'd also recently lived through a house fire, and was understandably a little jumpy and nervous from that awful ordeal. While they were unpacking some of their things, Zoe accidentally slipped out of the garage without them noticing, and when they realized she was gone, they called everyone they could possibly think of to try and find her.
Luckily, Zoe was found by a whole group of wonderful people, who would stop at nothing to make sure she got home safe and sound.
"All my coworkers were so awesome and caring," Benavente said. "There was excellent teamwork involved in rescuing her. Zoe was in very good hands!"