The Story Behind This Shelter Cat's Unusual Appearance
"Her hair grew back white as a sign of the trauma she's been through."
When the people at an animal shelter in northern California first met a stray cat now known as Rogue, she was in really rough shape.
"We don't know anything about her previous life before she came to our shelter," Buffy Martin Tarbox, the communications manager for the Peninsula Humane Society & SPCA (PHS/SPCA), told The Dodo. "She was brought in to us on January 22 by a person who found her as a stray on the street. She had no ID or microchip."
And the poor cat had the worst case of mange the shelter veterinarians had ever seen on a cat — which is why Rogue has the unique appearance she has today.
Mange is a painful condition that is caused by microscopic mites that burrow into an animal's skin, causing terrible rashes and irritation.
Luckily, with treatment, mange can disappear. But in Rogue's case, the disease left a mark on her. When the fur on her head started to grow back, it wasn't black or orange, like the rest of her tortoiseshell coat, but totally white.
"She was in bad shape ... you could see the open sores on her head," Tarbox said. "Now she's completely healed and her hair has grown back solid white. Our lead vet thinks her hair grew back white as a sign of the trauma she's been through."
At just 2 years old, Rogue has been through a lot — but she has a long happy life ahead of her now that she's healthy and safe. And her unusual appearance has certainly helped get her noticed. Just a few days after she went up for adoption, a volunteer at the shelter fell in love with her — and decided to take her home forever.
"She is an exceptionally sweet cat," Tarbox said. "And she was just adopted."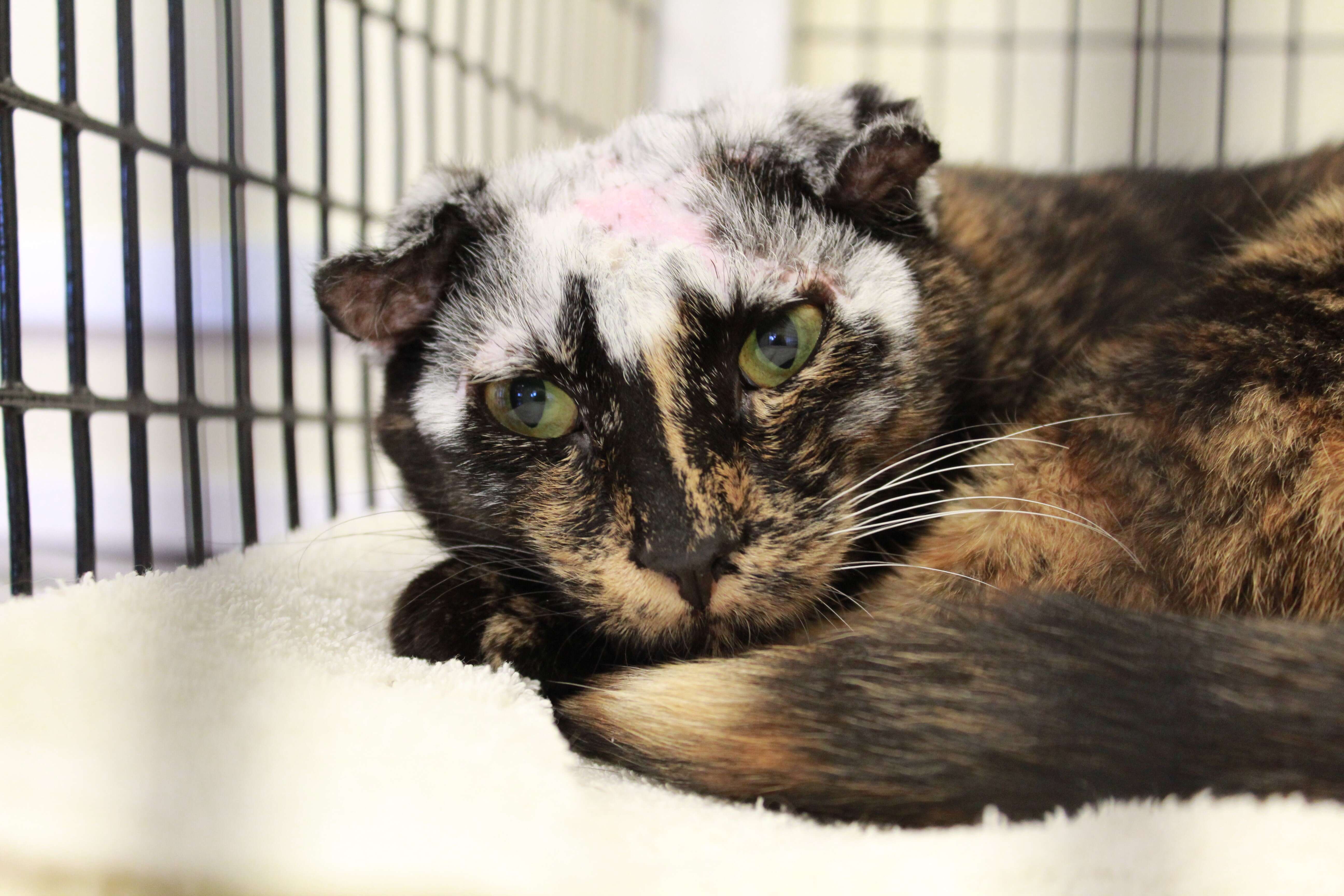 The shelter that helped Rogue rescues thousands of animals in need every year, including stray cats and dogs, as well as animals refused by other shelters. You can help the PHS/SPCA, an open admission shelter, with its lifesaving mission by
making a donation
.