Street Dog With Strange Head Tilt Is So Grateful This Woman Stopped To Help Him
"Pull over. We've got to see what's going on here."
It was 10 o'clock at night, and Elaine Seamans, Rebeca Altamirano and Hilda Torres had just finished volunteering at a temporary spay and neuter clinic they'd set up in Tijuana, Mexico. They'd gotten tacos to reward their hard work, and they were driving home in Torres' car — but their night wasn't over yet.
They spotted two street dogs trotting down the center of the road, and one didn't look very well — he had a strange head tilt, and there was a concerning lump under his ear.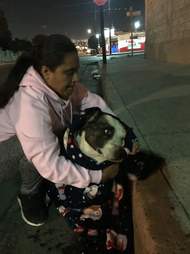 Torres rescuing Tommy in Tijuana

| At-Choo Foundation
"[Hilda] said, 'Pull over. We've got to see what's going on here,'" Seamans, founder of the At-Choo Foundation, a group that provides medical funding for dogs in need and had sponsored the spay and neuter clinic, told The Dodo. "We slowed down, and they both of them came over to the passenger side."
When Torres slipped out of the car, both dogs started running away.
"We were like, 'Oh my God, we've got to get this dog,'" Seamans said. "But we stayed calm … and like most of these dogs who need help, he eventually just stopped. So we were able to get to him. Hilda wrapped him in a blanket and lifted up his 50-pound body [into the car] and we got him to the vet."
At-Choo Foundation
The women knew nothing about the dog's background, but they suspected that he'd once belonged to someone.
"He is 9 years old, which is really rare," Seamans said, explaining that street dogs usually live an average of three years. "He was also well-fed, pretty clean and didn't have any major skin issues. So we figured he must have belonged to somebody. Who knows? Maybe they didn't want him anymore and let him go."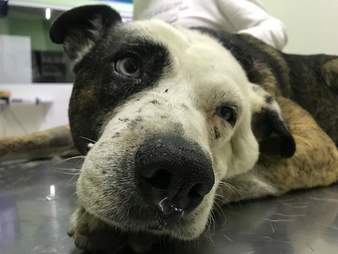 At-Choo Foundation
They also didn't know how the dog would act at the vet clinic — so they were pleasantly surprised to find him well-behaved.
"He was 50 pounds and we didn't know what he was going to do, but he was the biggest, sweetest ball of mush," Seamans said. "The vet was poking him and putting his finger in his ear, and he just sat there and was just the sweetest boy."
At-Choo Foundation
The vet figured out that the dog, whom they later named Tommy, had been attacked by another dog, and this is what had caused his ear to become swollen and infected.
"Without medical care, the infection has been eating away at his ear canal to the point where he needs reconstructive surgery to clear his ear canal," Altamirano told The Dodo. "The head tilt comes from the infection eating away at his nerves, and he also had pockets of puss all over his head, face and neck area. Despite all this, Tommy not once growled. He sat on that vet table like he knew things would only get better from that point."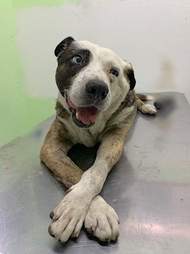 At-Choo Foundation
Tommy needs to spend a few more days at the vet, but everyone is confident that he'll make a full recovery. Once he's healthy enough to travel, Altamirano will drive him to the U.S. so he can find a home there.
"He's never going to be on the streets again," Seamans said. "He's never going to be unloved. He's never going to be in pain like he was when we first saw him. That's the reward."