Tiny Puppy Playing With Family Suddenly Disappears Down Hole
"About 4 or 5 feet down, there was a ledge, but she wasn't there. I got a flashlight, and that's when I could see how deep it was."
It had been raining all day in Huntsville, Alabama. When the sun finally came out in the evening, Karen Smith opened the door to let out her four foster puppies — Toffee, Snickerdoodle, Brickle and Cotton Candy, who were all siblings — so they could play in her yard. But Smith never expected what happened next.
"A friend of mine and I were out there with them, and we were just walking around," Smith, a foster carer for A New Leash on Life, a local dog rescue group, told The Dodo. "Toffee came running towards us, and she just went straight down."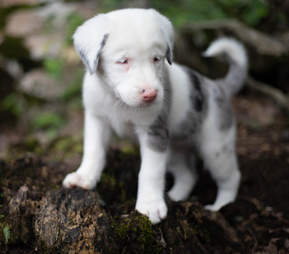 A New Leash on Life
But where did she go? Smith and her friend hurried over to investigate, and were shocked to discover that Toffee had disappeared into a hole between some rocks. Smith had never seen this hole before — it looked like the opening of a cave.
"It had just appeared," Smith said. "We'd gotten so much rain recently and it's possible it had eroded that little spot away where she happened to fall in."
Smith could hear Toffee whining down below, although she knew Toffee couldn't hear her. The Australian shepherd mix puppy was fully deaf.
Karen Smith
"At first, I thought I'd be able to move a rock away and reach down and get her," Smith said. "I thought that she couldn't have fallen very far."
But when Smith and her friend moved a big rock, they realized Toffee was further down than they thought.
"About 4 or 5 feet down, there was a ledge, but she wasn't there," Smith said. "There was a smaller hole that went way further down. I got a flashlight, and that's when I could see that she was really far down, and how deep it was."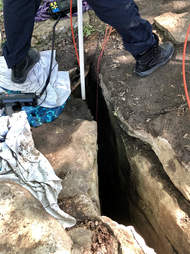 A rescuer trying to reach Toffee at the bottom of the hole

| Karen Smith
Thirty-five feet — that's how deep the hole was and how far the puppy had fallen. While Toffee didn't seem injured, she continued to whine.
Smith tried jumping into the hole herself.
"I thought, 'Surely I can get down to where she is,' so I got as far down as the ledge," Smith said. "But I couldn't — you would have had to squeeze through a really tight space between the two rocks to get down further, and it was a really tiny hole. It didn't take me long to realize that I wasn't going to fit through the crack to get into the hole, and so I got back out."
Firefighters and police officers working to try and save Toffee

| Karen Smith
Smith's husband called 911. Firefighters and police officers showed up, but no one could figure out what to do. The officers called Huntsville Cave Rescue Unit to see if they could help, and cave rescuers tried climbing down into the hole themselves.
"They [the cave rescuers] got here around 9 p.m., and it was getting dark around that point … but they wanted to try and go down into the hole." Smith said. "The first guy who got here suited up in all of their gear, and they were looking for different ways they thought they could get in."
A cave rescuer getting ready to try and go down into the hole

| Karen Smith
When the first cave rescuer realized he couldn't fit, another one arrived — but she couldn't fit either, Smith explained. By now, it was well past midnight, and everyone was tired. They decided to call it a night, although Smith made sure Toffee had food and water with her at the bottom of the hole.
"I was terrified [of] leaving Toffee in the hole the first night," Smith said "I could see her with a flashlight and she would lay down and sleep. I knew she had water, but that didn't make me worry any less. I slept about four hours before going back out at 5 the next morning."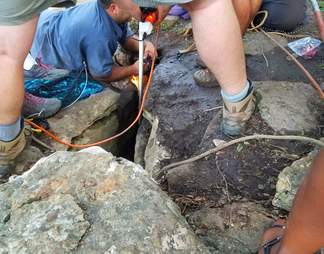 Karen Smith
It didn't take long for the rescue efforts to start back up again. Smith's friends from A New Leash on Life came over to help, and they decided to call the media.
"It was ultimately what saved her because they [the media] started live-streaming, and all of the TV stations showed up," Smith said. "People started sending in ideas, but they also started showing up at my house."
Karen Smith
The ever-growing rescue team continued to try many different ideas and contraptions to safely pull Toffee out — but it was a snare made out of a plastic-coated wire that eventually did the trick. If Toffee walked into the snare, they'd be able to pull her up to safety — but there was one problem.
"It was nearly midnight and she kept falling asleep, and because she was deaf, they were having a hard time waking her up," Smith said. "Finally somebody said, 'I've got some sardines in my truck,' and we said, 'Let's try the sardines.'"
Rescuers working into the night
When they lowered the open can of sardines into the hole, the smell woke Toffee up, and she walked into the snare exactly as she should. The team hoisted her up.
When Smith held Toffee in her arms again, she felt overwhelming relief.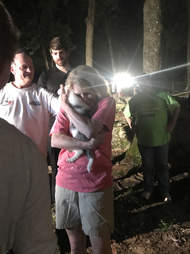 Karen Smith
"I had seen them try and fail so many times over the 31 hours that I was not certain that I would be able to catch her," Smith said. "So the fact that they did … it was just the best feeling in the world. I couldn't believe it. I cried. I was so happy."
Toffee turned out to be absolutely fine.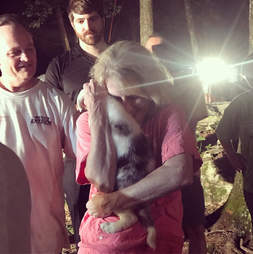 Karen Smith
"She was great," Smith said. "I found one tick in her ear, but she really didn't have anything wrong with her. She didn't have one cut on her or anything."
Karen Smith
Snickerdoodle, Brickle and Cotton Candy were also overjoyed to see their sister returned to them.
Karen Smith
"Her siblings were all waiting for her, and she just started running in circles, and they were all licking her face," Smith said. "It was just an unbelievable sight. It was like they knew."
Since Toffee's rescue, the hole in Smith's yard has been covered up with chain link and rocks — and Toffee found a forever home.
Toffee cuddling with new big brother at her forever home

| Karen Smith
"She has been adopted by one of the individuals and family who were involved in the rescue effort," Smith said. "She has a big brother golden retriever. The family hopes to train her as a service dog to help children with disabilities."
Want to adopt your own dog or cat? Then meet Dodo Adoptbot, an interactive guide for new pet parents. Get started on
Facebook Messenger
or text HOME to 38349.