Tiny Dog Was Going To Be Shot Because Shelter Thought No One Would Want Her
"Everyone who meets her [now] can't help but fall in love with her."
One look at Martha and rescuers knew she was special.
From the white tuft of fur on her head to her enormous brown eyes and permanent grin, the Chihuahua-maltese mix was one in a million.
But the little dog nearly didn't make it to safety.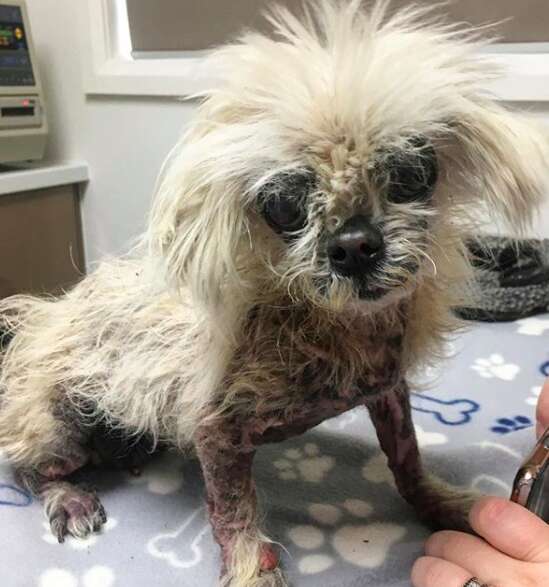 Martha was picked up as a stray and brought to an overcrowded rural shelter in Australia, where staffers thought the kindest thing to do was put 12-year-old Martha out of her misery. Luckily, rescuers with Pets Haven Animal Shelter disagreed.
"Martha was dumped in a high-kill pound," Pets Haven Animal Shelter wrote on Instagram. "The ranger was going to shoot her as he didn't think anyone would want her."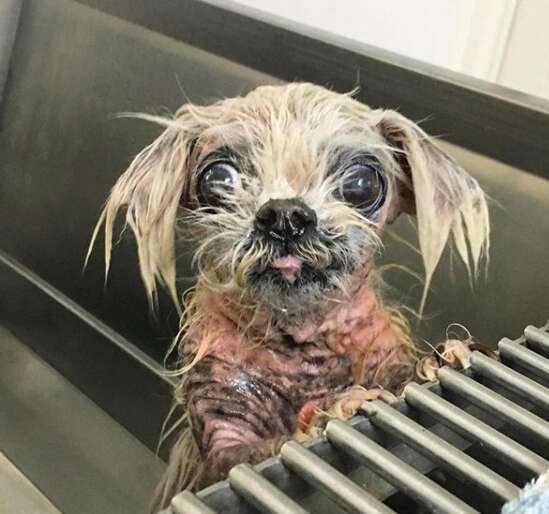 Pets Haven rescuers pulled the little dog out of the shelter at the very last minute — saving her from an untimely death. Finally safe, veterinarians discovered that Martha's missing patches of fur and itchy skin were the least of her issues.
A thorough workup revealed that Martha was suffering from a disorder known as dry eye and a severe heart murmur, and was entirely deaf. Martha needed such expensive and time-consuming treatment that the rescue deemed her unfit for adoption.
Despite her dark prognosis, Martha's luck prevailed once again when Bianca Stockley, one of the vets treating her, decided to let her sleep in a real bed for the night.
"I took her home, and within a matter of hours fell so in love with her," Stockley told The Dodo.
After that night, Martha became Stockley's forever foster, and under her new mom's care, Martha's health started to improve.
"The first few weeks were really tough whilst I sorted out her medication regime, but now she is absolutely thriving," Stockley said. "Her fur is starting to grow back, and she is a lot more 'floofy.'"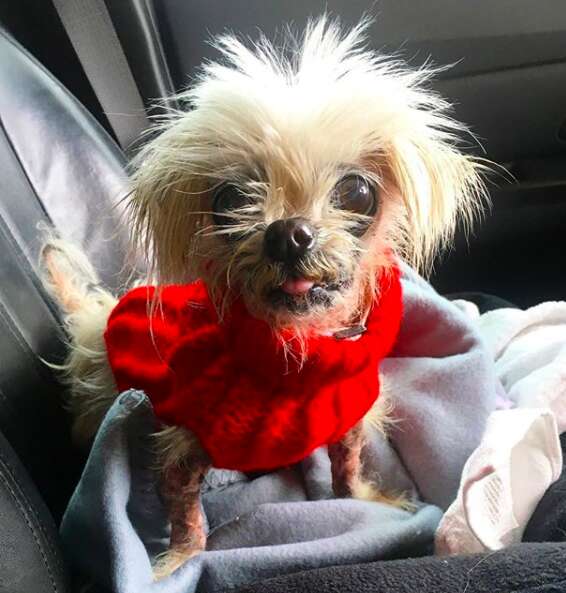 For the very first time in her life, the neglected dog is learning what it's like to be part of a loving family. Now Martha never leaves her mom's side, coming into work with Stockley each day.
"She loves to wander around the clinic and say 'Hi' to all the dogs, cats and of course people that come in," Stockley said. "Everyone who meets her can't help but fall in love with her."
When Martha is not acting as the clinic's unofficial mascot, the little dog spends her time begging for chicken nuggets and cozying up to her brother and sister rescue dogs, Daisy and Fat Carlos.
Martha's new fur siblings were happy to welcome her to the family and accept her as a member of their unlikely pack. "Martha and Carlos sleep together every night and I often wake up to them 'spooning,'" Stockley noted.
Thanks to Martha's unique look and sweet personality, her mom couldn't be more smitten. "Martha has touched so many people in her short time with me," Stockley added. "I have had many, many foster dogs, puppies, cats and kittens, but none will ever be as special as my Marfie."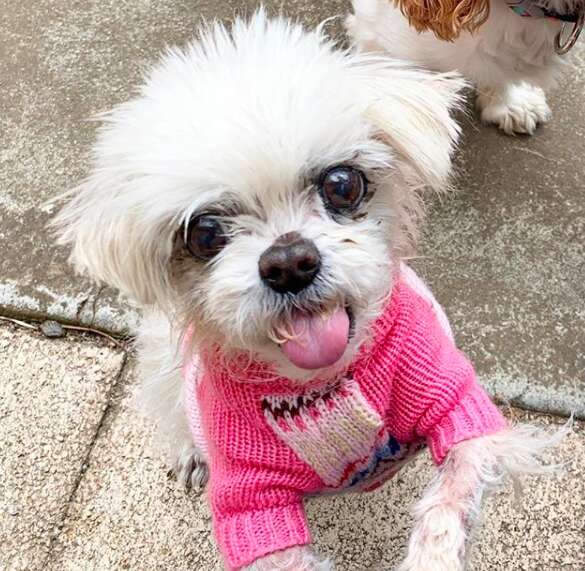 "I simply cannot understand how humans failed her so bad in her previous life," Stockley added. "I am so thankful for every single day I get to be with her."