Sick Stray Puppy Made The Most Beautiful Transformation
"I'm amazed that her spirit was not shut down, considering everything that she went through."
When Heather Blazina saw the puppy at a county shelter in Jacksonville, North Carolina, she knew she had to get her out. The 5-month-old pit bull mix had lost all her fur, and Blazina could see that she was very, very sick.
"I could see that she needed out," Blazina told The Dodo. "My background is medicine and surgery from the military, so I knew her time was growing short."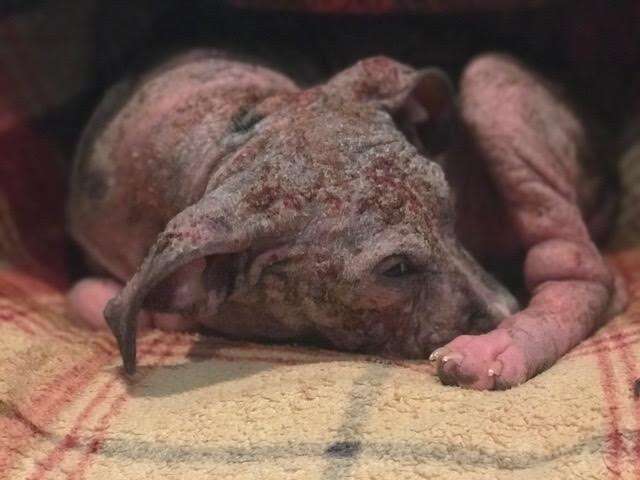 The puppy was also on the euthanasia list for the following day, so Blazina had to act quickly. She reached out to Adoption First Animal Rescue and asked for help.
"I said, 'If you pull her, I will foster and vet her,'" Blazina said. Thankfully, the rescue group agreed, and Blazina got the puppy, whom she named Amaani.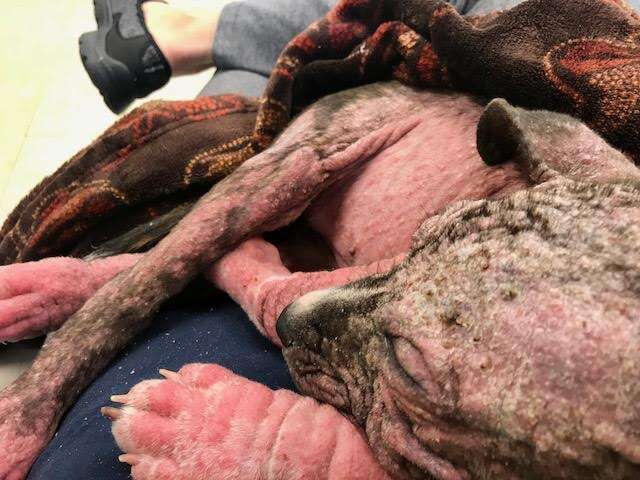 The first thing Blazina did was try to treat her mange, the illness that had caused Amaani to lose her fur. But Blazina was surprised when Amaani didn't respond to the medication.
"I was kind of scratching my head, and after repeated visits to the vet, she was actually diagnosed with distemper," Blazina said.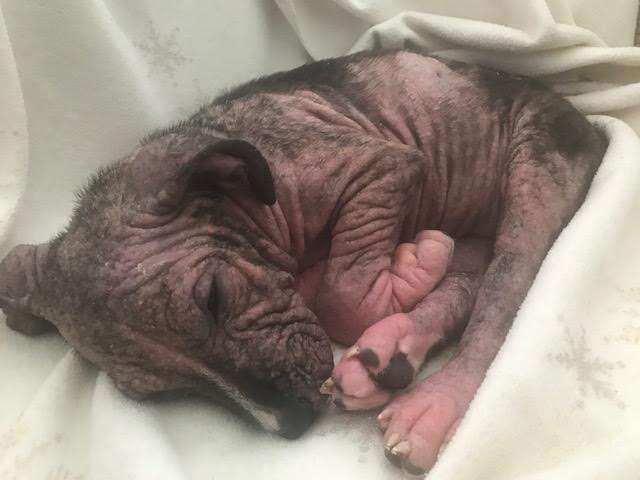 Distemper is a serious viral disease that attacks a dog's immune system, and it's often fatal. Yet Blazina refused to give up on Amaani, and she worked with the vet to help Amaani get better. With medication and a lot of love, Amaani managed to pull through.
"July 4 was the day she started showing signs of life, and it gave us hope," Blazina said. "Amaani means 'hope, aspirations, wishes and desires.' We actually named her while she was still in the shelter. She has definitely lived up to her name."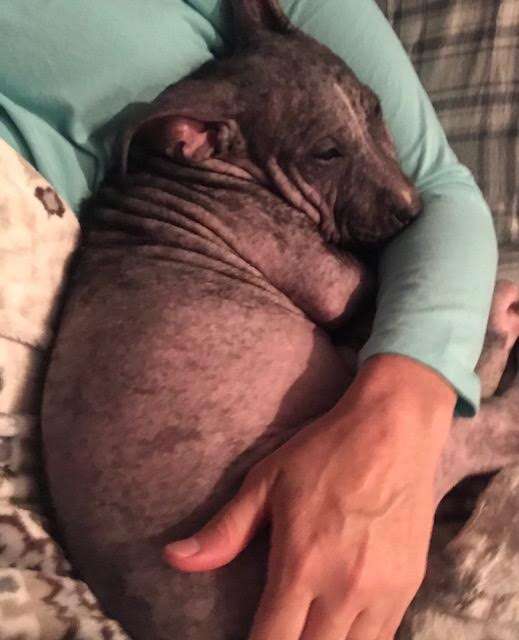 After beating distemper, Amaani's fur started to grow back, too, although she hasn't grown much bigger than her puppy size.
"I discussed her size with the vet and we believe the distemper has stunted her growth," Blazina said. "She's not going to get very much bigger."
Amaani is now enjoying her life in foster care with Blazina, and she loves hanging out with Blazina's other dogs.
"I have 10 dogs here," Blazina said. "She blends well with all of them, but her pal is the 70-pound Dogo Argentino. Amaani would actually chew on Lily's ear, thinking it would come off, and Lily would just allow it. But she gets along with all the other dogs, and has really no interest in cats."
Amaani also loves eating, playing outside and soaking up all the love and affection she can get.
"She's a diva," Blazina said. "She loves to be held with her front paws over the shoulder and be carried around. I even bought a pouch for her to carry in front until she grew too big for that."
But to Blazina, Amaani's most notable quality is her tenacity.
"I'm amazed that her spirit was not shut down, considering everything that she went through," Blazina said. "When she came to me, she had a 105-degree fever, so that right there tells you what she fought. She has an amazing spirit, and to be so minimally affected by everything that she's been through already is just phenomenal."
Amaani will stay with Blazina a little bit longer, but she'll be looking for a forever home very soon. Blazina believes the best home for her would be one with other dogs and older children. She also would do well with an owner who is home for most of the day.
"She's a great companion dog," Blazina said. "She will complete pretty much any household, just because of her size and her personality, and her ease of getting along with different personality dogs."
"I think she's ready to find her permanent people," she said.