Christine's three kittens love making trouble. They climb and scratch the furniture. They knock things down. They jump on anything and everything.
"We're constantly adjusting the house to make it more cat friendly," Christine (who asked to keep her last name anonymous) told The Dodo. "It's like having three fearless, nocturnal toddlers who can jump ten feet and think knocking dishes from a shelf is high comedy."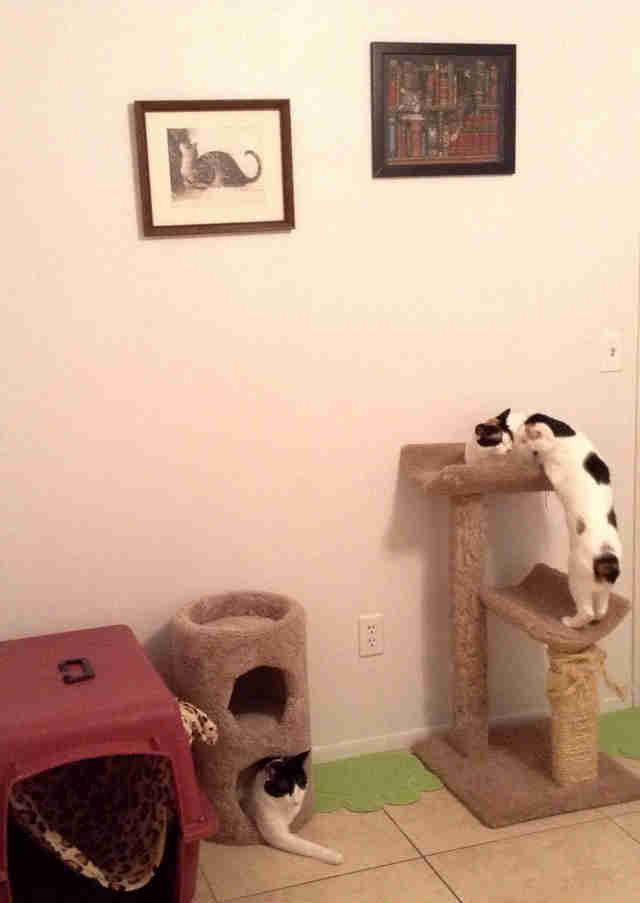 Christine never imagined she'd adopt three kittens. But in late 2015, a tiny, tailless and very pregnant cat arrived at her door.
"My boyfriend and I didn't plan on adopting a pregnant cat because we already had two cats and that felt like plenty in our little apartment," Christine said. "Five kittens were born on January 1, 2016. We found a good home for the two orange kittens, but the other potential cat adopters backed out at the last minute."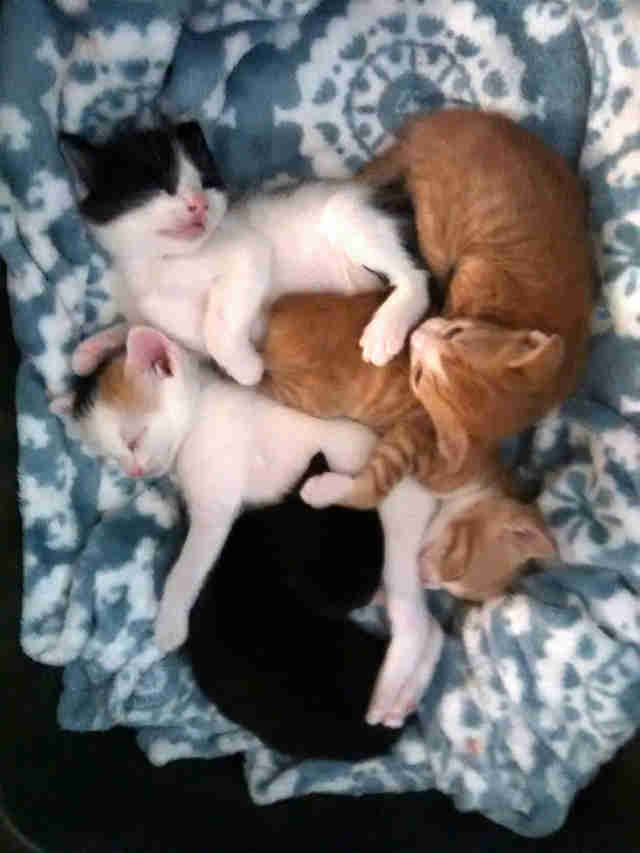 At this point, Christine had fallen in love with the kittens, whom she named Monkey, Pippa and Klaus — so she decided to keep them, along with their mom, Kibitz.
"Their mother is very sweet and best friends with our other cats," Christine said.
Since the kittens were born, Christine and her boyfriend moved to a house, where the cats would have "plenty of space and indestructible tile floors," Christine said. But more space just seemed to make the cats more boisterous.
While Christine is fine with the cats tearing apart the house, she recently got some furniture that she thought would be perfect for them.
"I was thrift store shopping and I saw the weird dollar-sign covered doll couch and toy piano," Christine said. "I thought it would be funny if I could get Monkey to pose on it, like he was about to record the hottest track of 2017."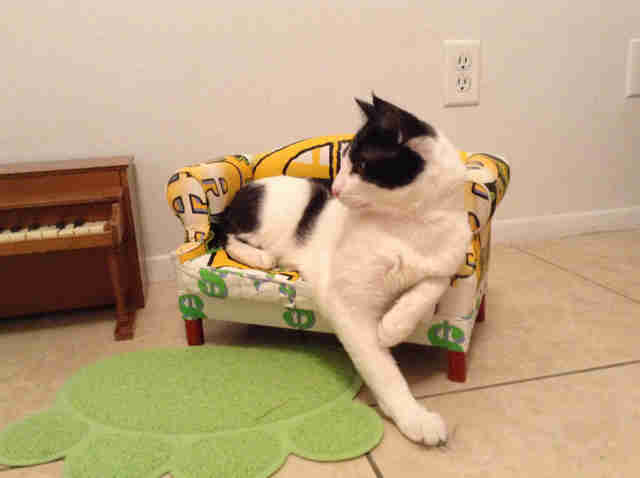 Christine didn't need to talk Monkey into it. As soon as she set the couch down, Monkey hopped on and claimed it.
Since Monkey loved the couch so much, she decided to make a proper cat-sized living room for her feline family members, adding a second tiny couch, a coffee table and throw rug.
As well as looking cute, the kitty living room has a practical purpose.
"We try to make their room the most appealing for scratching, climbing and ruckus-making," Christine said.
The piano, however, doesn't seem to be getting much musical use — although Christine said the kittens have figured out another way to play with it.
"The kittens, unfortunately, don't seem to have much of an interest in actually playing the piano yet, but they do enjoy running full speed and attacking it," Christine said. "I velcroed it to the floor to make it harder to topple."
Piano or not, the cats love their living room — and Christine will keep her eye out for more cat furniture in the future.
"We just accepted that we're crazy cat people now," Christine said.