Huge Therapy Puppy And Friends Visit Heroes Battling California's Wildfires
"It's a unique comfort the dogs bring in. They're so accepting of anyone and everybody and just let people know that they are loved."
When eight therapy dogs showed up at Cachuma Firefighter Base Camp last week, the change of emotion in the air was almost palpable.
Stationed away from home to respond to what is now the largest fire in California history, the hundreds of firefighters had been there for weeks without seeing their own families or pets — but they were also coping with the loss of one of their own.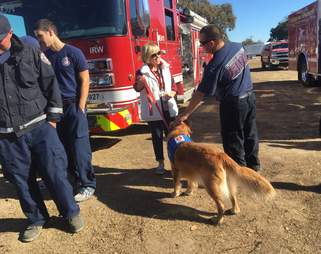 Denise Fitzgerald
A fellow firefighter from the base, 32-year-old Cory Iverson, died in the line of duty December 14 while battling the blaze just outside of Fillmore, California. Knowing this, Denise Fitzgerald, of Alliance of Therapy Dogs, knew she needed organize a visit with the first responders.
"If I was in a situation where I couldn't see my own dogs, being able to be with other people's dogs would be the next best thing," Fitzgerald told The Dodo. "For just a short while, we brought a little piece of normalcy back to them. Their pets were definitely something they missed a lot from home."
Denise Fitzgerald
As Fitzgerald walked around with her 2-year-old English toy spaniel, Bingley, during the visit, firefighters kept taking out their cellphones to show her and the other handlers photos of their own dogs.
"I can't tell you how many times they told us, 'I can't wait to be home to see my dogs again,'" Fitzgerald said.
Dogs and handlers from Alliance of Therapy Dogs and SLODOG Caring Canines

| Denise Fitzgerald
In all shapes and sizes, the dogs let the firefighters relax and decompress — some coming down off 24-hour shifts. Dogs like Bear, a rescued bait dog, offered tail wags, belly rubs and comforting cuddles to everyone they met. The largest, yet youngest, dog there was Truman, an 8-month-old Irish wolfhound, who is a therapy dog in training.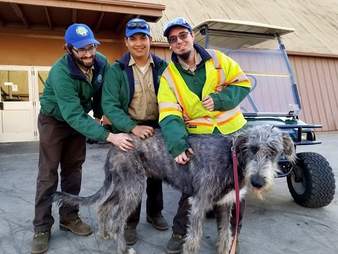 Truman visiting some first responders

| Denise Fitzgerald
Over the next week, Fitzgerald continued organizing visits to more people affected by the fires, including another firefighter base camp, a dispatch station and a Red Cross evacuation shelter.
"There are a ton of people working behind the scenes during emergencies like this," Fitzgerald said. "Being a dispatcher is a really high-stress job, and they're dealing with sending crews out to the fires on top of the regular daily calls they may get."
While the dispatchers had to step out here and there to answer calls, they enjoyed the extra support from the dogs.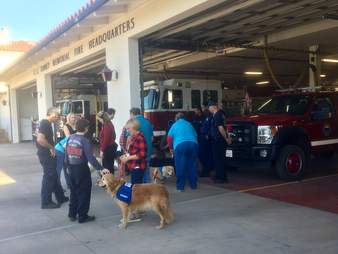 Denise Fitzgerald
"It's a unique comfort the dogs bring in," Fitzgerald added. "They're so accepting of anyone and everybody and just let people know that they are loved."
Those sentiments were needed just as much at a Red Cross evacuation shelter in Santa Barbara that was housing families displaced by the fires. Some people hadn't gotten the chance to return to their homes yet — and were unable to know if anything remained after the fires had passed through.
Snuggling and getting pats from the temporary residents, the dogs made their rounds for two hours to make sure everyone could get a chance to meet them. With a simple belly rub or tail wag, the dogs brought smiles to countless people's faces — even to the employees working there.
Denise Fitzgerald
One person who will stay with her, Fitzgerald said, was a young woman, who just like others, didn't know what was left of her home. As they were about to head out the door, she stopped Fitzgerald and Bingley.
"My dog let me know there was just something about this young woman — he knew she needed him," Fitzgerald said. "We sat with her for a half-hour just talking and petting Bingley. What amazed me, was here she was not knowing what her life will look like tomorrow, yet she was so positive and upbeat. We visit a lot of people, but things like that are memories that stay with you forever."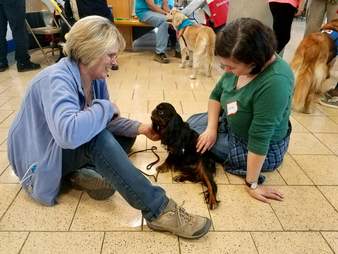 Fitzgerald and her dog, Bingley, spending time with a woman at the evacuation shelter

| Denise Fitzgerald
As a California native, the recent fires hit home for Fitzgerald — and she's already planning more therapy visits into the new year.
"It's so great that organizations will open up their doors to us" she said. "We feel blessed to be able to do this with our dogs."
To support future work of therapy dogs and therapy dogs in training, you can
make a donation
to the Alliance of Therapy Dogs.