Goodest Boy Has His Very Own Business Cards
"TODAY AT WORK A DOG GAVE ME HIS CARD" 😂
Most dogs don't need business cards — but most dogs aren't Benji. The friendly Lab meets so many people that he likes to give them something to remember him by.
Russel Teck, Benji's dad, makes the cards on his computer and prints them out for his pup. On the front, the card reads: "My name is Benji. I hope my visit has brightened your day."
As a therapy dog, Benji has spent the last five years visiting people who need cheering up at nursing homes, high schools and a local hospital. After nearly 1,000 visits, everyone knows his name.
"Everybody just loves this dog, especially at the hospital," Teck told The Dodo. "I hear his name being called from the second I walk in the front door to the second I leave."
"He's known from the guards at the gate to the nurses on the seventh Floor," Teck added. "Everybody knows him."
Benji has a knack for putting people at ease. And people never forget his visits, even years later.
"When I see [the hospital patients] maybe one or two years later at a Walmart or something, they'll say, 'I have his card hanging on my refrigerator.' Or, 'I have his card in my wallet.'"
But Benji wasn't always the calm dog walking the halls of the Monongahela Valley Hospital.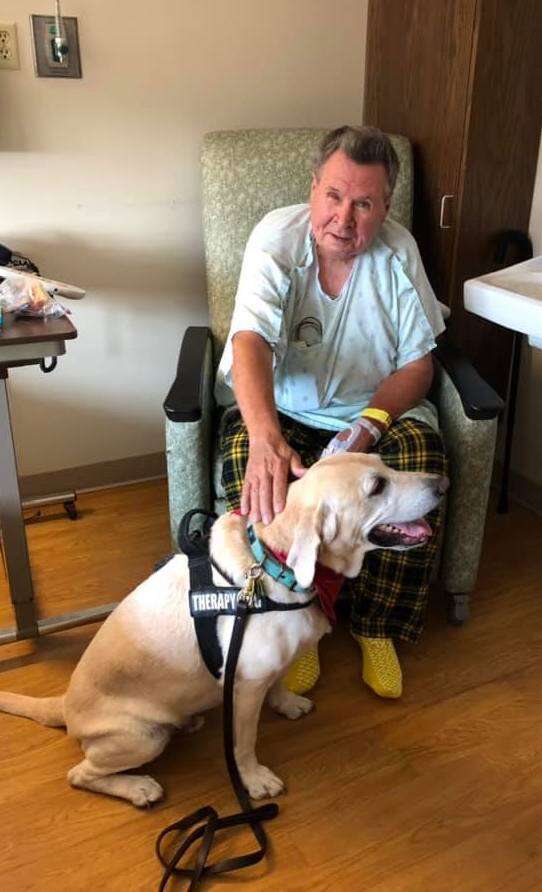 "When he was a puppy he had a lot of anxiety, and we were trying to find him something to do. At first, I thought about agility, but my yard's not big enough to have an agility course," Teck said. "I watch a lot of dog shows on TV and therapy dogs came up a couple of times, so I started doing research into it to see what's involved. And I thought, 'I'm going to try it.'"
Teck enrolled Benji in obedience classes and then led him through a year and a half of therapy dog training. In 2014, Benji passed the Therapy Dogs International test on his first try and became certified.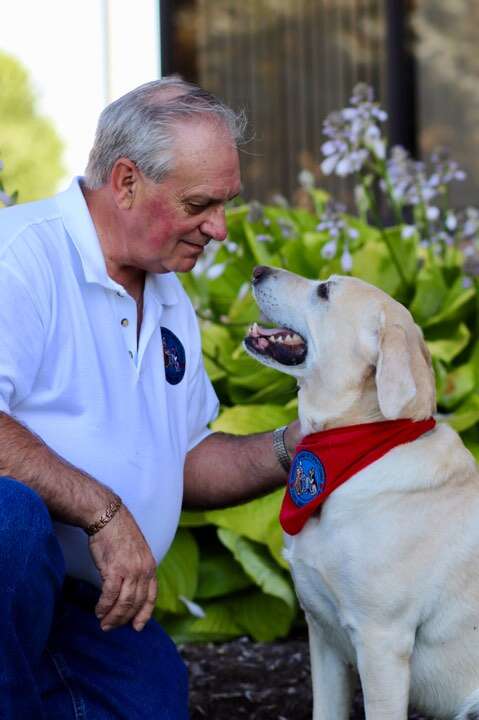 While being a therapy dog is often fun and rewarding, the job also comes with its share of hardship.
"You get attached to a lot of people and when they pass away that's the hard part," Teck said. "I try to take him to the funeral home for each one of them — the families always thank me for bringing him. It's really touching."
For Teck, who accompanies Benji on all his visits, watching his dog change people's lives for the better has changed his life, too.
"They say everybody has a purpose in life — it took me 60 years to figure out mine," Teck said. "I enjoy this so much, and I've met so many people. It's changed me a whole lot — it makes me calmer."
Teck is proud to be known as "Benji's Dad."