Therapy Dog Gets Surprise Birthday Party — And Can't Stop Smiling
She felt so loved 💗
During her trips to Beaumont Rehabilitation and Skilled Nursing Center in Westborough, Massachusetts, Maui the therapy dog usually spends her time visiting the residents in their rooms or hanging out in the common area.
But last weekend, they had a very special surprise planned for her.
"Her owner mentioned to me that her birthday was coming up, so I thought it would be fun to get her a cupcake for the next time she came in," Nicole Croteau, director of nursing for the center, told The Dodo. "It just evolved from there and we ended up planning a whole party for her."
When Maui arrived for her usual visit on Friday, staff and residents were excitedly gathered in the recreation room to welcome her. Not only were all Maui's friends there, but there were also gifts, cake and even a birthday crown for her to wear.
"We gave her a new hairbrush and toys from the residents," Croteau said. "And everyone had cake."
Maui couldn't stop smiling — and neither could the partygoers.
One resident in particular, who has dementia, was really enjoying the party. Croteau couldn't help but see how much Maui meant to him.
"They both were just so happy," Croteau said. "The joy Maui can bring people, even if they may not be as alert as others, is wonderful."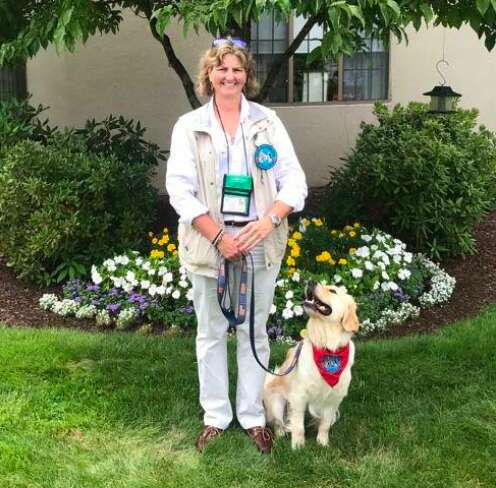 CORRECTION: This article originally referred to Maui as a male. She is a female. The article has been update to reflect these changes.