Family Comes Up With Sweetest Way To Honor Their Dog Who Died
Shelter dogs would be so happy if everyone did this!
A family who wished to remain anonymous came into a shelter in Fredericksburg, Virginia, this week with a bucket full of colorful tennis balls.
Fredericksburg SPCA
They didn't want a lot of credit or attention — they didn't even leave their names. The family just wanted to do something good for shelter dogs in memory of their beloved dog, Marley, who recently passed away.
Fredericksburg SPCA
Along with the gift was a photo of Marley, and the years she lived her life: 2004-2017. And there was also a little note with a few words of advice to other dog lovers.
Fredericksburg SPCA
"Please help yourself to a tennis ball for you and your dog to play with," the note said. "Keep it or drop it back in the bucket for another dog to enjoy! Love this moment with your dog and enjoy this play time together in memory of our sweet Marley who absolute loved to play 'ball.'"
Fredericksburg SPCA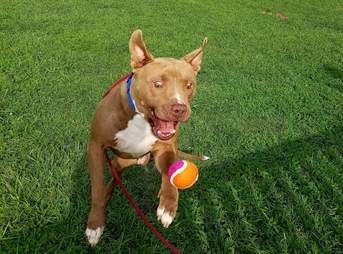 Fredericksburg SPCA
The shelter staff members at the Fredericksburg SPCA are making great use of the donation, helping its adoptable dogs play and socialize while they wait for their forever families.
Fredericksburg SPCA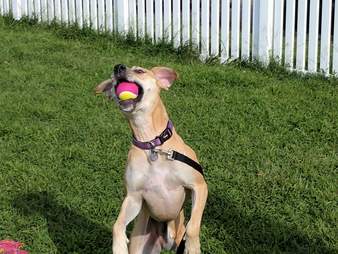 Fredericksburg SPCA
(They're also snapping some amazing action shots of the dogs at play with their new toys.)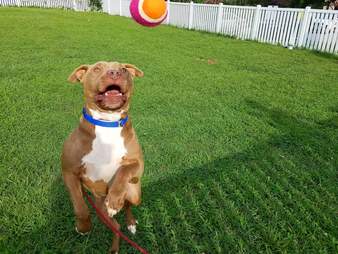 Fredericksburg SPCA
Fredericksburg SPCA
"Marley loved to play ball and her family wants other pups to have some fun too!" the shelter wrote on Facebook.
Just imagine how happy so many shelter dogs would be if this became a common way to memorialize beloved family dogs. Considering there are over three million homeless dogs entering U.S. shelters every year, there's always a dog out there looking for a way to cheer up.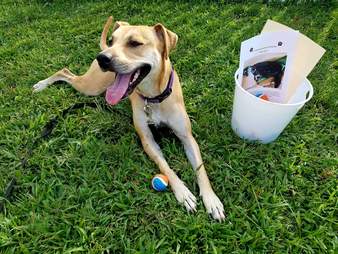 Fredericksburg SPCA
If you think you can give a shelter dog a forever home — and all the tennis balls he'll ever want — try visiting these dogs at the
Fredericksburg SPCA
or at
Adopt-a-Pet
.