Sick Puppy Found On Streets Of Tanzania Finds Best New Home In Germany
"We can't say it in words how happy we are ... We have the feeling she is so thankful to have a real family."
Ava was sick — so sick that Ismael Mungaya was sure the tiny puppy wouldn't survive.
In December last year, a teacher working in Arusha, Tanzania, found Ava wandering the streets, searching for food. She was dangerously skinny, and mango flies — a type of parasite — had burrowed into the puppy's flesh. Ava also had an open wound on her neck.
Ismael Mungaya
Wanting to help Ava, the teacher reached out to Mungaya, one of the few people in the area who rescues and rehabilitates street dogs.
"When she brought Ava to me, I was shocked and worried that Ava was not going to make it," Mungaya told The Dodo. "She smelled really bad and she had mango flies. Honestly, I didn't even know there was a dog disease known as mango flies."
Ismael Mungaya
But Mungaya refused to give up on the little puppy. He brought Ava to the home he shares with his parents (and where he runs a small shelter for other rescued street dogs), and asked a vet to visit as quickly as possible.
Ismael Mungaya
"My vet came and gave her medication," Mungaya said. "The vet did a lot of work to make sure all the infected areas were clean. The next day, the vet came again to clean her."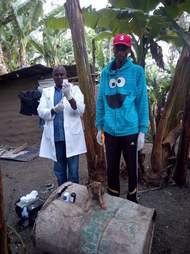 Ismael Mungaya
Instead of housing Ava with his other rescued dogs, Mungaya kept her inside with him so he could give her special care.
"It took a week for her to start wiggling her tail, but when she did, I found hope," Mungaya said.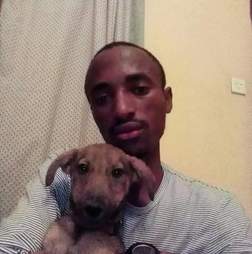 Mungaya holding Ava in his arms

| Ismael Mungaya
Two and a half months later, Ava was finally better and ready to be adopted. But finding a home for any rescued dog is always tricky for Mungaya as many people in Tanzania don't view dogs as pets. But Mungaya found the perfect solution — his German friend Tizia Basener, who also lives in Arusha, offered to foster her until she found a forever home.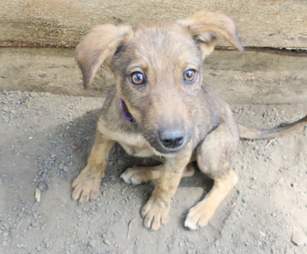 Ismael Mungaya
Ava didn't have to wait long to find her family. In April, Larissa Maxeiner and her partner Tobi stayed with Basener, and they both fell in love with Ava.
"Her story broke our hearts," Maxeiner told The Dodo.
Maxeiner holding Ava

| Larissa Maxeiner
When Maxeiner and her partner returned to their home in Frankfurt, Germany, they couldn't stop thinking about Ava.
"We missed her so much," Maxeiner said. "We sent a parcel to her, and we also sent the dog shelter some food and dog toys."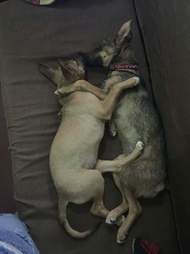 Ava cuddling with Mila, another dog Mungaya rescued, at their foster home

| Larissa Maxeiner
Maxeiner and Tobi eventually decided to adopt Ava themselves, and transport her to their home in Germany. The process, however, wasn't easy. Maxeiner had to arrange for Ava to get vaccinations, a rabies certificate and export documents.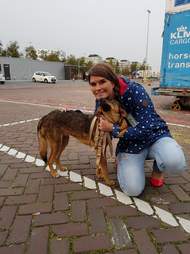 Maxeiner picking Ava up at the airport

| Larissa Maxeiner
But six months later, Ava finally got onto a plane, arriving in the Netherlands. Maxeiner and her partner picked Ava up in their mobile home, and drove her back to Frankfurt.
Ava being driven to her new home in Germany

| Larissa Maxeiner
"It was the first road trip in our mobile home with her and she loved it so much," Maxeiner said. "Now she lives with Tobi and me and our two cats in a pretty house with a big garden. We enjoy every minute with her."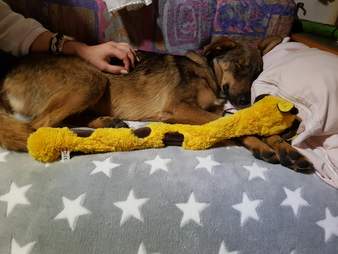 Ava snoozing inside of Maxeiner and her partner's mobile home

| Larissa Maxeiner
"We can't say it in words how happy we are now," Maxeiner added. "She is always sleeping and chilling, and she does a lot of playing and cuddling. We have the feeling she is so thankful to have a real family."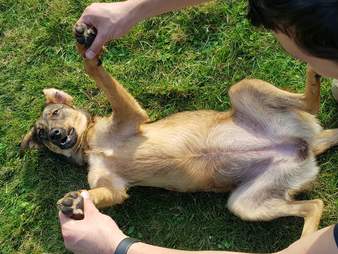 Larissa Maxeiner
Mungaya is thankful too — incredibly so.
"I am very happy to know that Ava was one of the lucky rescues," Mungaya said. "I am so very proud of being a rescuer, and this gives me another chance to smile."
Mungaya currently runs a small shelter on his parents' property in Arusha, Tanzania. However, he is in the process of building a proper shelter so he can rescue more dogs like Ava. To help make this happen, you can
make a donation
. You can also follow Mungaya's work on his organization's
Facebook page
.