Sweetest Dog Has No Clue Why She's Been At The Shelter For A Year
Even when she's in her kennel, she never stops smiling 🐶😍💕
One look at Darby is all it takes to see what a happy dog she is.
She's friendly, mellow and loves to play with her toys — but there's just one problem.
She's been homeless for more than 365 days.
Picked up as a stray by DeKalb County Animal Services in Georgia last May, Darby has been patiently waiting for the right family to come along ever since.
As one of the shelter's longest-staying residents, 5-year-old Darby is used to kennel life by now — but the staff doesn't want her to forget that her forever family will come along when the time is right. This week, they came up with a plan to show her just how special she is.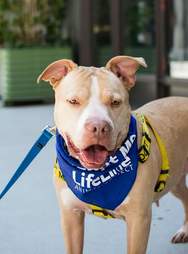 Darby heading out for her day on the town

| DeKalb County Animal Services
On a bright, sunny day, they set out for an adventure-packed day in Atlanta. They went to the pet store, where Darby browsed every toy on the rack, and to a local bookstore, where she greeted every customer she saw.
Darby at the bookstore

| DeKalb County Animal Services
Darby then went off to the spa for a professional grooming session, and cuddled in a soft blanket after her bath. She was then treated to lunch at a local restaurant.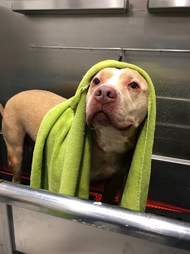 DeKalb County Animal Services
She was having so much fun the entire day — and made sure to let everyone know it.
"She greeted everyone she met with a happy tail wag and big ol' smile," Neely Conway, social media manager for the rescue, told The Dodo. "She loved riding in the car, while poking her head out the window to feel the breeze. She woofed down a Philly cheesesteak and would flop down on the ground with her froggy legs any chance she could get."
While Darby had a blast on her day out, the best way to mark her year anniversary at the shelter would be to find a family to call her own. Being such an easygoing pooch, Conway said, she would do well in most homes — and would even be a great first dog for someone.
DeKalb County Animal Services
"She would make a great dog to take out on a restaurant patio or brother or sister to a human sibling," Conway said. "She's so laid-back. She loves napping, cuddling and basking in the sun. She has had many different kennel mates and done well with dogs while in our care."
Although it's clear sweet Darby loves spending time with the shelter staff, she would be even happier in a real home of her own.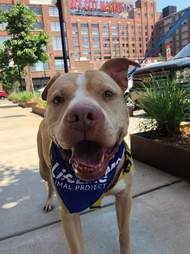 DeKalb County Animal Services
"Darby is the perfect mix of calm and loving," Conway said. "She's independent, but loves melting into your lap when she sees you."