Kids Surprise Teacher With Pop Quiz To Help Her Find Her Dream Dog
"It was just so pure."
After graduating from college and accepting a job as a middle school teacher in Oklahoma, Emily Gray had one more thing left to accomplish: adopt a dog.
"In college, she always had roommates and lived in rental houses where owning a dog was not feasible," Caroline Sutton, Gray's sister, told The Dodo. "Now that she's on her own and has a schedule that will accommodate it, she's beyond ready to adopt!"
Gray has an easy rapport with her students, and one day in class, she let news of her plan slip.
"She has a very close relationship with her students," Sutton said. "They really love and respect her as a teacher because she genuinely cares about each and every one of them."
"She had just casually mentioned adopting a dog in class because she knows a lot of her students have pets and love dogs like she does, and they took that and ran with it," Sutton added.
Her students were excited and eager to help their beloved teacher find the perfect pet. But Gray never anticipated just how invested they were in her quest.
When Gray walked into her classroom the next day, she found a multiple choice questionnaire on her desk. Gray is usually the one to dole out the pop quizzes, so the sheet of paper caught her by surprise.
Caroline Sutton
The quiz was divided into 19 questions identifying what she was looking for in a dog and how an animal would fit into her lifestyle. The questions ranged from the serious, such as, "Do you need a hypoallergenic dog?" and "How long will your dog be alone for?" to the playful, "Do you want your dog to have a friendly wagging tail?"
The kids had clearly spent time and effort on the test, and Gray couldn't have been prouder of her thoughtful pupils.
"It meant the world to her and she couldn't believe they had done all that work to help her," Sutton said. "It was just so pure and thoughtful and, to me, it really made me so proud of my sister because it shows the impact she has made on these kids' lives that they were willing to do something like that for her. I thought it was just amazing."
After filling out the questionnaire, Gray received her results:
Caroline Sutton
The students gave her breed descriptions for a Labradoodle and a border collie, and a final page reading: "Don't forget about mutts!"
Caroline Sutton
But even after all the careful planning and assessment, sometimes the perfect dog can't be identified with a test result. Sometimes, the perfect dog finds you.
Shortly after Gray completed her quiz, a fellow teacher at the school approached her with a proposition: Her elderly neighbors were looking to rehome their 2-year-old dog, Buddy. Would Gray be able to give him a forever home?
Caroline Sutton
All it took was a brief meeting for Gray to know Buddy was the one she'd been searching for.
She immediately texted her sister the news: "I came and met [him] today and fell in love. He's neutered, house-trained, crate-trained, shots updated and an absolute doll," she wrote.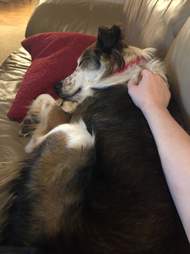 Caroline Sutton
Now, Gray can't wait to tell her students. She knows they'll give her an "A" on her brilliant choice.